To get an idea of how popular waterfront festivals are, just Google the phrase "riverfront days.' It yields almost 8 million results. Seems like virtually every community with access to a nearby waterway holds some kind of event on land's end. These can range from small, several-hour celebrations to large, multi-week events. It's almost impossible to list them all, but we've put together a sampling that we think captures the wide range of events in the Heartland region. Because what's more fun that a festival? A festival offering a truly unique experience!

MISSISSIPPI RIVER

Minneapolis is home to one of the most unusual events anywhere: The literature for Northern Spark calls it "a multidisciplinary festival modeled on a nuit blanche or 'white night' festival — a free, dusk-to-dawn participatory public art event throughout Minneapolis from the Greenway to the Mississippi.' More than 118 national and international artists create works that are "familiar and beautiful and striking but different.' You can participate in events like swinging in a skyway with 20 strangers, or play capture the flag at midnight in neon face paint, or try out body pong. In short, on this June evening, Minneapolis becomes an all-night creative playground. www.northernspark.org

In 1922, Ralph Samuelson used a pair of barrel staves and a clothesline and invented water skiing in Lake City, Minn., so naturally that city celebrates Water Ski Days. On the last full weekend of June, there are three nights of entertainment, a grand parade, car show, carnival, 5K run, kickball tournament, a beer garden for relaxing and, of course, water ski shows. www.lakecity.org/waterskidays.html

Here's a listing of the prizes awarded at this next small festival: best dressed, best hairdo, best name, best trick, best dog tales, and best lookalike between the owner and their dog. See all that on August 3 at the Dog Days of Stockholm (population 99). Held on the banks of Lake Pepin, the location was listed by the Huffington Post as "the 2012 Prettiest Drive in the U.S.' www.dogdaysofstockholm.com

The Port of Dubuque, Iowa, puts on America's River Festival from June 14-16. A number of music headliners, from classic rock to country, highlight the music portion, while there are "activities for all ages.' Besides the Cookie Monster and Elmo for the little ones, a Speak Your Peace booth focuses on nine tools of civility for kids and their parents. Other folks might enjoy the Big Dawg NASCAR Racing Simulator, motocross trick show, Dubuque Idol kids' vocal talent show and DockDogs presentation. www.americasriverfestival.com

A one-of-a-kind event is part of two communities' celebrations: Port Byron, Ill., and LeClaire, Iowa. Together, they celebrate the annual Great River Tug Fest, where a 2,400-foot, 680-pound rope is stretched across the Mississippi and 10 teams of 20 men and one team of 25 women pull against each other. These tugs are not for sissies. For non-tuggers during the August 8-10 event, there's a family night, music, fireworks, vendors, music, a run/walk and, to keep the spirit going, a Kids Tug — where they start training the next generation. www.tugfest.org

Davenport, Iowa, was home to the legendary jazz cornetist, pianist and composer Leon "Bix' Beiderbecke. Since 1972, aficionados of his music have celebrated at the Bix Memorial Jazz Festival, this year on August 1-4. Thirteen bands will perform his specialized style of jazz at three venues inside and outside. Besides the performances, there are workshops, seminars, special events and an appearance by the Bix Jazz Society Youth Band. www.bixsociety.org/festival.html

One of the longest-running events on our list is the 51-year-old Burlington, Iowa, Steamboat Days. Name it musically, and they've got it at this six-day event: rock, country, pop, rhythm and blues, jazz, big band and oldies groups perform daily on two stages. More than 100,000 people show up annually. There's a kid's day, senior citizen's day and Art in the Auditorium, plus a parade, fireworks, carnival and food fair. www.steamboatdays.com

ILLINOIS RIVER

Ottawa, Ill., holds two events catering to different crowds: Its Two Rivers Wine and Jazz Fest, July 7-9, features two dozen area wineries, outstanding jazz and a fresh Maine Lobster dinner. From July 27-August 5, the city hosts its Riverfest and Taste of Ottawa. For more than 20 years, this civic fundraiser has featured bands, paddleboat races, kids' fishing tournament and the "best fireworks in the area.' ottawa2riverswinefest.com and www.ottawariverfest.org

Peoria, Ill., offers a wide variety of fests. One of the highlights of the Steamboat Days Festival, June 13-15, is the 40th running of the Steamboat Classic Races, a series of internationally known 4K, four-mile and 15K runs. www.peoriaevents.com/events/steamboat-festival.html

No list of fun things to do on the Illinois River would be complete without the Redneck Fishing Tournament. Sponsored by the Boat Tavern in Bath, Ill., teams compete to land the most Asian carp in their boats. Contestants have come from around the world and "fishing poles are not allowed; bats and nets are OK. Protective gear is highly recommended.' Bands, food vendors, chainsaw carvings and booths with everything Redneck are part of the fun. Plan now for the first Friday and Saturday in August. www.redneckfishingtournament.net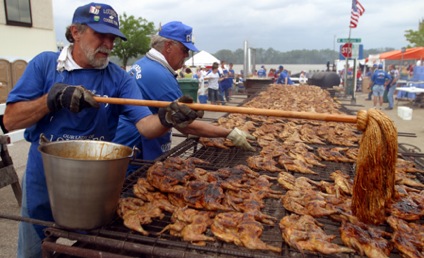 Get sauced at the International Bar-B-Q Festival in Owensboro, Ky.

OHIO RIVER

More than 500,000 people show up every July 4th to be part of the EQT Pittsburgh Three Rivers Regatta. They come for one of the top 10 fireworks displays in the country; the North American Powerboat Championships, which is the largest inland regatta in the country; the world-class sand sculpting; Beach Burgh kids' zone and more. www.threeriversregatta.net

Folks who like to yell will like the P&G Riverfest in Cincinnati on the Sunday of Labor Day weekend. As the massive crowds on the Ohio and Kentucky sides of the river wait for the Cincinnati Bell/WEBN fireworks, one of the largest displays in the Midwest, there's a "shout out' where each side is encouraged to out-yell the other. The event is an all-day extravaganza at Sawyer Point. www.riverfestcincinatti.com

There are two events in Madison, Ind., that should be mentioned: The Madison Regatta, featuring 200-mph hydroplane racing along with vintage boats, an air show and fireworks is July 5-7. (This is the only Midwest stop for this type of unlimited H racing.) The two-day Madison Ribberfest, August 16-17, is an Indiana State Barbecue Cook-Off. www.madisonregatta.com and www.madisonribberfest.com

May 23-27 brings the largest Beatles tribute festival in America to Louisville. Abbey Road on the River features 60 bands from 12 countries on seven stages for four days! That's more mop-tops than you can imagine. www.abbeyroadontheriver.com

Festival-goers at the Owensboro, Ky., International Bar-B-Q Festival on the second weekend every May can experience the true meaning of man versus food in the Mutton Glutton, where they can sample barbeque until they can't. There's non-stop entertainment, including a youth stage, burgoo relay and keg toss competition. The major prize for the cooking competition is the Governor's Cup. www.bbqfest.com

CUMBERLAND RIVER

The "ultimate country music fan experience' may be the CMA Fest in Nashville, June 6-9, encompassing four days and hundreds of artists, from on-their-way-ups to legends. It's country music's biggest party of the year, with a main riverfront stage. www.cmaworld.com/cma-music-festival/2013/home

Then, in August, Nashville holds the Music City BBQ Festival, which combines more music and a barbeque championship, with professionals and amateurs competing for $20,000 worth of prizes. Attend the "delightfully tacky' Swine Ball, where pig noses are encouraged, enter the hog calling contest and check out the music on the Grand Ol' Porker Stage. There are cool car and hot bike contests, too. www.musiccitybbqfestival.com

TENNESSEE RIVER

The 10 days of events that make up the W.C. Handy Music Festival in Florence, Ala., have resulted in its winning numerous awards. It's held at more than 200 venues throughout the Shoals the last full week of July. Riverside Jazz along the river is one of those. The music is a mix of big-name headliners along with local and regional talent. www.wchandymusicfestival.org

The Riverbend Festival in Chattanooga is an internationally award-winning, nine-day music festival from June 7-15. Drawing some 650,000 fans, it has more than 100 bands with world-class talent playing a wide range of music on six stages. There are countless other activities, besides the music, for all the family. www.riverbendfestival.com

There are two miles of public viewing along the river for what has become known as the nation's largest Labor Day weekend firework show: the Boomsday Festival in Knoxville. Events start at 1 p.m. and end with the "jaw-dropping fireworks,' accompanied a choreographed show of patriotic and contemporary music. www.boomsday.org

GULF INTRACOASTAL WATERWAY

Shuckin' and Jivin' is the theme for the New Orleans Oyster Fest, June 1-2, which celebrates the oyster trade and the restaurants that fix them. Slurp some shellfish down prepared by the best seafood restaurants in town while listening to great New Orleans Music at Waldenberg Riverfront Park. www.neworleansoysterfestival.org

Buccaneers and scallywags are sure to show up for the Billy Bowlegs Pirate Festival from May 30-June 1. Landlubbers and swabbys of all ages take part in the torchlight parade (with 100 floats, marching units and boats), partake in pirate grub and grog, and try the Pirate Walk. www.billybowlegsfestival.com

The oldest certified festival in Louisiana is the Morgan City Shrimp & Petroleum Festival, which emphasizes how those two industries work together. In the heart of Cajun Country, there's the Cajun Culinary Classic, with zydeco, country and pop music, and more than 100 craftsmen displaying handmade items. It's a four-day event over Labor Day weekend. www.shrimp-petrofest.org

Known as the "Pageant of Pulchritude,' the Galveston Island Beach Revue in Texas is a swimsuit contest dating back to 1920. It marks the kickoff of tourist season, with a contemporary and vintage inspired swimwear competition, along with a host of festival activities. www.ibcgalveston.com/beachrevue