Bill Kingery has embraced the go-fast lifestyle with a passion for far more years than he remembers, incorporating work, family downtime and competition in a variety of boating machines. Ditto for son, Elijah, who according to his dad, "grew up on the waters" of Alum Creek, a small lake near the family's home of Columbus, Ohio.

Growing up in Maryland, Bill spent many days boating on the Chesapeake. "I started off sailing, powerboats were just too expensive. My mom was into boats, but my dad wasn't. Mom used to tell me, 'I don't care what you did [to the boat], but if it's broken, you just learn how to fix it.' Fear is a learning factor," he laughed.

It was also a motivational tool that transitioned him into the boat repair aspects of the marine industry, and after dealership experience, Bill opened his own business, Total Marine Performance in 1993. The 7,000-square-foot facility in nearby Radnor offers factory specification repairs, drive rebuilding and boat storage.

This pleasure boating enthusiast took his need for speed to another level when Bill stepped into the offshore racing arena as a competitor in Factory I Class on the American Power Boat Association (APBA) Offshore Pro Series in early 2000. "We got our boat in late 2001 and ran the 2002 circuit." He campaigned a 29-foot Fountain emblazoned MUTUAL $$$$Fun with Mike Connolly and wrapped up the year racing with Mike Emrich in Key West at the World Championship, where Elijah cheered his dad from the sidelines.

Because of its storied venue, the 2002 season opener in Daytona Beach stands out as Bill's most memorable race. "It was our first race, and the dry pits were staged in the infield of the Daytona Speedway." Nevertheless, the team came to a mutual decision and retired from the 2003 competition due to engine rule changes, which made the class cost ineffective to race. "It was fun til then," Bill said.

Lake Cumberland Mega-Party

Although it was back to family outings for a while, Bill maneuvered back into the high performance lane again — this time at his favorite boating venue of Lake Cumberland, Ky. "We've been going there as a family since Elijah was a baby," he said. "We would all tie up together, maybe three or four houseboats. You can go back into the coves there, some are two miles long, and not see anyone. It's fresh water, it's clean, it's deep, it's great."

Bill revisited his first trip to what's now become an annual performance event that reverberates throughout the scenic South Central Kentucky countryside: the Lake Cumberland Poker Run. "We went to the first run and, that night, you could hear the crickets churp…nothing else. Well, I had a blender and a radio on board, so we had some background sounds." Those who know Bill can appreciate what happened next, as the early stages of his famous tradition took off. "We got a sound system next year, then we got a bigger sound system and then a friend of mine, Steve Quinn [of Live Technologies, who does the Jeff Dunham Tour] kicked it up to the notch it's at now."

So, for the past 17 years, Kingery has thrown one mega-party for some 800 to 1,000 people. He explained that "it takes two 45-foot trailers to haul the equipment, including a half million dollars worth of lighting, along with two margarita machines. With an 'OK' nod from Bill Jasper at State Dock, the setup on a floating barge takes 12 to 15 hours and all these guys, my friends, do this for free."

Bill sums it up in his trademark sense of humor. "It's a new low, we're so proud." But he's quick to add, "It's a good, fun party. We keep it under control, and everyone has a good time," including his wife, Ruth, Elijah and two of their three daughters, Nicole and Erin.

Back in the Fast Lane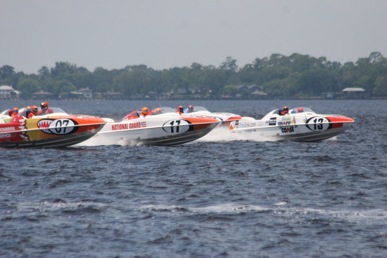 Even so, Bill isn't one to sit on the sidelines and recalls what his dad once told him. "You were a good kid til you got gasoline in your veins," referring to his switch over to those go-fast toys.

When a new class called P1 USA SuperStock was added to the APBA program three years ago, he thought it might be a good opportunity to introduce Elijah to offshore racing. "Elijah is so comfortable with fast speeds. I wanted to start off with a class that was affordable, with a good learning curve." Then, veteran offshore throttleman Mark Kowalski — another Ohio competitor and friend who had raced the circuit — made the strong suggestion: "You gotta get Elijah in this class. You guys will love it." The green flag was raised.

As they say in the offshore culture, the rest is history. Elijah, who's been piloting a boat since he had a driver's license, said he "didn't really know what to expect. We had never seen one of these boats, other than a couple of quick videos on YouTube." T

The Kingery's splashed the waters of East Lake Toho in St. Cloud, Fla., aboard a 28-foot Panther open cockpit V-hull at the first race of 2012. With some limited seat time, the father-son team finished fourth in Myco Trailers, then made the podium with a third place at their second race in Biloxi, Miss. "We really got to learn the boat at this one," Elijah told me of his most memorable race to date.

Bill and Elijah mastered a significant stretch along the P1 learning curve during the five-race Florida circuit last year. Talk about close racing: They placed third overall in the 2013 series, campaigning as Pier 57 (of Pickwick, Tenn.), missing the championship title by a slim margin of two points and taking a second overall by a single point. Add in another stat that made it a great year: Elijah won last year's Lake Cumberland Poker Run in their P1 Panther race boat.

This year is starting off with a different story. "We've had some problems," Bill explained of the National Guard-sponsored boat. "But the way people from P1 stepped in to help us in Stuart after we flipped our boat, it's good camaraderie. Then, we got hit in Jacksonville, a rash of things going wrong at once."

However, Bill says it's a mix of parity and talent providing those successful ingredients that fuel the P1 Panther fleet. "The challenge is how fast can you make the boat go and still be legal. You aren't winning by a wallet or horsepower, but true skill. I think Elijah has the capabilities for it."