The rhythmic clatter of horse hooves and wagon wheels on cobblestone streets and the sweet smells of chocolate fudge escaping from open doors along Main Street are signs of a golden past. But we are in the present on Mackinac Island, Mich., where every effort has been made to slow things down, if not return us to a quieter, less stressful time.

After weeks of cruising the wilds of Georgian Bay and the North Channel, we re-entered the U.S. at nearby Drummond Island just a couple days before, and we now wonder if we've somehow travelled back in time. Except for emergencies, no vehicles are allowed on this 19-square-mile resort island. Bicycles and horse-drawn carriages are the modes of transportation, and while the streets are full of tourists and visiting boaters, only about 500 people live here year-round.

Arriving a few days after Labor Day, we are able to find room at the Mackinac Island State Docks, run by the Michigan Department of Natural Resources and which normally require an advanced reservation. From our slip, we can easily walk to the shops, inns and restaurants throughout the village. We take a guided tour of Fort Mackinac and experience the loud thrill of rifle and cannon firing while enjoying a spectacular view from our elevated position.

Digging deep into our hanging locker for some finer attire, we head up to the historic Grand Hotel for late afternoon tea. We can see downtown from our outdoor table, and the hotel's majestic architecture and sweeping, 660-foot wooden porch are a contrast to today's hotel towers of glass and steel.

Weather or Not

Warned that the weather can change quickly on Lake Michigan, we checked and then double-checked the forecast before heading out for a 45-mile crossing to Beaver Island. "Winds of 10 to 15 knots and seas of two to three feet" sounded fine to us, and off we went.

After we pass through the Straits of Mackinac, the narrow waterway that connects Lake Michigan and Lake Huron, the wind picks up to 20 knots on the nose and the seas begin to build. Having gone past the protection of Mackinaw City, we continue, hoping that after turning south above Grays Reef, we will have the wind and seas on our beam. But Grays Reef Passage turns into a nightmare, with seas continuing to build and becoming extremely confused. We are now caught halfway between any protected harbors and in eight- to 10-footers coming at us from all directions.

By the time we reach Beaver Island's St. James Harbor, south of Sucker Point (yes, how appropriate), the wind is howling 30 to 35 knots. In all my thousands of offshore miles, I had never experienced such violently confusing conditions. Our 25,000-pound, 43-foot boat was being tossed around as if in a huge washing machine. Even slowing to 8 knots, we were taking spray over our entire vessel. Those last 20 miles were hell.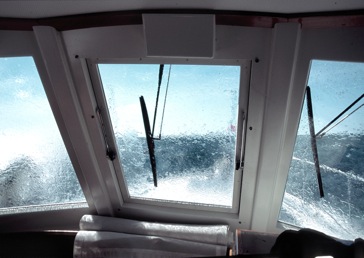 Soon after tying up at the Beaver Island Municipal Marina, we get together with several others who had also been caught out that day. Sitting in the nearby Shamrock Bar, we lick our wounds and tell our stories. Putting the bad experience behind us, we find Beaver Island to be well worth visiting. It is a popular vacation destination for hiking, biking, fishing, golfing, beachcombing, kayaking and just plain relaxing. We launch our bikes and enjoy exploring the attractive, 55-square-mile island.

After our experience of reaching Beaver Island, we are a bit nervous about crossing back to the mainland, but we luck out and experience a very calm passage to Harbor Springs, Mich. Tucked into the Little Traverse Bay area, Harbor Springs is a charming, upscale community with a history of attracting wealthy industrialists and businessmen looking to escape the hot summers of Detroit.

We almost laugh as the rows of beautifully restored waterfront mansions are referred to as "summer cottages." Today, the town is a popular vacation spot that boasts a variety of cultural activities, unique shopping and fine dining — all offered in a quaint setting. Our slip at the Harbor Springs Municipal Marina gives us a wonderful view of the harbor at sunset.

The LittleTraverse Bay area is popular with local boaters as well as Loopers, as it includes the historic town of Petoskey, the resort community of Bay Harbor, and the beautiful lakefront town of Charlevoix. Anxious to avoid the quickly changing temperatures and winds of fall weather, we work our way south along the Michigan shore, stopping for a couple of days in Leland, Frankfort, Pentwater and Saugatuck.

American Beauty

Having grown up along the shores of Long Island, N.Y., we have always felt spoiled by the beautiful beaches of the Hamptons and Montauk, and so we are surprised by the spectacular sight of the Sleeping Bear Dunes along the shore as we pass North and South Manitou Islands. Indeed, the area has been named "The Most Beautiful Place in America" by viewers of ABC's Good Morning America.

Each of these lakeside Michigan towns is quite different, but they share a common quality of friendly locals, excellent facilities for boaters and well-marked channels for easy access to and from Lake Michigan. We especially enjoy Leland and its unique Fish Town section that combines the authenticity of a working fishing village with the charm of funky gift shops, fun pubs and good restaurants. The Main Street section of Leland is also attractive, and everything is within walking distance of the recently updated Leland Harbor Marina.

With an eye always on the weather, we continue south, stopping overnight in friendly Frankfort before discovering the town of Pentwater, a little gem 60 miles south. Snug Harbor Marina is a family owned and operated marina, where we have enjoyed staying a number of times. The town's Municipal Marina also has transient space. During our most recent visit, we were happy to see the Marine Supplies chandlery across the street from the Municipal Marina is busy with customers and that Donna is still running the store. If you love boat stuff, you'll love this place.

Luckily, we enjoy Pentwater because foul weather keeps us in port for several days. Walking out to see the breakwaters protecting the inlet, we witness waves breaking over the tall jetties and spray reaching the top of the 48-foot light tower as the winds hit 30 knots and more. Lake Michigan once again reminds us of its raw power. As fast as the bad weather came, though, it is replaced with blue skies, light winds and calm seas. Off we go, heading south 80-miles to Saugatuck.

Tucked back about two miles from the inlet on the Kalamazoo River, Saugatuck is a colorful, energetic town that truly celebrates the arts. Its number of galleries and outdoor art shows is impressive, and its Center for the Arts offers theater performances, classes and workshops of all types. My wife, a retired art teacher and now working watercolorist, finds Saugatuck to be have one of the most vibrant art communities in all our travels. We've stayed at both the Sergeant Marina as well as the Singapore Yacht Club. Both are conveniently located to all the action downtown. For a memorable Italian dinner, we find Marro's to be an excellent choice.

The Windy City

The end of September is now approaching, and we continue heading south to stay ahead of the cold weather. From Saugatuck, it's a 90-mile trip across Lake Michigan to Chicago, and with a clear weather window and a cruising speed of 16 knots, we arrive at the huge Burnham Harbor Marina in five and a half hours. As usual, the lake wind really picked up in the afternoon, and we are glad to arrive safely and tie up in this well protected basin. The marina is ideally located downtown, and we are within walking distance of the Adler Planetarium, the Field Museum, Soldier Field and the Shedd Aquarium.

The last big city we visited on our Loop was Montreal, six weeks ago, so we are in the mood for some city culture. And while we enjoy the city's museums, galleries and restaurants, we are reminded of how difficult big cities can be for visiting boaters. Getting our LPG bottles filled requires an expensive taxi ride to an industrial area, and a visit to a decent-sized grocery store requires another expensive taxi. Provisioning, finding marine supplies and getting service are so much easier in smaller, waterfront towns. We also have found that the smaller, family owned and operated marinas are more responsive to our needs than large mega-marinas staffed with summer help.

Checking to make sure we have all our inland waterway charts for the 1,200-mile trip down the rivers to Mobile, Ala., we begin our river odyssey on October 1. Transiting the Chicago Harbor Lock (MM 327), we follow the Chicago River through downtown Chicago and the Loop — an exciting, picturesque trip through a canyon of skyscrapers. After traveling less than five miles, we wait for the AMTRAK and Cermak bridges to open and then follow the South Branch of the Chicago River to the unsightly, industrial landscape of the Chicago Sanitary and Ship Canal.

To prevent the invasion of Asian carp into Lake Michigan, the U.S. Army Corp. of Engineers has created a series of electric УfencesФ at MM 296 that, when turned on, kill just about anything swimming in the canal. (For up-to-date safety info, call 312-846-5330 or visit www.asiancarp.us)

Commercial barges line the narrow waterway leading to Lockport Lock at MM 291, a drop of 40 feet. Exiting the lock, we are soon navigating the more pleasant Des Plaines River and follow it for 20 miles to where it meets the upper Illinois River. Recreational boats are now seen along with commercial traffic, and there are signs that we are entering a more rural part of our trip.

During our travels, we have stopped at both the Harborside Marina at MM 274 as well as the Spring Brook Marina at MM 252. Both offer good accommodations and nearby restaurants. Getting an early start from Spring Brook, we arrive late in the day at the Eastport Marina on Peoria Lake at MM 165. But once again, the weather gods surprise us, as we are hit with 30 knots of wind and a very nasty chop entering Upper Peoria Lake and then Peoria Lake. In fact, during our visit years ago, we experienced even higher winds, requiring a layover of several days. Waiting for the weather to clear, we use the time to refuel, change filters, review our route south and enjoy dining at the nearby Jonah's Oyster Bar.

We are now just 150 miles from where the Illinois joins the Mississippi. Don't miss the next and last part of our Great Loop adventure, as we travel though Missouri, Kentucky, Tennessee, Mississippi and Alabama, returning to Florida's Panhandle, where our one-year adventure started.