The bright city lights of Chicago have attracted boaters to its waterfront docks and activities for decades. But for boaters looking to escape city surroundings and enjoy the great natural beauty of the Illinois River, there are nearby options on a portion of the Illinois Waterway flowing from Joliet to Ottawa (and beyond).
Starting roughly 30 miles southwest of Chicago and with at least five towns worth stopping at along the way from Joliet to Ottawa, boaters will happen upon numerous state parks, marinas, restaurants, museums and more. This portion of the Illinois River extends beyond Ottawa — it actually goes all the way down to St. Louis — but we have outlined a 50-mile trip for the experienced boater.
This stretch of water connects the Great Lakes to the to the Illinois River, making entry from Lake Michigan near Chicago simple, or start your journey in or around Joliet at one of many docks available for public use.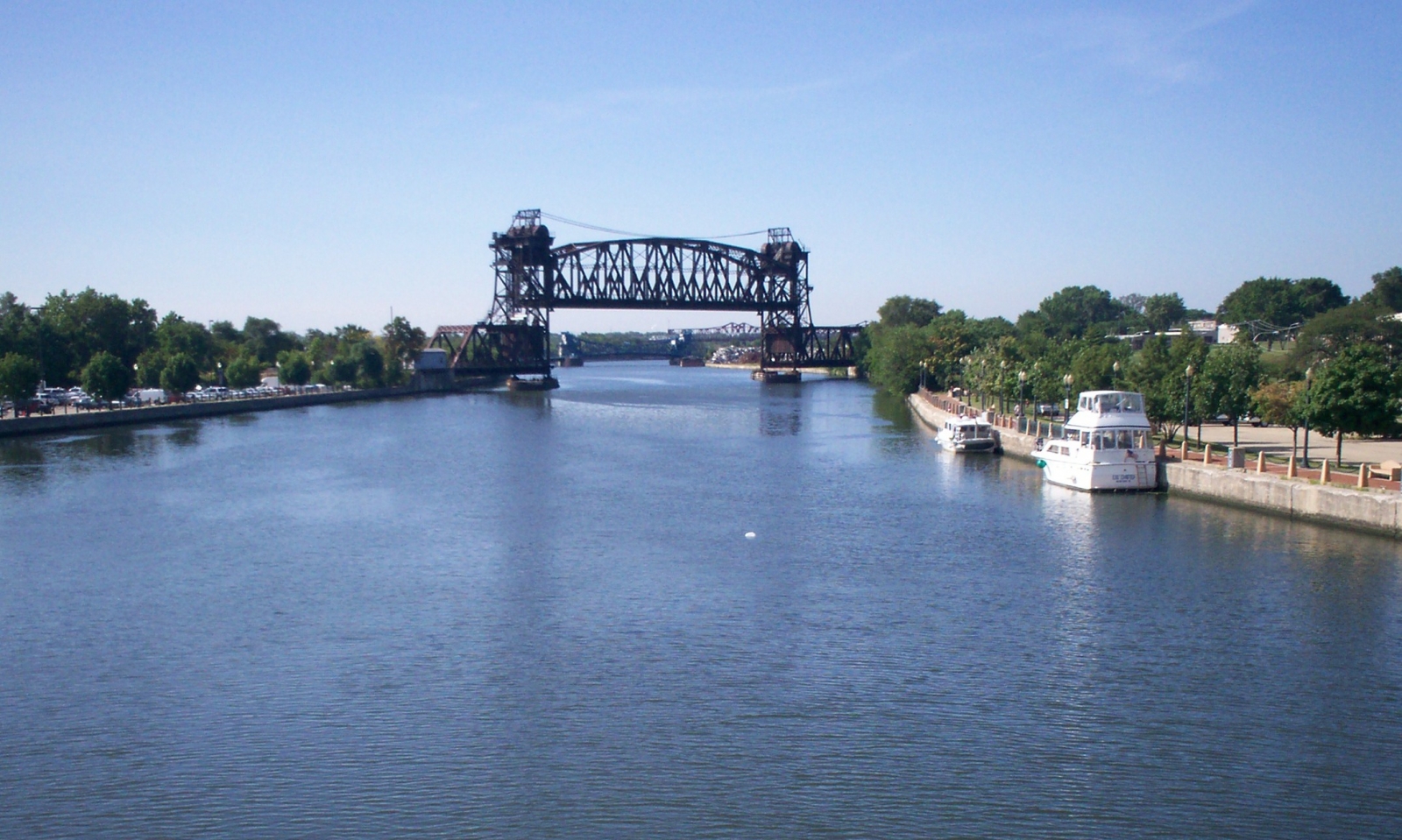 The Des Plaines River in Joliet, Ill.
Where to Dock
If you decide to start your journey in Joliet, you can get into the water at the Billie Limacher Bicentennial Park & Theatre, where boaters can dock south of the Jefferson Street Bridge to north of the train bridge on the west bank. As the Illinois River is a commercial waterway with barge traffic, overnight boaters are encouraged to leave their running lights on to increase visibility.
There are several marinas to enjoy along the way once you leave Joliet. Three Rivers Marina (815-476-2324, dockwa.com) in Wilmington, just past Joliet at Mile 275 has fuel, mechanical services and other amenities offered year-round. One mile beyond this marina is the Big Basin Marina (815-467-2181, bigbasinmarina.com), with limited transient docking, which also provides fuel in addition to boat repairs and a saloon to grab some grub.
Nearby Harborside Marina (815-476-4400, harborsidemarina.com) also serves up food, in addition to fuel, electricity and other services. This will be your last chance to fill up on gas for until you reach Seneca. Hidden Cove Marina (630-330-3777, hiddencovemarina.com) and Spring Brook Marina (815-357-8666, springbrookmarina.com) both provide fuel, food and other supplies.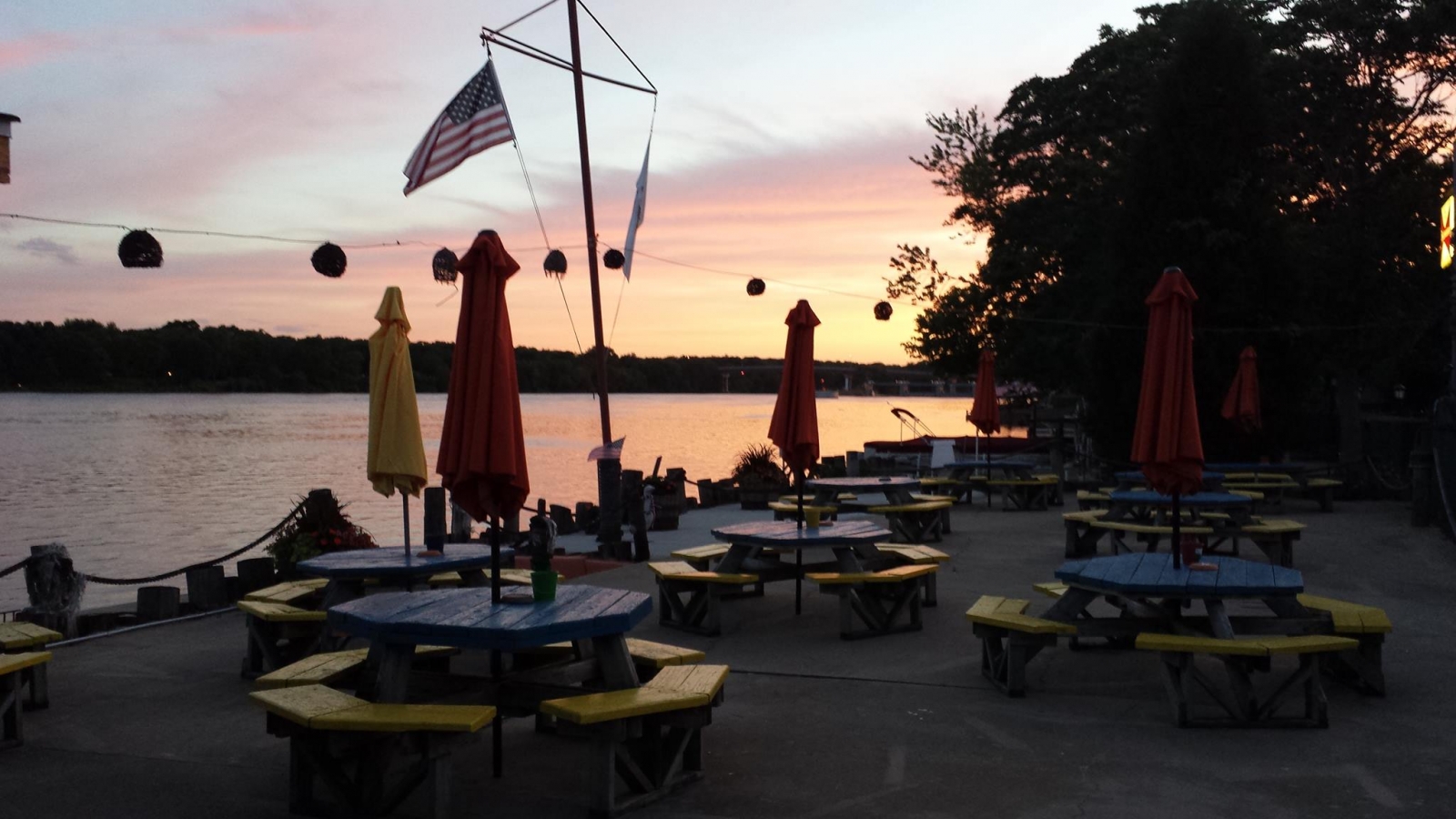 Snug Harbor Marina & Bar in Ottawa, Ill.
Your final marina stop before you hit your destination of Ottawa is Snug Harbor Marina & Bar (815-795-9080), located in Marseilles and offering transient docking, fuel and food and drinks year-round.
When you've reached Heritage Harbor Ottawa (815-433-5000, visitheritageharbor.com), you've found your final fuel stop. Docking reservations can be made on Dockwa, and the marina offers several amenities including gas, oil recycling, pumpout, laundry, showers and more. If you find yourself looking to stay on land for a night or two, there are several cottages and vacation rentals available here as well.
What to Do
Whether you're a hiker, history buff, nature photographer or thrill seeker, there's something for everyone along the way. Lose your sea legs on one of the many hiking trails in Bicentennial Park in Joliet, Illinois & Michigan Canal State Trail in Morris, Illini State Park in Marseilles and Starved Rock State Park in Ottawa. Several of these parks also offer fishing, camping and nearby lodging. Harrah's Casino is a short walk from Bicentennial Park.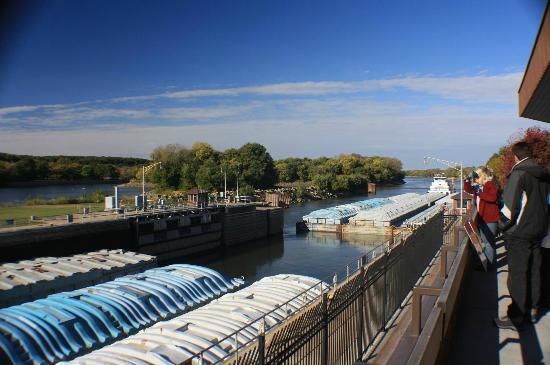 Illinois River Visitor's Center at Starved Rock Lock
Check out the Illinois Waterway Visitor's Center at Starved Rock Lock, where visitors can view bald eagles and explore the full-size replica wheelhouse of a barge. While you're there, book a dinner cruise on the Belle of the Rock (815-434-9200, belleoftherock.com), an authentic paddlewheel boat.
If you feel like being a bit more adventurous, try your hand at skydiving with Ottawa's Skydive Chicago (815-433-0000, skydivechicago.com), the country's largest skydiving operation.
Where to Eat
With many of the marinas also operating restaurants and bars along your journey, cuisine choices are plenty. Enjoy a hearty lunch the Big Fish Grille (815-476-9331, chopshopgrille.com/location/big-fish-grille/) at Harborside Marina in Wilmington, said to be one of the most popular restaurants in the area by local boaters. Save room for dessert if you're near Illini State Park; a little-known convenience store in the back of the park called C.P.'s Ice Cream (815-795-3770) sells some of the best soft-serve around.
As you can imagine, there's no shortage of things to do on the way from Joliet to Ottawa. Cruise the waterway, stop for some food, take a hike and maybe jump from a plane. Whatever you do, make sure you enjoy the beauty of the Illinois River and the respite it offers from city boating.
Author: Heather Ervin, originally published in 2015 by Heartland Boating. Updated July 2023 by Quimby's Staff