Two of the leading manufacturers of outboard motors have announced new models for 2018, offering boaters additional choices for more marine applications.
Honda Marine has debuted a new range of waterjet outboard models for maximum flexibility in shallow waters and maneuvering around or over obstructions. The Jet range is available in 40-, 65- and 105-horsepower models and shares the same dependable, quiet and fuel-efficient operation as the Honda BF Series of prop-driven outboards.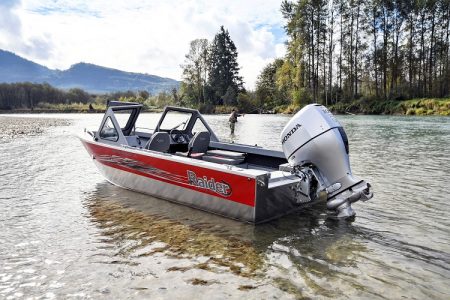 "The launch of the new Honda 40 Jet, 65 Jet and 105 Jet will power boaters to shallows where prop engines can't go," said Will Walton, assistant vice president, Honda Marine. "These engines mark Honda's entry into a new segment of the market. The combination of powerful jet-pump technology with Honda's legendary marine powerheads gives our customers a wider choice of Honda marine outboard motors to meet all their boating needs."
Yamaha Marine Group, meanwhile, has unveiled next-generation F90 and F75 four-stroke outboards, as well as an all-new F25 four-stroke. The F90 and F75 benefit from a single overhead camshaft to drive four valves per cylinder, thereby saving weight while increasing volumetric efficiency — and providing more power.
"The improvements made to the new Yamaha F90 and F75 make them terrific choices for a variety of boats, particularly for the inshore fisherman," said Ben Speciale, president, Yamaha Marine Group. "Not only is the F90 quieter, it has the quickest four-stroke 90-horsepower acceleration available. Period."
Weighing in at less than 126 pounds, the F25 is the smallest of Yamaha's midrange outboards — light, compact and portable. The new motor has the best power-to-weight ratio of all 25-horsepower outboards and features no-battery-required Electronic Fuel Injection and all-new two-cylinder powerhead. Also notable, the Variable Trolling RPM Switch (VTS) allows boats to troll slower than standard in-gear idle speed for better fishing.
Visit marine.honda.com and yamahaoutboards.com, respectively, for more information.