Talk to anyone about Tennessee and the conversation will usually boil down to a back-and-forth about music or barbeque. Well, we're here to tell you that boating should be added to the dialog. A grand confluence of mighty rivers and sun-drenched lakes deliver onboard opportunities to all corners of the Volunteer State, with the quality of fishing, cruising and camping rivaling anywhere in the Midwest. Factor in the rejuvenated waterfronts found in many of the cities here, and you can see what we mean when we say Tennessee is practically tailor-made for fun on and off the shoreline.

CHATTANOOGA

Not only has this scenic town tucked between the mountains of southeast Tennessee and the beautiful Tennessee River been named УBest Town EverФ by Outside magazine, it's also been voted one of the "Top 45 Places to GoФ and УBest Adventure Towns in the U.S." by the New York Times and National Geographic Adventure, respectively. And about two dozen other things from other media pundits. The heaping of praise is a little embarrassing, really, but you won't hear us disagree.

You can't miss the Riverwalk, part of Chattanooga's redeveloped waterfront, which connects Coolidge Park (featuring a carousel, restaurants and shops), the celebrated Tennessee Aquarium (see our story on page 36) and Ross's Landing near Chickamauga Dam. It covers 13 miles along the Tennessee River from end to end, so bring a good pair of shoes if you plan to go the distance.

Don't feel like hoofing it? Hop aboard the aquarium's River Gorge Explorer catamaran, which will take you on a guided tour of the spectacular Tennessee River Gorge, or ride the Fat Cat Ferry or Chattanooga Water Taxi to Maclellan Island, an 18-acre bird sanctuary with great blue herons, osprey and migrating warblers. Additionally, the Southern Belle riverboat invites you for daily sightseeing and lunch and dinner cruises.

Tie up at one of the marinas on either side of the Chickamauga Dam to be within walking distance of downtown. MarineMax Tennessee River is located at Ross's Landing and has a transient dock, gas and diesel, restrooms, groceries and lodging. Erwin Marine operates Chickamauga Marina, off the main channel in an embayment just upstream of the lock, and Gold Point Yacht Harbor, a little east of downtown in a picturesque cove. Both offer showers, stores and other services for visiting cruisers.

About five miles downriver, Harrison Bay is home to Island Cove Marina & Resort and Chattanooga Yacht Club (private) and is adjacent to Harrison Bay State Park, one of the area's top spots for hiking, fishing and mountain biking.

Mark your calendars for RiverRocks, a free outdoor festival celebrating the natural blessings of the Tennessee Valley, the health benefits of the activities they inspire, and Chattanooga's commitment to environmental stewardship and conservation. It's from October 4 to 13 this year, with more than 120 activities spanning the 10 days, including hot air balloon rides, hang gliding, climbing, hiking, paddling and obstacle courses.

Visit nearby Lake Winnepesaukah, an amusement park located in Lakeview, Ga. This summer, it will unveil a five-acre, multimillion-dollar waterpark with a lazy river, wave lagoon, flume body slides, enclosed tube slides, side-by-side racer slides and a splash park for toddlers. It's not exactly a boating attraction, but who among us doesn't love swimming and soaking up some rays?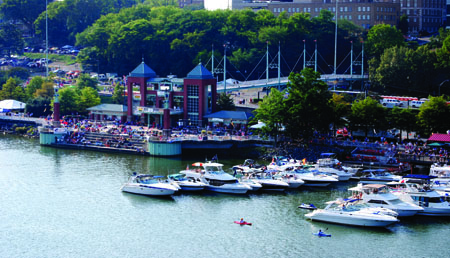 Volunteer Landing in Knoxville.

Courtesy of Visit Knoxville

KNOXVILLE

This northeast Tennessee River town made a splash as host of the 1982 World's Fair, and World's Fair Park remains a major gathering place for local festivals and performances, but Knoxville was a commercial and cultural draw long before that. The surrounding peaks provided attractive minerals and timber, which lured early entrepreneurs. Today, these same resources bring visitors to Great Smoky Mountains National Park. Knoxville is also home to the University of Tennessee and its formidable Volunteer Navy, but more on that later.

You can't miss Volunteer Landing, a one-mile promenade scattered with waterfalls and fountains, historical markers and three locally owned restaurants. It's also the location of the Star of Knoxville riverboat, offering lunch, dinner and specialty cruises, and the Three Rivers Rambler Railroad, providing scenic train rides along the Tennessee River.

Downtown Knoxville is within walking distance of Volunteer Landing, and the tourist options here are almost overwhelming. There's the 18th century Blount Mansion, Civil War Gateway, Knoxville Museum of Art, Knoxville Visitor Center, World's Fair Sunsphere (now free and open to the public) and Market Square, offering an eclectic blend of open-air dining, shopping and entertainment.

Tie up at Volunteer Landing Marina to be right in the middle of the action. It carries gas and diesel, and is equipped with electric and water hook-ups, transient slips, pump-out, a store and more.

About 25 miles downriver is Louisville Landing Marina, a Tennessee Valley Authority Clean Marina just a quarter-mile off the main channel in Lackey Creek. Ten miles further south is Sinking Creek, home to Fox Road Marina and Concord Marina, both of which provide full amenities and services.

Mark your calendar for college football season, because there's nothing else like catching a University of Tennessee home game with the Vol Navy. Neyland Stadium is one of only two college arenas that are directly accessible by boat (the other is the University of Washington) and up to 200 boats and their pigskin-crazed passengers turn out to tailgate here before and after games.

Visit nearby Lake Tellico, about 30 miles southwest of Knoxville. An extension of Fort Loudon Lake — the two are joined by a canal — it establishes a navigational waterway up the Little Tennessee River and creates the potential for non-stop cruising. Tellico Lake consists of 373 miles of shoreline and features a number of premier golf courses and resorts. You might even see the newest of the new Sea Ray, Bayliner and MasterCraft models buzzing around, as the lake is home to manufacturing facilities for these boat builders, among others.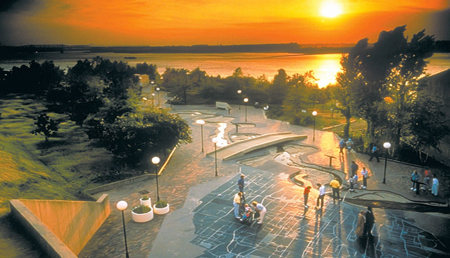 Mud Island at sunset.

Courtesy Memphis Convention & Visitors Bureau

MEMPHIS

Unlike its country neighbor to the north — we're talking to you, Nashville — this southwest Tennessee city has a rock 'n' roll heart. Its history is defined by the Mississippi River and the soulful culture that developed along its banks as a result of the rousing ideas and customs from countless travelers. Today, Memphis radiates a mojo that's part old school four-bar blues, part New South glitz and 100-percent all its own.

You can't miss Beale Street Landing, at the foot of the one-and-only street of the same name. (You know, where the blues come alive every night at places like B.B. King's, Black Diamond and Rum Boogie Café?) The landing is currently taking shape along the Mississippi as part of the city's riverfront development project, which will eventually connect Tom Lee Park, Cobblestone Landing, a river overlook and pathways for joggers, walkers and cyclists.

When it's complete, the landing will also serve as a docking facility for local and visiting excursion vessels, including the show-stopping American Queen. What better way to visit this great river city than on an overnight cruise of the Heartland's historic waterways?

Tie up at Mud Island Marina, about 1,500 feet up the Wolf River close to downtown Memphis (see УVisit nearbyФ below for more about Mud Island). This marina welcomes vessels up to 135 feet and has non-ethanol gas and diesel, electric, pump-out, restrooms with showers, WiFi, a store and restaurant.

About 10 miles downriver, Riverside Park Marina is off the main channel on McKeller Lake. It offers the similar amenities to Mud Island Marina, along with boat and prop repairs, and transporting.

Mark your calendar for June 15, the date of the 32nd annual Outdoors Inc. Canoe and Kayak Race, the largest such race in the Southeast. Paddler magazine named it the УBest Race in America,Ф and it attracts more than 500 participants to a 5K course down the Mississippi River. It's a short, fast race, but there are plenty of exhibitions, lessons and other family-friendly activities throughout the day.

The Black Keys, ZZ Top, Sheryl Crow, Alice in Chains and the Roots are some of the 60-plus artists scheduled to perform at the 2013 Beale Street Music Festival. The three-day party kicks off May 3 at Tom Lee Park along the banks of the Mississippi.

Visit nearby Mud Island, actually a peninsula, just a little over a mile removed from downtown. The naturally stunning park is accessible by the Memphis Suspension Railway (a monorail), by foot (via a footbridge on top of the monorail) or by ferry, and is home to a river museum, scale model of the Lower Mississippi, amphitheater, and canoe, kayak, paddleboat and mountain bike rentals.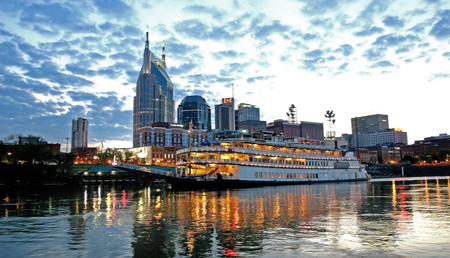 The General Jackson showboat in downtown Nashville.

Courtesy of the Nashville Convention & Visitors Corp

NASHVILLE

Country music put Nashville on the map, but it's not this northwestern Tennessee city's only talent. A wide assortment of attractions paint a different picture of this destination from what you might expect — stately Southern mansions, vibrant shopping and cuisine, exciting outdoor activities, inviting museums, galleries and performing arts institutions. But, of course, if country music is your thing, УMusic CityФ will not disappoint with its unequaled venues and events.

You can't miss Riverfront Park, which connects the Cumberland River with the city's bustling downtown area. The Nashville waterfront is wrapping up a decade-long restructure and expansion project, and Riverfront Park reaps the benefits with increased green space, boardwalks, overlooks and plazas.

Already arguably Nashville's favorite outdoor entertainment venue, Riverfront Park now offers more acreage for festivals, concerts, fireworks and other special events. In addition, new docking facilities for the General Jackson showboat mean its daytime country music shows and elegant three-course dinner cruises are here to stay.

Tie up at the Nashville Municipal Dock in the shadow of the Shelby Avenue Bridge, which ties the Coliseum side of the Cumberland River with downtown. There's electric and water on the west bank dock; electric only on the east bank. Step off the boat here and the Hard Rock Café is just up Broadway.

About 15 miles downriver, in an old quarry, Rock Harbor Marine offers gas and diesel, electric, water, pump-out, guest restroom and laundry, and a season restaurant.

Mark your calendar for four days of music from hundreds of artists including live concerts, meet and greets, autograph signings, celebrity sporting events and more. It's all part of the CMA Music Festival to be held from June 6 to 9 on the banks of the Cumberland River.

On August 23 and 24, Nashville is set to host the Music City Festival & BBQ Championship, combining more music and a barbeque cook-off. Attend the Уdelightfully tackyФ Swine Ball, where pig noses are encouraged, enter the hog calling contest and check out the music on the Grand Ol' Porker Stage. There will be cool car and hot bike contests, too.

Visit nearby J. Percy Priest Lake, just 10 miles east of downtown Nashville. Measuring 42 miles long, this body of water is well known for its fabulous fishing (largemouth and smallmouth bass, crappie, striped bass, catfish, bluegill, bream, trout) and also for Nashville Shores, a first-class waterpark with a 310-slip marina, mini golf, boat and Jet Ski rentals, campsites and lake-view cabins. Sounds like the great place for a vacation from your vacation to us!