The Slikkers family, founders and owners of Tiara Yachts based in Holland, Mich., looked at the marketplace and saw a gap in their line. They had a comprehensive variety of sedans but no contribution to the substantial and growing flybridge cruiser market. With the new F44, problem solved.
Coastal boaters can sometimes harbor a mistrust of Midwest-built boats for voyaging, but Tiara long ago overcame that bias. The company has developed a reputation for crafting exceptionally seaworthy vessels, and, in fact, one of its top dealers is in Puerto Rico, where tradewinds generate pretty big seas and serious bluewater passages. What this tells me is our freshwater brethren throughout America can feel secure in their Tiara capably handling any conditions Mother Nature throws their way.
At the same time, Tiara also qualifies as one of the most progressive marques, pioneering new propulsion, construction and design concepts. The company's leadership has always enjoyed a reputation as customer oriented and honest, and for having an unswerving corporate conscience. In other words, for doing the right thing. Those traits keep customers returning, and I believe the new F44 will also.
Finer Things
The F44 features a great modern design blended flawlessly with elegant styling and sophisticated appointments like Euro-styled fixtures and lighting. Traditional finishes and teak-and-holly soles contrast the polished stainless fittings and cabinetry. I particularly like the unique frosted-glass storage cabinets in the galley that the beautiful varnished wood showcases dramatically.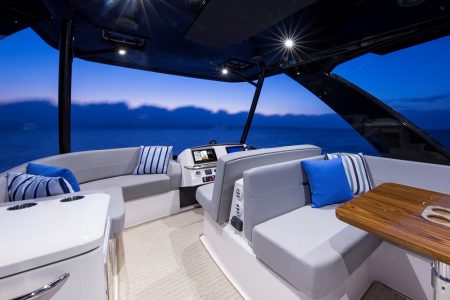 I don't believe I've ever been aboard a flybridge or sedan vessel with as much visibility from the salon. Ambient light so fills the space that it seems like living in an atrium! An interesting chaise with a canted back for reclining can be replaced by an optional lower helm on the starboard side, but once you see the amazing flybridge enclosure, I can't imagine exercising that option.
Tiara makes incredibly good use of space from stem to stern for comfort and storage. From the master stateroom in the bow, with its queen island berth and bi-fold door open, you can see all the way to the transom. There's a full head with shower here, while another full head accommodates the guest cabin and salon.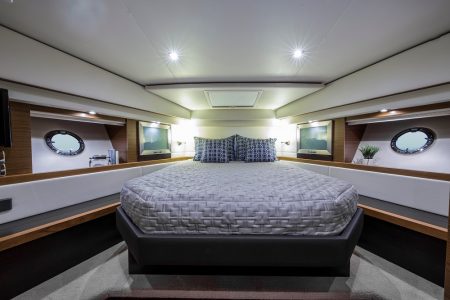 I must also commend the Tiara decorator. Even the exterior seating exudes an unusual sophisticated elegance rarely seen on production yachts. The salon's aft doorway opens almost full beam, and integrated throughout the F44 are great handholds everywhere. Everybody will find climbing the flybridge ladder a breeze. The huge bridge can be completely enclosed and offers great seating for the entire family.
Joy to Drive
Though much larger than the average helmsman, I found the station's ergonomics superb, with more than enough space for twin MFDs plus other system controls.
Propulsion on the F44 consists of Volvo Penta's IPS 600 drives coupled to twin 435-horsepower diesels and the latest generation joystick control and glass cockpit. Old salts can order standard propulsion consisting of straight shafts and props accompanied by an optional bow thruster (which can also be equipped with joystick controls), but the IPS offers greater than 30-percent better overall efficiency in fuel economy, speed, noise level, turning and every other performance parameter.
Because IPS routes the engine exhaust down through the pod drives and into the water well under the hull, idle speed is virtually silent. In a light chop, the F44 hit a top speed of 32.3 mph at 3,550 rpm. However, the fleet of Tiara test boats had been sitting in an algae-prone area of the St. Lucie River for several weeks, and a diver was in process of bottom cleaning them all. I expect the factory engineering report claiming 33.7 at 3,628 rpm is more accurate.
Dock like a pro using the joystick, but in this latest generation of IPS, you can also drive with it while underway — or opt for the traditional super-smooth, power-assist steering wheel. Since the entire pods turn rather than just rudders, high-speed maneuvering on the F44 will astound you. Fuel-flow figures point to just over 28 mph as the most efficient cruising speed at 0.8 gph, resulting in a range of 250 miles.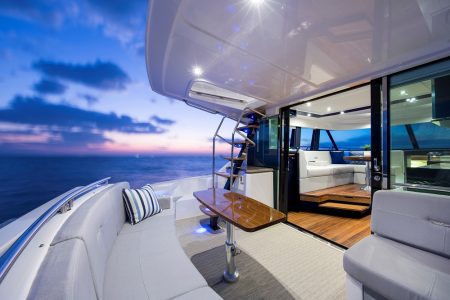 The only negative I found concerns visibility aft from the helm — or should I say lack of visibility — making backing into a slip potentially difficult. However, Tiara offers two options that resolve the issue. One is a cockpit control station and the other is a video camera that displays directly on the helm's glass cockpit display. Both work perfectly.
I freely admit that, being a hardcore offshore fisherman and trans-ocean passagemaker, flybridge cruisers have never held breathtaking appeal for me. But the flair, styling and sophisticated taste Tiara has blended with traditional lines and layout has really changed that perception. Combine that with true seakeeping ability, and the F44 qualifies as a boat I'd be proud to own.
---
Tiara F44
Length Overall: 45'6″
Beam: 14'11"
Draft: 3'11"
Dry Weight: 32,500 lbs.
Fuel Capacity: 350 gals.
Water Capacity: 118 gals.
Base Price: $1,004,140
Price as Tested: $1,177,705
tiarayachts.com
[author] [author_info]Dean Travis Clarke is a regular contributor to HeartLand Boating magazine[/author_info] [/author]