One of the Holy Grails of boat design is to eliminate "dead space," an area that takes up room yet performs no function. Sea Ray's new 400 Fly succeeds admirably in this quest by fitting more into its 40-foot hull than you would think possible.
OK, admittedly, with the swim platform attached, it's a 43-foot hull (and that's what a marina will charge you for). But length on deck is 40 feet, and within that volume, this cruiser has considerably more interior space than previous models due to some major design changes. For example, in most cruisers, the house sides cant in at 14 to 16 degrees. On this boat, that angle measures about 7 degrees. In addition, this boat's construction benefits from a new modular design with the house sides and overhead molded separately. This, combined with advanced composite foam in the lamination schedule, lets Sea Ray build these parts thinner yet stronger than before, which provides noticeably more room inside.
What's more, besides boasting greater internal volume, the boat feels bigger and more expansive thanks to smart engineering elements like the salon door, which stretches almost the full beam and offers an amazing view aft. It opens in two different ways, allowing for an unobstructed connection between the salon and aft deck and effectively creating one socializing zone.
Three's Company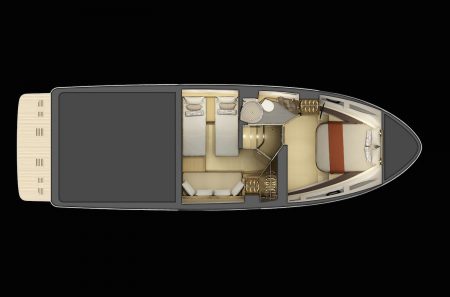 Below deck, the full-beam guest stateroom amidships sleeps three. Its skillful design finds two side-by-side athwartship berths on tracks, so you can pull them apart to form twins or push them together and lock them in place to create a queen berth. The third twin in this cabin orients fore and aft and doubles as settee during daytime hours.
The master stateroom forward sports a single queen-sized berth and an optional head with stand-alone shower. Don't fancy a master head? Standard fare consists of a deluxe storage system in its place, featuring a space-saving, slide-out vanity.
The standard head with a separate shower resides just outside the amidships guest cabin.
Apparently, many Sea Ray customers don't cook much while aboard. So, to make more room for living space and entertaining, the designers scaled back the size of the galley slightly — though what was lost has been replaced with additional storage.
In case the two staterooms can't handle your sleepover plans, the salon sofa pulls out and, with filler cushions, performs double duty as another queen berth.
At an above-average height, I particularly appreciate the exceptional headroom both above and below decks. Other features I find extremely appealing include the huge side windows in the master stateroom that let you look out at the water while your head rests on the pillows. Any time you can add light and a view to the outside, you add a sense of space.
Alfresco Features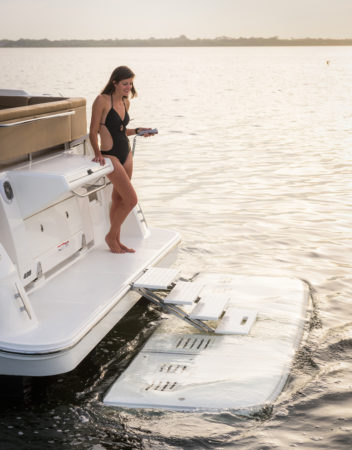 You have a choice between two options on the swim platform: fixed or hydraulic with a 500-pound capacity. The hydraulic lowers comfortably into the water and makes waterborne ingress/egress much easier. Plus, a very interesting stair design automatically folds flush or deploys as the platform raises and lowers for ease of access from the aft cockpit.
Remember how studies showed owners cooking less on board? Well, they still like to grill! To that end, an optional outdoor entertainment center located in the transom houses a grill. If you wish, you can also stipulate a wet bar on the flybridge.
Speaking of which, the flybridge features a very roomy area with a complete upper control station mirroring the helm in the salon.
Last but not least, in the comfort department, the bow sports a big sun lounge with adjustable backs on the sunpad and — if you opt — a stylish sunshade.
Cruise Control
Standard propulsion consists of a pair of Cummins QSB 6.7-liter diesels rated at 459 horsepower, each coupled to V-drives. I'm told most buyers opt for the bow thruster and joystick controls — a wise choice. With or without the joystick, the 400 Fly affords you inch-by-inch control when maneuvering.
Our test boat hit 30 mph just 20 seconds after pushing the throttles forward and topped out at a respectable 35 mph while burning 47 gph. I found the optimal cruising speed to be 30.5 mph at 3,000 rpm while using 38.5 gph, providing a range of more than 200 miles.
The 17-degree deadrise translates to a smooth ride in a head sea but without causing the boat to roll uncomfortably when drifting beam to the waves. I also found the boat to be remarkably quiet above and below deck at all speeds.
The Sea Ray 400 Fly stands as sleek, stylish, open and exquisitely comfortable cruising yacht that will work equally well as a weekend home or an entertainment platform. It's a design that will please young and old at the same time, since everyone can have their own space when they feel so inclined. Bravo. Cornelius N. "Connie" Ray would heartily approve!
---
A Little Off the Top
The Sea Ray 400 series also includes an express model, the 400 Sundancer. This cruiser shares the same interior layout and features as its sister-ship but has a hardtop with retractable sunroof rather than a flybridge. It comes available with gas or diesel V-drives and sterndrives.
---
Sea Ray 400 Fly
Length Overall: 40'
Beam: 13'6"
Draft: 3'7"
Dry Weight: 33,693 lbs.
Fuel capacity: 352 gals.
Water capacity: 100 gals.
Base price: $744,000
www.searay.com
Author: Dean Travis Clarke is a regular contributor to HeartLand Boating magazine