Has a state ever been so misrepresented? It's nicknamed the Prairie State, yet Illinois is edged on three sides by water, borders a Great Lake and is bisected by a major water thoroughfare for recreational boaters and the marine transportation industry. So say what you want textbooks, we know the true spirit of this territory — a water-rich landscape packed with a long history of great river towns and local shoreside attractions. Keep reading to meet four of the state's top boating destinations and their seemingly endless leisure options, so you can know the true spirit of Illinois, too.

CHICAGO

Our visit to Illinois begins, appropriately, in one of the busiest ports in the world. Chicago's history and development are defined by its location, which provides access to the Great Lakes and the Atlantic Ocean through the St. Lawrence Seaway, as well as to the inland rivers that lead to the Mississippi and the Gulf of Mexico. Indeed, the Windy City has long been a stopover for those traveling the Great Loop, and with its megawatt downtown and outstanding attractions, it's not hard to see why some may find it hard to leave.

You can't miss Navy Pier, once a shipping and military training facility but now a major tourist destination. Located east of downtown on Lake Michigan, the pier consists of 50 acres of parks, promenades, shops, eateries and more. There's no admission, but some of the attractions do require a fee. Take a ride on the 150-foot-tall Ferris wheel, see an IMAX movie or check out the children's museum.

Caught in Chicago without your boat? Hop on one of the cruise vessels departing from Navy Pier's South Dock. Shoreline Sightseeing operates nine touring boats and 11 water taxis here and in other parts of the city, offering guided skyline tours, architectural tours, fireworks cruises and special events such as Brew Cruises and Wine Tasting Cruises.

Currently under reconstruction, the Chicago Maritime Museum will open in the next few months at a new facility adjacent to the Chicago River in the Bridgeport neighborhood. It features historical photographs, artwork and displays tracing the significance of the city in the marine transportation industry.

Tie up at one of the Chicago Park District's 10 lakefront harbors, which include Jackson Park Outer Harbor, Jackson Park Inner Harbor, 59th Street Harbor, 31st Street Harbor, Burnham Harbor, Monroe Harbor, DuSable Harbor, Diversy Harbor, Belmont Harbor and Montrose Harbor. With room for more than 5,000 boats, these marinas feature state-of-the-art docks, moorings, fuel facilities and other amenities. They all have transient docking except for Monroe Harbor, which has transient mooring with tender service.

Mark your calendar for summer, when thousands of boaters take to the lake each day for cruising, sailing and fishing. In June, the Chicago In-Water Boat Show returns to 31st Street Harbor for its third year. Highlights include Fred's Shed Interactive Learning Center, the Antique & Classic Boat Display and Try It Cove, where you can get hands-on with some of the boats on display.

In July, SCENE Magazine and Chicago-Scene.com host an annual Boat Party so epic that it has been featured in the New York Times. The giant raft-up is open to anyone with a runabout, yacht or personal watercraft and draws some 700 vessels each year. Bring plenty of food and drinks and let it all hang out for a few hours or the whole day! The party takes place off Chicago Avenue Beach, north of the water filtration plant.

Visit nearby Lockport, Ill., about an hour from downtown Chicago, to explore its four museums within walking distance of each other. One of the sites is a unique outdoor museum known as Lincoln Landing. Adjacent to the Illinois & Michigan Canal, it follows the channel's original line and has mile markers with historic information and character silhouettes, including one of President Lincoln contemplating the waterway.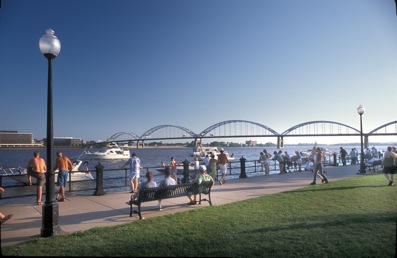 QUAD CITIES

Consisting of Moline and Rock Island, Ill., and Davenport and Bettendorf, Iowa, the Quad Cities lie at the confluence of the Rock and Mississippi rivers. Together, they make up the largest metropolitan area between St. Paul and St. Louis, meaning there are activities and attractions galore — resorts, restaurants, golf courses, shopping, spas, theaters and more — but with all the hospitality of a small Midwest town. Want to impress your boating friends? Wow them with your knowledge that the Quad Cities is the only bend where the Mississippi flows east to west instead of north to south.

You can't miss the historic experiences offered here. So, after you cash in at one of the three area casinos — The Isle, Jumer's or Rhythm City — stop by the Mississippi River Visitor Center on Rock Island Arsenal. Its new floor map shows all the waters and lands of the local Mississippi corridor, highlights recreation areas and locks and dams, and teaches about the relationships between the river and surrounding communities.

The Family Museum in Bettendorf has a similar attraction designed for younger guests: The new Lil' Ssippi River Valley play area includes a 28-foot water table that resembles an actual stretch of the Mississippi and allows kids to add obstacles and raise or lower water levels as they watch their boats make the journey downriver.

In Davenport, the River Music Experience gives Quad City residents and visitors the chance to experience the aural history of the Mississippi. There are concerts and performances year round, and exhibits include a space dedicated to local icons such as Bix Beiderbecke, Francis Clay and Pat Patrick, and a scale model of the Streckfus Steam Line's flagship excursion boat, which played a major role in the movement of music along the river.

You can cruise the mighty waterway yourself on the Celebration Belle paddlewheel boat out of Moline, or hop aboard the Channel Cat Water Taxi to get between various landings in the upper-pool of the Mississippi.

Tie up at Sunset Marina in Rock Island, which offers dockage for 473 boats from 16 to 60 feet in length. Owned and operated by the Rock Island Public Works Department, the marina has a fuel dock with gas and diesel, free pump out, restroom and showers, public launch ramp and a 35-ton Travelift should you need maintenance or repairs.

Mark your calendar for one or more of the many riverfront festivals that take place around the Quad Cities, including the Red, White & Boom Fireworks and Mississippi Valley Blues Festival (around the July 4th holiday), Great River Tug Fest (the first or second weekend in August), Floatzilla (mid-August) and East West Riverfest (two weeks in September).

More on these events can be found on our website at www.heartlandboating.com/May-2013/Summer-Fest-For-Alls/, www.heartlandboating.com/April-2013/Paddle-On/ and www.heartlandboating.com/August-2013/Fall-Fests/.

Visit nearby LeClaire, Iowa, and embark on a two-day cruise to Dubuque, Iowa, aboard the Twilight riverboat. The all-inclusive trip includes admission to the National Mississippi River Museum & Aquarium and shuttle service to Port of Dubuque attractions. There may be no better way to experience the river life than aboard what's been described as a "floating palace."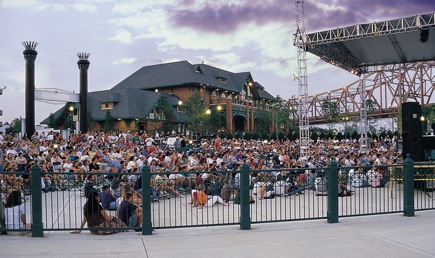 PEORIA

It gets a bum rap as The Average American Town thanks to comedian Groucho Marx and his famous phrase "Will it play in Peoria?" But, in reality, there's a lot going on here that is not average. Halfway between Chicago and St. Louis on the Illinois River, Peoria has a vibrant downtown and provides diverse activities and events that would make any big city envious. You can enjoy outdoor recreation (Peoria Zoo, Wildlife Prairie State Park) and great indoor draws (Planetarium, Caterpillar Visitor Center) along with the region's rich heritage and contemporary ambiance. To be sure, there's a lot of play in Peoria.

You can't miss Peoria's riverfront district, which has undergone a massive revitalization in recent years. It is now the centerpiece of the city, featuring an array of retailers, restaurants and attractions in a pleasant setting interwoven with parks and trails. The outdoor RiverFront Market sells Illinois-grown produce, meats, cheeses, fresh breads, herbs and flowers — plus a great selection of local art — every Saturday from June to September.

The Peoria Riverfront Museum brings together art, history, science and entertainment through interactive displays and programs for all ages. Its Illinois River Encounter talks about the origins of the river, its ecosystem, fishing and hunting, and the river as a highway, with miniature exhibits of levees, canals and locks. There are aquariums, stream tables and other elements here, too.

In addition, the museum's Folk Art Gallery contains more than 600 works of art spanning three centuries of Midwestern creative expression. Most notable are the textile collection and the Illinois River wildfowl decoy collection.

Tie up at Detweiller Marina to be closest to downtown Peoria, about 14 blocks away. Located on a nine-acre green space, the municipal park-owned marina has 180 slips from 20 to 30 feet with electric/water pedestals, as well as pubic restrooms, showers and picnic areas. There are also 20 in-water beach slips with no power (water is available) and three launch ramps.

Across the Illinois River in East Peoria, EastPort Marina offers 280 slips from 25 to 50 feet in length. Several fine dining and casual restaurants, as well as a swimming pool and two hot tubs, are within walking distance, and the marina has 24-hour restroom and shower facilities, a laundry, fuel, pump out and full service department.

Mark your calendar for mid-June to experience the Steamboat Days Festival on the Peoria riverfront in Festival Park. Kick off the weekend with a ride on the Spirit of Peoria riverboat, take in some live music and carnival rides, and man up at the All-American Lumberjack Show, featuring log rolling, ax throwing and more.

There's also the Illinois Blues Festival in August, drawing big names such as Kenny Wayne Shepherd and Marcia Ball, and plenty of other events held along the picturesque waterfront.

Visit nearby EastSide Centre in East Peoria to ride the waves at Splashdown, a three-acre water park with a lazy river, tube slide, activity pool, kiddie pool and three-story tree house. It's the ideal place to get wet and cool off after a long day in the sun.

East Peoria also lights up the night with Par-A-Dice Hotel and Casino, offering four levels of gaming as well as four restaurants and year-round entertainment.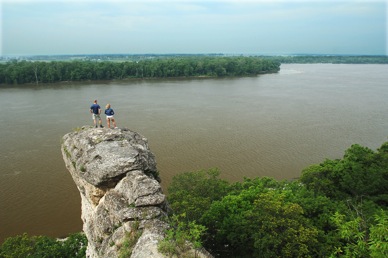 Gene Kunz

ALTON

At the meeting point of three great American rivers — the Mississippi, Illinois and Missouri — the Alton region is as beautiful and authentic as they come. The area is blessed with stunning bluffs, rolling countryside and abundant wildlife, with quaint villages and friendly people throughout. Along with the scenic qualities that make Alton and its surrounding communities an outdoor recreation hot spot, you'll appreciate the historic attractions, quirky culture and many entertainment options located along the 33-mile long Meeting of the Great Rivers National Scenic Byway, which ties it all together.

You can't miss National Great Rivers Museum, located at the Melvin Price Locks and Dam in Alton, where you can learn about the Mississippi's rich history and its impact on our nation. A profile of the museum its 20 interactive and educational exhibits is available in our story "Now That's Edutainment" (April).

The new Lewis & Clark Interpretive Center near Hartford, Ill., consists of more than 14,000 square feet of exhibits, displays, artifacts and multimedia renderings that emphasize the preparation that went into the famous expedition. A highlight is the 55-foot, full-scale replica of the expedition's keelboat, which allows visitors to walk through the vessel to examine the supplies that were brought along and the manner in which they were stowed.

Perhaps the best way to experience the outdoor wonders of the area is on a hike to the top of McAdams Peak at Pere Marquette State Park or a bike ride along the Sam Vandalabene Bike Trail, which parallels 20 miles of the Meeting of the Great Rivers Scenic Byway.          

Tie up at Alton Marina for a protected harbor and first-class features including concierge-level dock service, swimming pool and spas, private bathroom suites and a courtesy shuttle to area shopping, restaurants and attractions. It also offers gas and diesel fuel, pump out and mechanical service.

Piasa Harbor is another option in Alton, and nearby Grafton Harbor serves area boaters with quality amenities right in the heart of this charming town just 19 miles upriver. Numerous restaurants, wineries, shops, and hiking and biking trails are all within walking distance.

Mark your calendar the colder weather months to have a chance to spot bald eagles soaring over the bluffs. Each year, thousands of the majestic birds migrate to the area for the fish found in the cold waters of the Mississippi and Illinois rivers. The eagles begin arriving in late December and stay until March, before flying back up north, so you'll have to plan carefully if you intend an eagle watching cruise here.

Visit nearby St. Louis, Mo., right across the river, for a look at one of the most important ports in the history of America's westward expansion. The 630-foot-tall Gateway Arch stands as the iconic centerpiece of the Jefferson National Expansion Memorial, which also features a museum in which you can explore the world of the American Indians and 19th-century pioneers. Just a short walk away, you'll find Laclede's Landing, the city's oldest district and top riverfront entertainment destination. Imagine a nine-block area with cobblestone streets, gas lamps and open-air cafes, clubs and shops in refurbished storehouses, and you get the picture.