History-rich river towns, mountain-music hideaways and just-right family attractions make Missouri as inviting as any destination in the Midwest. What's even better for boaters is that it's possible to cruise the length and breadth of the Show Me State on two of the country's mightiest waterways — the Mississippi and Missouri rivers — soaking in every last bit of the pioneer spirit, with side trips to beautiful lake resort areas creating a varied and unforgettable adventure.

ST. LOUIS

Established in 1764 as a trading outpost by Pierre Laclede, St. Louis is a big city with a small town feel. The confluence of the Missouri and Mississippi rivers, just to the north, made it ideal as a point of embarkation during America's westward expansion, and much of the culture can be traced back to immigrants from all over the world who left their significant footprints here. Today, the Gateway City is defined by its historic locations, eclectic neighborhoods and welcoming charm.

You can't miss the Jefferson National Expansion Memorial, literally, thanks to the 630-foot-tall Gateway Arch, which stands as its iconic centerpiece. Other sites within easy walking distance include the Museum of Westward Expansion, the St. Louis Cathedral and the Old Courthouse, made famous by the Dred Scott case. Two replica 19th-century paddle-wheel boats, Tom Sawyer and Becky Thatcher, offer a full schedule of daily cruises departing from downtown.

At the base of Eads Bridge, the first road and rail bridge to cross the Mississippi, Laclede's Landing is St. Louis' oldest district and top riverfront entertainment destination. The nine-block area was once the manufacturing, warehousing and shipping hub of the city. Now, it hosts 20 great restaurants, clubs and shops. Take a horse-drawn carriage ride on the cobblestone streets for a true back-in-time experience.  

Tie up at Dardenne Slough, home to several marinas that serve the St. Louis area. It runs along the Missouri shoreline behind several small islands. The upstream entrance is at mile 228.5 at the Golden Eagle Ferry landing. The downstream entrance is at mile 221.7, some 100 to 200 yards below the can buoy. Recommended full-service marinas include North Shore Marina and Port Charles Marina.

Nearby Portage des Sioux, Mo., and Grafton and Alton, Ill., likewise serve local boaters, as there are no recreational docks on the Mississippi River in downtown St. Louis. The Alton Marina provides a protected harbor and quality amenities.

Mark your calendars for Fair St. Louis, a Fourth of July tradition for more than 30 years. Held on the Arch grounds, the patriotic affair features free air shows, big-name concerts, kids' activities and amazing fireworks on July 4, 5 and 6.

In addition, the annual Taste of St. Louis brings together the area's best food, art and music in the middle of Market Street, attracting approximately 400,000 people last year. For 2013, the dates are September 27 to 29.

Visit nearby St. Charles, west of St. Louis on the Missouri River, once home to frontiersman Daniel Boone and launch point for explorers Lewis and Clark. These days, the village center has quaint shops, restaurants and hotels, as well as the Lewis & Clark Boat House and Nature Center (see "Now That's 'Edutainment,'" April). Prefer some pampering? Look no further than the bevy of nearby wineries, spas and salons, and the Ameristar Casino.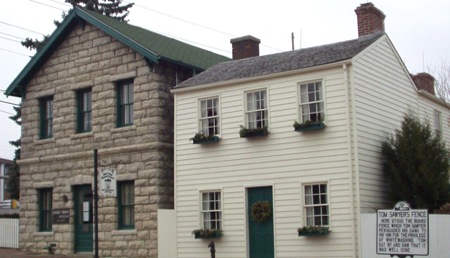 The Mark Twain Boyhood Home & Museum.

HANNIBAL

Hannibal is a place where fact and fiction meet, firmly linked to homegrown author Mark Twain as well as the precocious characters he brought to life. Where else but in this town-that-time-forgot could you enjoy the Twain on Main festival, National Tom Sawyer Days and (oddly) the Mark Twain All Corvette Car Show? Inspired by the memory of Twain and other well-known sons and daughters, Hannibal has become a haven for artisans and, of course, their admirers. 

You can't miss historic downtown Hannibal, where you can retrace the adventures of young Samuel Clemens (pre-pseudonym) at the Mark Twain Boyhood Home & Museum, learn about the life and times of "Unsinkable" Molly Brown in her restored home and explore the city's remarkable past at the Hannibal History Museum.

The Mark Twain riverboat regularly embarks on sightseeing tours that include commentary on local history and legends. You'll see Jackson's Island, Lover's Leap and the Mark Twain Lighthouse on Cardiff Hill. On your return, enjoy fine shopping and dining along Hannibal's picturesque Main Street.

Tie up at Hannibal Boat Harbor, located one block from downtown and operated by Hannibal Parks & Recreation. It's off the channel, behind a breakwater a half-mile downstream of the highway bridge. New gas docks opened in 2009, carrying 89-octane gas and diesel, and other amenities include electric, water, restrooms, transient dockage and a boat ramp.

Mark your calendars for the Twain on Main Festival, a free arts and crafts fair that kicks off with a Memorial Lantern Float, remembering those who have been loved and lost. This year's theme is "The Prince and the Pauper," where you can join the fun on May 25 and 26.

National Tom Sawyer Days, taking place from July 3 to 7 this year, will get kids in the spirit of its namesake patron with a parade, carnival, frog-jumping contest, raft races, fence-painting contest, fireworks over the river and much more. This is also probably the only festival where Tom and Becky regularly stroll the streets.

Visit nearby Sawyer's Creek Fun Park, one mile south of Hannibal on scenic Highway 79. It features entertainment, dining and shopping in a low-key atmosphere. Among the amusements are miniature golf, bumper boats, water catapults, an arcade and a kiddy train.

Sawyer's Creek is across from the Mark Twain Cave, another great family activity, with guided tours along the level underground walkways. The cave grounds also offer camping, a visitor's center with gift shop and the Cave Hollow West Winery.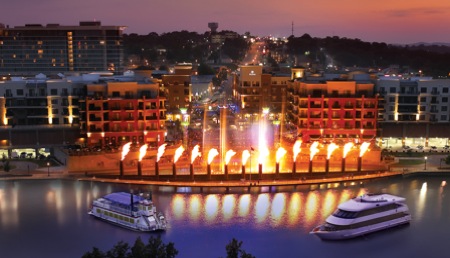 Branson Landing Cruises at night.

BRANSON

Nestled in the forested hills surrounding Table Rock Lake, the "Live Music Show Capital of the World" is a little slice of Nashville dropped in the middle of the Ozark Mountains. But there's much more than country music going on here. Branson is likewise loaded with championship golf courses, dozens of attractions and museums, an award-winning theme park, shopping galore, a full range of dining options and a host of hotels, resorts, RV parks and campgrounds.

You can't miss the outdoor activities. Spanning 43,000 acres of water and 800 miles of shoreline, Table Rock is one of the top fishing lakes in the country, with an abundance of largemouth and smallmouth bass, crappie, catfish and bluegill. If angling isn't your thing, the area is also ideal for swimming, watersports and even diving. The Showboat Branson Belle takes passengers on lunch and dinner cruises complete with live music. Or, for a truly wet and wild experience, Ride the Ducks has "land and lake" tours aboard vehicles based on the World War II DUKW amphibious design.

Main Street Lake Cruises at Branson Landing, an open-air shopping and dining mall in town, also offers excursions aboard its Lake Queen, a riverboat replica, and Lake Princess, a 100-foot yacht. Each cruise culminates with a performance of the Branson Landing Fountains, a synchronization of water, light, sound and fire.

Tie up at Table Rock Lake or the neighboring bodies of water. (Lake Taneycomo is on the opposite side of the Table Rock Dam, and Bull Shoals Lake begins where Taneycomo ends and flows eastwardly into Arkansas.) The Army Corps of Engineers maintains numerous public boat ramps on the lakes, and some of the area resorts also have ramps.

State Park Marina, centrally located in Table Rock State Park, has 600 slips and is home to the Boathouse Boutique, a dive shop, boat rentals, Danna's BBQ and the new Oasis Hawaiian shaved ice. Indian Point Marina is a full-service marina also with boat rentals and a dive shop, plus a tackle shop and floating cafe.

Mark your calendars for summertime. That's when the local festivals heat up and that stars come to town. This year's touring artists include Tim McGraw, Merle Haggard, Trace Adkins and Lynryd Skynyrd.

Visit nearby Rockaway Beach, the first "family resort community" west of the Mississippi, founded in 1917. The small lakeside town is 10 miles northeast of Branson. With a one-and-a-half mile shoreline stretching along Lake Taneycomo, fishermen come to enjoy the acclaimed rainbow and German brown trout fishing. Al Capone reportedly vacationed in here during his heyday, and you can see his alleged hideaway across the lake.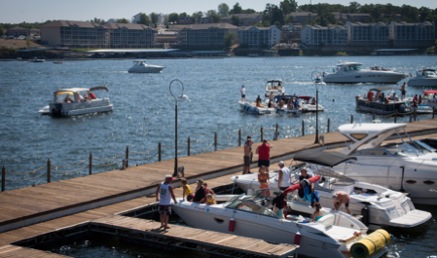 Boating is a favorite pastime in Lake of the Ozarks.

LAKE OF THE OZARKS

If Branson is Las Vegas, then Lake of the Ozarks is Lake Tahoe — less luminescent but just as lovely and inviting. Vacations here are defined not so much by the attractions as by the lake itself, which covers 54,000 acres and 1,150 miles of shoreline in the heart of Missouri. Stay at a luxury resort, hotel, condo, cabin, campground, bed-and-breakfast or houseboat. Laid-back or lively, the economy and pace of a trip here are completely up to you.

You can't miss the Bagnell Dam Strip, a nostalgic boulevard with shopping and family activities like mini golf, go-karts, arcades and bungee jumping. Be sure to visit the scenic overlook and check out the Bagnell Dam Historical Museum.

On the water, the Aquatic Trail in Lake of the Ozarks State Park is a nine-mile route that runs from Public Beach #1 (near the lake's east end) to Grand Glaize Beach. Fourteen stops, each marked with an orange-and-white buoy, point out sights like Lumberman's Logging Chute, a gap in the bluff used a century ago to push railroad ties down into Grand Glaize Creek, and Nature's Apartment Houses, overhanging rock outcroppings possibly used as shelter by Native Americans. A booklet with map and detailed explanations is available at the park office.

Tie up at one of the 25 full-service marinas operating here. The Osage Beach area on the east side of the lake has lots waterfront restaurants for dock-hopping, and marinas here include Kelly's Port (named "Best Marina in the Nation" by PowerBoat magazine), Miller's Landing (home of the Oar House Bar & Grill) and Yacht Club Marina (in a protected cove with repair and rentals).

The west side of the lake has traditionally been known as the "quiet side." If this is more your speed, try Rebel Harbor Marina. It offers a gas dock, convenience store, repair and service, and boat launching.

Mark your calendars for the Lake of the Ozarks Shootout, the largest unsanctioned boat race in the U.S., set for August 17 to 25. High performance monohulls and catamarans from around the country will compete on the one-mile drag, and other activities include a golf tournament, fireworks, live entertainment, boat rides, and meet and greets with the drivers. Last year's event lured upwards of 100 racers and 100,000 speed-crazed fans.

Visit nearby Ha Ha Tonka State Park, containing 12 hiking trails, eight known caves and numerous picnic areas in its 3,600 total acres. The two coolest draws here are the Colosseum, a huge, theater-like pit rumored to have been used for Native American tribal meetings, and Castle Mansion, the famous ruins of a three-story stone estate that was started in 1905 but never finished.