Starcraft founder Arthur E. Schrock began building boats — as well as farm equipment and aluminum water tanks — in Goshen, Ind., in 1903. He wouldn't recognize the great products his company builds now!

The 210 SCX OB constitutes the company's first outboard version of its successful wakeboard line. The engine on an Armstrong bracket accomplishes two significant improvements over the previous inboard/sterndrive package: The bracket moves the propeller farther aft so that water coming off the vee of the hull has a chance to rejoin, affording the prop better thrust, and it allows Starcraft to provide an aft-facing seat at the full-width transom as well as a mammoth storage compartment where the inboard used to live. I wouldn't let anyone sit there while underway, of course.

Our test boat came fitted with the optional Sport Package, which includes a wakeboard tower with huge speakers and wakeboard racks.

I like the large bow seating area with a walkthrough and boarding ladder at the nose for when you want to beach your boat. Other seating includes an L-shaped settee in the cockpit that boasts a reversible seatback, allowing you to relax and stretch out lounge-style facing either forward or aft — your choice. And the swiveling captain's bucket seat has an adjustable bolster to raise you up for maneuvering in close quarters.

Perhaps what impressed me most was the modified dihedral hull design, making the running surface one step short of a multihull. The sponson on each side makes for a smoother ride in a chop, increased roll stability and a much wider bow section rather than the point most monohulls exhibit at the stem. You'll immediately notice that the 27-inch-high freeboard creates a much taller profile on the 210 SCX. Rather than just form, this factor also performs a function: It makes for extra-deep seating areas, so parents with small children needn't fear their precious cargo easily toppling overboard.

In addition to the dramatic transom storage, Starcraft has belowdeck storage on the centerline, as well as in the consoles and under the forward seating.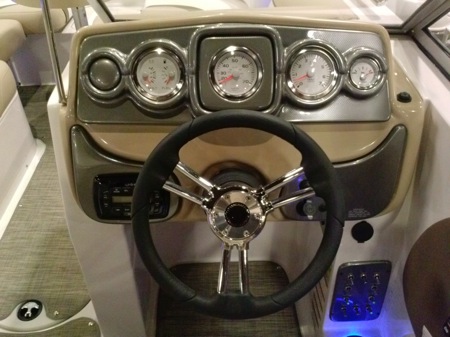 We tested the 201 SCX OB on Lake of the Ozarks on a picture-perfect autumn day with a mere 5- to 10-mph breeze. The new Yamaha 200XB lifted the 210 onto plane in just over three seconds and to 30 mph in 9.7 seconds. I topped out at 47 mph, turning 5,900 rpm while burning 19.2 gph for a remarkable wide-open-throttle economy of 2.29 mpg. My tests showed the most efficient cruising speed came in at 3,500 rpm, which produced just under 25 mph while burning a scant 5.4 gph or an unbelievable (for a boat) 4.52 mpg!

I mentioned the roll stability earlier, and that also carries over to running performance. When I turned the wheel hard-over at cruising speed and trim, the 210 SCX leaned moderately into the turn, the boat bled speed quickly and, combined with the stern sliding just enough, you won't worry about passengers being forced outboard.

Since this 210 came so welled-equipped for wakeboarding, I feel it's incumbent to talk about the wake. The boat generates its largest curl at about 10 mph. However, most wakeboarders prefer to run between 15 and 25. At those speeds, the wake is smaller, though nicely formed. That big storage area in the transom may want some ballast now that the big-block inboard no longer resides there. That will certainly increase the size of the wake at higher speeds.

Starcraft offers a lifetime warranty on its hulls, incuding a six-year warranty against osmotic blistering. Each hull combines layers of 24-ounce woven roving fiberglass with six-inch overlaps between the hull and deck. The integrated fiberglass stringer system strengthens the hull, while supporting the deck and liner. Other ingredients include ISO-NPG gelcoat, a barrier-coat of vinylester resin to prevent blisters and closed-cell foam injected throughout the stringers and other void areas for added strength and positive flotation.

Starcraft has come a very long way since its start in 1903. Arthur would be proud!

StarCraft SCX 210 OB

Length Overall: 20 feet, 4 inches         

Beam: 8 feet, 6 inches

Draft: 1 feet, 1 inch

Dry Weight: 2,715 pounds

Fuel Capacity: 50 gallons 

Test Power: 200-hp Yamaha 200 XB

Base Price: $42,199 w/Mercury 150XL four-stroke