For the record, I own a Harris pontoon boat. It's a 20-foot FloteBote model of mid-1990s vintage and my everyday fishing craft. I keep it at a local, all-pontoon boat club comprised of about 100 members who dock our craft along the shore of a local water supply impoundment. My FloteBote is a basic, no-frills pontoon boat, which I appreciate — and it's light years away from the Harris model I recently tested.
If ever the oft-used phrase "not your granddad's (fill in the blank)" were justified, this new Harris would be it, since the V270 series from the venerable northern Indiana boat maker is anything but traditional. The only thing it has in common with my beloved FloteBote is that both are supported pontoons.
Sporty Handling
But you wouldn't know it from the ride. The V270 handles like a mono-hull and corners like it's on rails. The model I tested was equipped with the optional Performance III Package, which adds a drag-reducing aluminum under-skin beneath the chassis and a 27-inch-diameter center tube mounted an inch lower than the 27-inch tubes that flank it — all of which feature rough-water nose cones.
The lowered center tube is key to the boat's performance. The mid-'toon is fitted with lifting strakes that complement similar performance strakes placed on the inside of each outer tube, which combine to create a surface that carves through the water, offering handling characteristics and performance approaching what you'd expect from a V-hull; namely, a quick hole shot followed by higher speeds and enhanced stability on plane and through turns. Those turns are incredibly tight for a 'toon and track almost like a cat hull — level and even. Even off plane and at idle speeds, I was amazed at the Harris' ability to cut tight circles, thanks to a transom setback and steering system that allows the outboard to swing far over to port and starboard, a close-quarters benefit that many owners will appreciate when maneuvering the 27-footer around the docks.
Equipped with a 400-horsepower Mercury Verado, you can expect wide-open throttle speeds topping 45 mph aboard the new Harris. To test the V270's planing-speed passenger ride, I moved to the bow seating area while my Harris host took the helm; I was impressed by how comfortable I remained despite the breeze-swept lake offering a bit of a chop. The boat didn't pound, nor did it skip or lean when my host executed a series of S turns.
Creature Comforts
Additional appreciation can be anticipated topside, where a sleek exterior surrounds a cockpit with fiberglass panels 34.5 inches high. Further distinguishing the V270 is a center console that offers 360-degree visibility at the feature-packed elevated helm. The fully appointed steering console is topped with a low windscreen and faced by twin side-by-side helm seats with power backs to face fore or aft. Overhead is a huge custom hardtop fitted with a pair of moon-roofs and integrated blue LED lighting that matches accent illumination offered throughout the cockpit.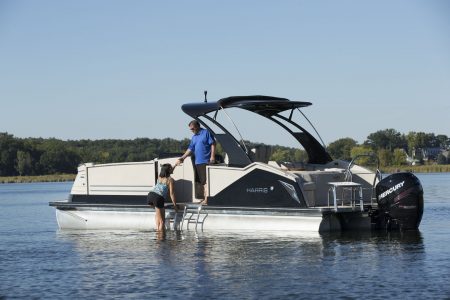 On the port side of the V270 is the largest entry in the industry — a full 56 inches wide — accessed via a set of double gates over a pair of twin retractable boarding ladders integrated into the deck. To starboard is a single-gate entry, complete with its own integrated ladder. Aft, on the swim deck, there's a foot-operated power boarding ladder to starboard and a flip-down swim seat to port. The trio of entrances completes the "hat trick" to make this Harris water-accessible from three sides of the boat.
On deck, occupants are greeted with wraparound seating areas front and rear, with integrated folding armrests and storage below. Between the two, a well-appointed galley to starboard with a faucet, sink and optional stainless-steel refrigerator drawer and freezer adjoin the center console. Beneath the centrally situated helm, the V270 features a completely integrated, patent-pending, marine head with a full pump-out toilet, sink and shower — all recessed into what Harris refers to as the center tube. It's a surprisingly large, step-down compartment displaying distinctive faux-granite countertops flaunting brushed stainless-steel hardware.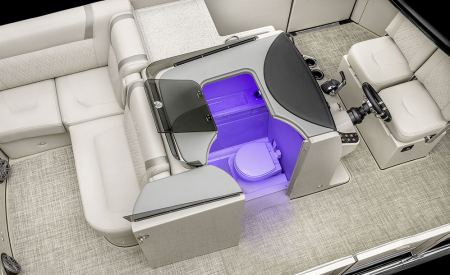 In all honesty, I was plenty surprised by all that I found and experienced aboard the new V270. It was an eye-opener for me. And it was all good.
---
Harris V270
Length Overall: 29'
Beam: 8'6"
Dry Weight (boat only): 5,500 lbs.
Fuel Capacity: 60 gals.
Water capacity: 24 gals.
Price: $210,327 as tested
www.harrisboats.com
Author: Dan Armitage is a regular contributor to HeartLand Boating magazine