The old images of "paddling" were of fur-trading voyageurs or diehard canoeists grinding it out with the rain and bugs. Things have changed, as paddle-sport participation has exploded.

According to the American Canoe Association, there was a 50-percent percent increase in recreational kayaking participants from 2006 to 2011, with fishing kayak sales leading the way. And first-time stand-up paddleboard (SUP) participation grew by 58 percent last year alone.

Paddlers have lots of choices for guided float trips, kayak fishing tournaments, and a variety of both white and flat-water races. One example is this year's inaugural Lake Cumberland 101-mile kayak/canoe race (www.cumberland101.com). It's set for the full moon night of October 19, along with a 12-mile race and 3-mile sprint. Check the websites at the end of this article for more events.

But for folks just beginning or simply looking for an all-around paddling event, here are four of them in the Heartland area that offer something for everyone:

Canoecopia

The granddaddy of paddling events is Canoecopia in Madison, Wis. It's the world's largest kayak, canoe and outdoor expo. It started in the 1970s as an in-house show and a few vendors at a paddling shop called Rutabaga. Last March, more than 20,000 people attended the three-day show, which now spreads out over 250,000 square feet at the Alliant Energy Center. More than 200 vendors displayed their wares and offered show discounts, with sales topping $1 million.

Over 108 presenters covered more than 115 topics on a first-come, first-seated basis. There were 64 sessions alone on Saturday. For kids in grades 1 to 5, the Kid's Paddle Fest lets children participate in games, art and nature activities, and on-land paddling while their parents attend the show. There's also a Paddle Club Rendezvous, where paddlers and paddling clubs meet, greet and network.

Another favorite event is the Aluminum Chef Competition, in which three chefs test their camp culinary skills with camp stoves, cook kits and simple ingredients. Show dates next year are March 7 to 9. First-timers are encouraged to see the FAQ section on the Canoecopia website and visit its Facebook page for updates. www.canoecopia.com

Floatzilla

The largest paddling celebration on the Mississippi River is Floatzilla. Scheduled for August 17 in Rock Island, Ill., its aim is to celebrate paddling experiences on that mighty river.

There are activities for all levels of paddlers. The event site is Lake Potter, a calm, off-channel location, where beginners can take lessons from certified instructors. There are also boat, gear and food vendors, along with family friendly music.

A guided paddle for intermediates crosses the river from Davenport, Iowa, to Lake Potter, and advanced paddlers can take a 12-mile downriver paddle that includes going through a lock and free shuttle service. Attendees also receive maps of the 45 miles of local water trails, so they can further explore the area on their own.

The highlight of Floatzilla is an attempt to break the Guinness World Record of the largest raft of canoes and kayaks. Last year, they had more than 1,500 registered participants but fell short of the record of 1,902. But it does provide for a great aerial group photo. www.floatzilla.org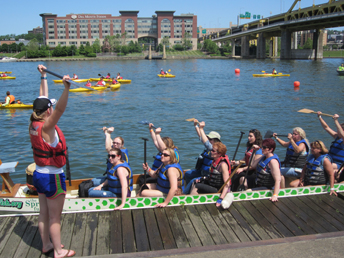 Dragon-boat instruction at Kayak Pittsburgh.

Paddlefest

Cincinnati, Ohio, claims that it is the paddling capital of the U.S. and its Ohio River Paddlefest is the largest canoe/kayak paddling event in the Midwest. More than 2,200 participants paddle down the river as part of the three-day celebration. The dates this year are June 20 to 22 at the historic Coney Island Park.

Activities start on Thursday, with the Kids Outdoor Expo. In four different villages, kids can learn about things from paddling, where they can go out on Lake Como in a boat with guides and a chaperone, to water safety and fishing to renewable energy. There are numerous fun learning opportunities, with interactive displays, exhibits and presentations.

Friday is the Ohio River Music and Outdoor Festival, featuring live music, American Canoe Association SmartStart kayak lessons, all-day boat demos, gearfest, a kayak fishing contest, cardboard boat races, refreshments and great raffles. This year will also be the first Dragonfest, where teams of 14 to 20 paddlers compete in what's described as "the fastest-growing, on-water team sport."

There are activities for bikers and paddlers on Saturday, including an 11-mile canoe and kayak race, a five-mile SUP race and the 8.2-mile float trip down the river. The river gets closed to tows between 7:30 a.m. and 12:30 p.m. At the end of this trip, paddlers can stop at the Gold Star Chilli Finish Line Festival at Yeatman's Cove for more music, vendors, refreshments and relaxation. www.ohioriverpaddlefest.org

Kayak Pittsburgh

At the furthest point east on the Ohio in Pittsburgh, Venture Outdoors sponsors Kayak Pittsburgh as part of its Venture Outdoors Festival, a free, family-friendly festival designed to promote outdoor fun. Kayaks are available on Saturday, May 18, at Point State Park, so folks can get a feel for paddling on the Allegheny River. Children from 35 pounds to 12 years of age can venture out in a tandem with a parent or guardian.

Besides paddling, there are dragon-boating opportunities, fishing rods for adults and kids, biking opportunities, either on your own or loaned, and a climbing wall. There are also yoga sessions throughout the day, a Brazilian martial art demonstration and instructions, family programs, a tour of the RiverQuest Explorer, the world's first green boat built for river education, and presentations about 18th century outdoor activities at the Fort Pitt Museum.

Venture Outdoors is a non-profit, membership-based organization that promotes being outdoors and has kayak and canoe rentals at several different locations in Pittsburgh. www.ventureoutdoors.org/vofest.aspx

Find More Events:

www.americancanoe.org

www.paddling.net/events

www.canoekayak.com/events

www.borntopaddle.com/races

www.paddling.about.com/od/festivalsevents