By now most people have probably heard of geocaching, the sport-slash-game in which participants use a GPS and clues to help them find hidden containers filled with goodies. It's a next-gen treasure hunt that started at the turn of the new millennium and, thanks to the Internet, has grown to include more than 6 million registered enthusiasts.

But did you know there are some "caches" that can only be reached by boat? With more than 2.3 million of the containers secreted away worldwide, it only stands to reason, and there are in fact many hoards waiting to be found on deserted islands and remote coastlines — even some underwater. All of which makes geocaching the perfect activity to turn "just another boat ride" into a super-fun voyage of discovery with the kids.

"Geocaching enables people to go outside and have a purposeful adventure while doing what they enjoy the most, whether that's hiking, biking or boating," said Eric Schudiske, public relations manager for www.geocaching.com. "It offers an experience that's rare today, where you're challenged to be an explorer and discover a new location."

Along with offering tips on how to get started with geocaching (see below), Schudiske shed light on some of the experiences that await waterborne treasure seekers. "There are more than 150,000 geocaches in the Midwest, and of those, many can only be found by boat," he said. "While any number of people may be able to find traditional caches, you may be one of a select group who is able to find a cache that requires a watercraft of some kind. That's exciting."

And although participants use a GPS to locate the booty, geocaching is about more than simply following coordinates to an "X" marking the spot. "A GPS will take you in a straight line. On a boat, you need to have situational awareness. You may need to use an indirect route or pull the boat up somewhere else before continuing your search on foot," Schudiske said. "It's not just following the GPS, it's getting there and trying to decipher the area and see what's out of place. Caches can be cleverly hidden sometimes, adding to the appeal."

What's more, there are often stories attached to the caches, with descriptions and clues that intensify the experience. "I discovered a cache last year called the Treasure on Tate Island that takes people to an island just northeast of Jefferson City on the Missouri River," said Schudiske. "It's built like a treasure hunt, with fictional a story. The creator of this cache went to significant lengths to create an immersive experience for searchers. It's rated four out of five for difficulty.

"Another cache in Michigan takes people to place called Power Island, and the island itself has an amazing history," he continued. "It was originally called Ford Island and was owned by the Ford family. The cache explores the past and takes people to a place they may not have otherwise seen."

Getting Started with Geocaching

So, how do you take your first step into this brave new world of real-world treasure hunting? It's actually really easy.

Step 1: Go to www.geocaching.com and register for a free account. Then, enter the location where you will be boating. Chances are good that you'll find something on an island or within a short hike of the shoreline. If you opt to upgrade to a premium account, you can search by "Attribute" and select "Boating."

Schudiske suggested looking for a cache that has been found recently — indicated on the cache page — to help ensure that it's still viable. If kids will be joining the search, choose a "standard" or "large" cache, which will be easier to locate. It's also a good idea to start with a lower difficulty/terrain rating and work your way up.

Step 2: Once you've targeted your cache, it's time to gear up. Make sure you have a portable GPS or GPS-enabled device (there's no shortage of apps that will turn your smartphone into a treasure-seeking tool). Wear good hiking shoes or boots, and bring whatever else you might need to keep comfortable in the outdoors — bug spray, suntan lotion, drinking water, etc.

Step 3: Follow the GPS to the specified coordinates, keeping in mind that they will only get you so close. That's when the real fun starts, as you turn the kids loose and watch them search the area for the cache.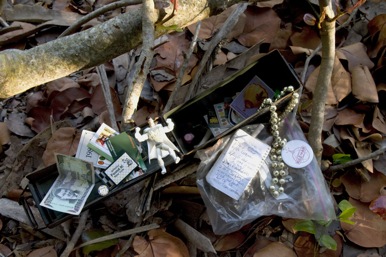 Every cache will contain a logbook in which you can enter your name and notes. Most will also hold various trinkets and treasure items. The rule of thumb is to leave an item of equal or greater value than what you take as a trophy. Be sure to seal the cache properly and return it safely to its hiding place.

When you get home, you and your kids can log on to www.geocaching.com to post pictures and describe your experience. And with a successful outing under your belt, it won't be long before you're ready to search for your next cache, maybe moving up out to a higher difficulty level or even registering and hiding your own cache for others to find!

"I've done kayak caching, and I think there's a serenity to being out on the water, surrounded by the quiet as you're charting a course," said Schudiske. "I've lost my fair share of sunglasses, but it's worth it. Geocaching is one of those rare circumstances where technology can actually get you off the couch."