We awaken to the sound of wind screaming through the rigging of nearby sailboats and waves slapping against our transom. It's the middle of August, and the cool wind and clear skies are a welcome relief from the hot and humid summers of our Chesapeake Bay. Five months after leaving Pensacola, Fla., we've arrived in Kingston, Ontario, halfway between Montreal and Toronto and an ideal stopover on our one-year Great Loop adventure.
An attractive city of 125,000, Kingston offers a variety of attractions, from live concerts to maritime museums and from haute cuisine restaurants to old-fashioned hardware stores. Our choice of Confederation Yacht Basin puts us downtown near all the action, and our slip gives us a grand view of Lake Ontario. We spend a delightful four days here exploring the city, catching up with boat chores and preparing for our next leg.
Because we arrived here via the peaceful Rideau Canal, we have yet to experience boating on the Great Lakes. It doesn't take longfor us to be introduced, though, as we leave Kingston and immediately face rough seas and gusty winds on our way to Trenton — the gateway to the Trent-Severn Waterway. Little do we know these conditions are just a hint of what we will later encounter on the Great lakes.
Fortunately, on this blustery day, we're not on Lake Ontario for long before we enter the more protected Bay of Quinte and arrive in Trenton late in the afternoon. After stopping for fuel, we decide to continue on, passing under a bridge on the Trent River that announces the beginning of the Trent-Severn Waterway.
We transit six locks before coming to rest along the lock wall in the town of Frankford. Recognizing our America's Great Loop Cruisers' Association (AGLCA) burgee, a family from Virginia also doing the Loop introduce themselves. Their son is close to our son's age, and we form a friendship that has lasted for years. In fact, several of our closest friends today are those we met while doing the Loop.
A Major Highlight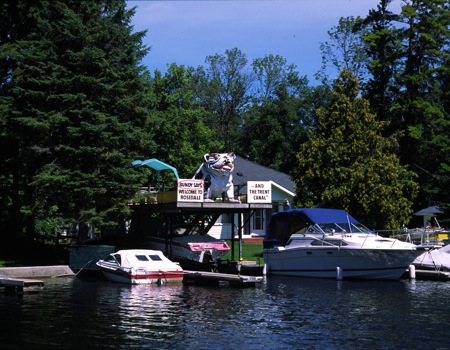 Most Loopers agree that the Trent-Severn is one of the major highlights of the Great Loop. This 240-mile route from Trenton to Port Severn, the entrance to Georgian Bay, consists of 43 locks that lift boats 600-feet before gently dropping them 260 feet. It's a fascinating journey featuring conventional and hydraulic locks as well as an unusual marine railway that literally carries boats over a stretch of land.
Taking our time, we meander along the picturesque waterway, stopping the next night at Cambellford (Lock 13), where we meet two fun-loving characters in their late 60s doing the Loop in a small express boat. Friends since they were frat bothers in Purdue University, they are having the time of their lives. We have now become part of a small group of cruisers sharing information, stories and happy hours along the way.
In a couple of days, we arrive in Peterborough, site of Lock 21, which at 65-feet is the world's highest hydraulic lift. Built at the turn of the 20th-century, it remains one of the largest unreinforced concrete structures ever built. We're waved into the lock's chamber along with a large paddlewheel tour boat, and before I can even begin to get nervous, a gate closes behind us and up we go — our 25,000-pound boat, the big double-decked tour boat and 1,700 tons of water. Two minutes later, we're looking down at the now very small people below us. A front gate opens, and out we go. Amazing.
We continue our scenic journey through the Canadian countryside, staying overnight along lock walls or at small, friendly marinas. Passing charming cottages built on tiny islands, crossing one beautiful lake after another, and meeting up with our new friends at lock walls and villages, we make a promise to return here in the future. It's hard to see and do everything on the Trent-Severn in just one trip.
After taking a ride on the waterway's second hydraulic lift lock in Kirkfield, we arrive at another highlight of the Trent-Severn — the Big Chute at Mile 232. Originally built in 1917 and modernized in 1977 and 2000, this marine railway is an engineering triumph able to move boats 100 feet in length and weighing 90 tons. As usual, the Parks Canada staff is helpful and friendly, and they seem to appreciate how anxious first timers are in having their boat hauled 600-feet across a rocky spit of land. A loudspeaker announces how the waiting boats are to line up on the blue line, and soon we're following instructions and slowly getting our boat in position on the submerged railway car, very much like maneuvering into a travel lift slipway. The exciting ride takes less than 10 minutes, and after gently splashing down on the other side, we're on our way to Port Severn, eight miles away.
After the Big Chute, there's one more lock to negotiate at Port Severn, but the local marinas and facilities are all located before the lock. We get a slip at Severn Boat Haven (now Starport Marina), where we again catch our breath and prepare for the next part of our journey. From start to finish, the Trent-Severn took us eight days to complete.
Thirty Thousand Islands

Georgian Bay is part of Lake Huron and features a 100-mile cruising area known as the Thirty Thousand Islands. Renowned for its air quality, crystal clear water and scenic anchorages, Georgian Bay is also a navigational challenge that cannot be taken lightly. Make a mistake up here, and you and your boat will pay the price. There's no such thing as a soft bottom, and boatyards are kept quite busy repairing damaged props and bent shafts.
We carefully follow the Potato Channel route, being sure to note the buoy system reverses after the last lock in Port Severn, as we're now traveling in the up bound direction keeping the red buoys to starboard. And while we have our eyes on all the rocks and miniature islands around us, we know there are many more of them below the surface.
Our first stopover is in Chimney Bay, where we drop the hook off Beausoleil Island, part of the National Park and the last refuge for the Eastern Massasauga rattlesnake. Wearing heavy shoes, socks and long pants, we land our dinghy and embark on an afternoon hike, discovering a visitor's center, campground, picnic tables and well marked nature trails — fortunately with no visible signs of rattlesnakes.
For the next 10 days we work our way west, hopping from one beautiful anchorage to the next. At night, we build fire rings and small campfires on uninhabited islands and watch the stars while roasting marshmallows. During the day, we explore on foot or by kayak, and in the early evenings, we visit with fellow boaters — mostly locals eager to share their knowledge with us. With names like Go Home Bay, Starvation Bay, Wreck Island, Deadhead Bay and Bad River, we want all the local knowledge we can get.
While most of our passages are on the inside, or small-craft route, we occasionally have to venture out to open waters, where Georgian Bay can deliver quite a punch. Overall, we're captivated by the raw beauty and remoteness of our surroundings, and we begin to feel like true explorers.
The North Channel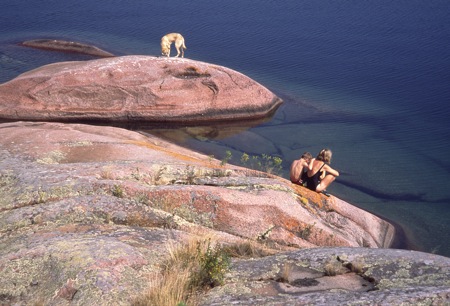 Our sense of isolation is interrupted as we pass through the village of Killarney, where we stop for lunch at the famous Herbert Fisheries converted red bus that serves delicious fish and chips. With its marinas, restaurants and general store, this is a popular stopover for provisioning before heading into the North Channel — a large strip of relatively protected water west of Killarney between northern Ontario and Manitoulin Island. Since we're well supplied, we proceed directly to an anchorage in nearby Covered Portage Cove, where we drop our hook among earlier arrivals.
We take a detour up the northeastern leg to the fjord-like Baie Fine, following it nine miles to where it ends at The Pool, a heavenly body of water surrounded by white quartz cliffs and thick forests. A trail leads up to a small lake overlooking our anchorage, and after a long climb through bear country, we're treated to a spectacular view of our boat below.
Alternating between the isolation of remote anchorages and the conveniences of marinas and towns is a major attraction of the Great Loop, especially on this leg. So, after days of hiking and paddling in Baie Fine, we tie up at Boyle Marine in Little Current for some engine maintenance and to explore the village. Among the town's biggest attractions is Turner's Department Store, which has been a family-owned business for more than 130 years. We also enjoy browsing the local specialty shops that sell native crafts and apparel.
With our boat fully supplied and topped off with fuel, we head to the Benjamin Islands, the group of pink granite outcroppings that are a main attraction of the North Channel. Anchoring off the northeast side of South Benjamin — declared a National Beauty Spot by the Canadian government — we face a spectacular slope of smooth rock that rises 200 feet. Climbing to the top, we can see for miles and miles. The next day, we circumnavigate the island in our dinghy, discovering several nooks and crannies where others, including a three-masted schooner, are anchored. The water is so clean we can literally drink it. We stay here three days, captivated by the magical beauty.
It's now mid-September, and we begin to feel the weather changing. Gale-force winds are forecast for later in the week, so we weigh anchor and head to Gore Bay, where we get a slip and wait for the front to pass. Judging from all the boats heading in the same direction or being hauled for the season, it's time to move south. Three days later, we re-enter the U.S. at Drummond Island, Mich.
Cruising these two months in Canada has left us with a burning desire to return. Indeed, of all the places we've been to by boat in the past 30 years, covering 25,000 miles, the eastern Canadian waterways are at the top of our list. We know we'll be back, but at the moment we're studying our charts of Lake Michigan and planning the next leg of our Great Loop adventure. Stay tuned.