It's not often that we can't sleep while anchored out. But the excessive heat and humidity lead to an endless, restless night. We're sitting near the mouth of the Bohemia River on the upper Chesapeake Bay hoping for a breeze, but there is none. It's early July, the beginning of another uncomfortably hot, Chesapeake summer — time to continue heading north on our Great Loop adventure.
We normally enjoy the 17-mile trip along the C&D Canal that connects the Chesapeake to the Delaware Bay, but the 50-mile run down Delaware Bay to Cape May reminds us of driving the New Jersey Turnpike. There's nothing pleasant about it. You just have to tolerate it to get to where you're going. When wind opposes current, the large, shallow body of water can become nasty with a steep chop. On this trip, however, we luck out with the weather, and within five hours we're tied up at Cape May's South Jersey Marina and ordering dinner at the popular Lobster House Restaurant.
Cape May is an ideal stopover before heading up the Atlantic coast to New York. Its full-service marinas, charming gingerbread architecture, cozy inns, stately hotels, ocean beaches and seafood restaurants make it a popular vacation destination for boaters and landlubbers alike. We use the time for a thorough engine room check and review our emergency procedures, including our MOB drill, as we'll soon be heading into the Atlantic Ocean for a 125-mile run to New York Harbor.
Regardless of how many times we've gone offshore, a sense of anxiety comes over us as we head out of the Cape May inlet and begin to feel the gentle but significant ocean swell under our keel. Waiting for ideal weather conditions and making sure we know where the safe harbors are along our route are lessons we've learned in our 30+ years of cruising. Atlantic City, Manasquan and Sandy Hook are possible stops, but the conditions today are perfect, and we continue all the way to Liberty Landing Marina, just north of the Statue of Liberty on the New Jersey side of New York Harbor. Because of its location and the way its docks are situated, we are well protected from the wakes of the busy harbor. The view of Manhattan is spectacular, and the nearby water taxis make it easy to visit the Big Apple. A big part of the fascination of doing the Great Loop is the extraordinary variety of places to visit and things to do and see. Just a couple days ago, we were catching blue crabs on the Chesapeake. Tonight, we have tickets to a Broadway Show.
Heading Up the Hudson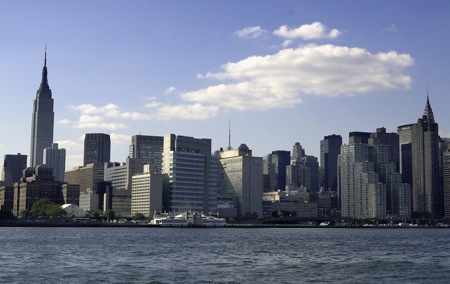 After a couple days of city life, we head up the Hudson River. Having grown up in New York, it's a thrill to finally travel under the George Washington and Tappan Zee bridges and to see and hear all the traffic above us. After an overnight stopover in Haverstraw, a daytime visit to Bear Mountain and a night anchored off Bannerman Island (where we become convinced the old ruins are haunted) we arrive in Kingston, N.Y., a pleasant, charming town. Once suffering from the economic setback when IBM closed its office in the 1990s, the town, which was the first capital of New York, has been working hard at attracting tourists and boaters. Based on all the activity downtown, the work is paying off.
Continuing up the Hudson, we arrive at the Federal Lock in Troy, N.Y. — a distance of 150 miles from New York Harbor. After passing through the lock, we can choose to either turn west and follow the Erie Canal or continue north to the Champlain Canal and Lake Champlain. We choose the Lake Champlain route, which will eventually take us to the St. Lawrence River and Montreal.
Traveling along the 64-mile Champlain Canal and its 11 locks is an enjoyable experience that also builds our confidence in how best to transit locks. We learn to have a stern and bow line ready along with large fenders (we cover ours with heavy duty garbage bags to keep them clean) and to watch for the green light before entering the lock at idle speed. The lockkeeper then gives specific instructions on where to stop. It's important NOT to tie your lines fast, as they need to run free as the water level rises or falls. Some locks provide their own lines or cables. While in the locks, crewmembers must wear PFDs. Our favorite stopover is about midway, in Schuylerville, where we meet the friendly owners of the Schuyler Yacht Basin and relax in their attractive, rural setting.
We spend 10 magnificent days cruising Lake Champlain, splitting our time between remote anchorages and full-service marinas. With activities ranging from hiking across beautiful Valcour Island, visiting The Lake Champlain Maritime Museum or indulging in Ben & Jerry's in Burlington, this sixth greatest lake can easily provide an entire summer of cruising delights. In fact, we recently returned with our trailerable cruiser to spend another couple of weeks exploring this glorious body of water that separates New York and Vermont.
Eventually, the sounds of French-speaking boaters on our VHF lure us northward, and we head to Montreal. We clear Canadian Customs just north of Rouses Point, N.Y., and meander 70-miles up the quaint, picturesque Richelieu River connecting northern Lake Champlain to the busy St. Lawrence. Soon after docking at Port d'Escale du Vieux, the large municipal marina in Montreal's Old Port, we adapt to the fast pace of the big city. The French restaurants and cafes, unique shops and art galleries make this one of our favorite waterfront cities. However, we do have a few encounters with local police while walking our dog in this part of the city. After we explain we're staying at the marina, we're allowed to continue. Apparently, the city has a number of restrictive dog laws, some of which date back to the 19th century. We begin to feel the limitations that big cities place on those traveling with dogs and children, so after three days, we continue our journey west.
Onward to Ottawa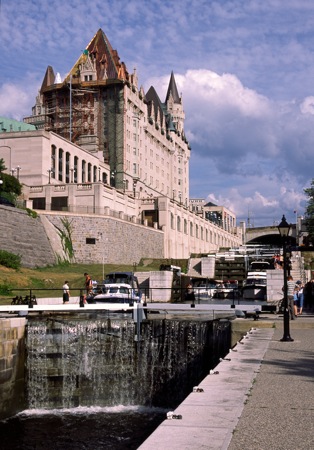 From Montreal it is a three-day run to Ottawa, the capital of Canada, known for its flower-rimmed bike paths and ice-skating commuters. The entrance to the city by boat is dramatic, as we ascend more than 80-feet of consecutive step-locks from the Ottawa River. This is quite an operation that takes over two hours and attracts crowds of curious tourists. After making our way through the city via the beautiful Rideau Canal, we reach Dow's Lake Pavilion, our marina for the next few days. Following the Rideau Canal Pathway, we ride our bikes to town to see the magnificent Parliament Building and visit the famous ByWard Market area, a collection of cafes, galleries, shops, street vendors, restaurants and pubs.
Like many parts of the Great Loop route, a major airport is close by, and I arrange to fly home for a few days of business meetings. In fact, being able to leave the boat and return home for a period of time is a big advantage of the Loop's route. You're never very far from civilization. Upon my return, we're anxious to get started on the next leg of our journey — a 125-mile trip along the Rideau Canal that leads from Ottawa to Lake Ontario. This historic waterway will take us through charming communities while transiting 47 locks, many of which were built more than 175 years ago and are still operated by hand. With posted speed limits of 10 km/hr and so many interesting sights to see, the trip typically takes about five days.
On our first day, we transit the double Hartwells Lock (Locks 10 and 9) early in the morning, and after passing through Hogs Back, Black Rapids, Long Island, Burritts Rapids and Nicholsons, we reach the first Merrickville Lock (Lock 21) just after it closes for the evening. Here, we tie up along the blue line, the area along a dock or wall where boaters transiting the locks can spend the evening. We meet a fun, elderly couple cruising aboard their antique wooden runabout that suggest we visit By Island on Big Rideau Lake, 35-miles and seven locks down the canal. The next day, we anchor off the island and, after a swim in the perfectly clear, cool water, we land our dinghy near the public dock. With picnic tables, BBQ grills and tennis courts, this is a favorite vacation spot for Canadian boaters. Midway through a three-mile hike around the island, we come upon a handwritten sign posted by a park ranger warning of a bear sighting. Needless to say the last mile was a bit stressful, with every snap of a twig or wind through the trees making our heart skip a beat.
The next day's weather forecast calls for storms and heavy rain, and after talking with other boaters, we learn of Morton Bay, a protected anchorage 20-miles down the waterway. The narrow entrance to the small bay is between steep cliffs with a big rock, or tiny island, in the middle. Once inside, we find ourselves surrounded by cliffs of granite covered with birch and pine trees. There's a huge flat rock onshore where we land and discover a rope swing, which we all take advantage of. This is an absolutely beautiful, peaceful anchorage that we will never forget.
We continue on the Rideau for two more days, spending the night along the blue line at Upper Brewers Lock. Arriving in Kingston, Ontario, we tie up at Confederation Yacht Basin, the large municipal marina in the heart of downtown. It has been more than five months since we began our Great Loop voyage in Pensacola, Fla., and now that we are officially on Lake Ontario, we are about to begin our exploration of three of these Great Lakes: Lake Ontario, Lake Huron and Lake Michigan. Don't miss our next issue, when we transit the popular 240-mile Trent-Severn Waterway and cruise the wilds of Georgian Bay and the North Channel.