Eight weeks after we started our Great Loop odyssey in Pensacola, Fla., we begin heading north from Fernandina Beach, planning to arrive in the Chesapeake Bay in the spring. From here (Mile Marker 717), the Intracoastal Waterway (ICW) runs to Norfolk, Va. (MM 0), where we enter the Chesapeake. While some boaters consider the ICW a highway to get from point A to point B, most Loopers thoroughly enjoy this scenic journey through America's charming South.
The ICW provides a protected alternative to running in the ocean, but it has its challenges, most of which are the result of constant shoaling. State and federal budget cuts have delayed dredging that maintains minimum depths, and consequently, there has been an increase in the number of trouble spots along the route. Restricted bridge openings and strictly enforced speed limits also must be dealt with. You are responsible for any damage caused by your wake, and violators will be reported to the marine police.
If you take your time to enjoy the ever-changing scenery and interesting stopovers, you'll have a safe, enjoyable trip. It's also important to note the old magenta line on charts showing the route is no longer valid in many areas, so be sure to download the latest charts for your plotter or laptop. Above all, pay close attention to channel markers, as new ones have been added or old ones moved to indicate where the shifting shoals are.
Low Country Lures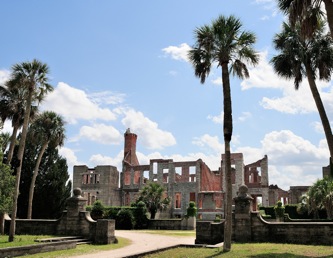 We travel less than 10 miles on our first day, dropping the hook off Georgia's Cumberland Island. The island's main landing dock is reserved for the National Park Service boat and the ferry that runs to St. Mary's, Ga., but there is space for our dinghy. The island is known for its hiking trails that lead to the ocean beach and past the ruins of the mansion of Dungeness Plantation, built in 1884. Wild horses still roam the island, and loggerhead sea turtles nest on the ocean beaches. This is a must-stop for nature lovers.
Heading north the next day, we negotiate two tricky spots — Little Mud River (MM 650) and Hell Gate (MM 615). Both passages require close attention to the marks, and if your boat draws more than four feet, it's best to wait for a rising tide. We arrive at the friendly Isle of Hope Marina (MM 590) in late afternoon. This is a convenient base from which to explore Savannah, as a city bus stops near the marina. We take a horse-drawn buggy tour and are enchanted by the charm of this quintessential Southern city.
The next section of the ICW is easier to navigate, as it wanders through natural salt marshes known as the Low Country. While some shoaling exists, staying in the middle of the mostly wide channels keeps us in deep water. Our next stop is Beaufort, S.C. (MM 536), where we get a slip at the downtown marina adjacent to an attractive waterfront park. Walking through the historic town, we have a feeling we've been here before and later learn The Big Chill, The Prince of Tides and Forrest Gump have been filmed here. Dinner at the Saltus River Grille is a big hit thanks to its signature dish of low-country shrimp and grits.
Charleston (MM 469) is a favorite stopover, and most boaters traveling the ICW stay here for several days. There's a big city marina located downtown, but we've also stayed at the nearby Ashley Marina. Beware, though, of the wicked river current when entering either marina and maneuavering into your slip. We've witnessed some embarassing, expensive landings. Charleston is a Southern gem, with restaurants, shops and entertainment for everyone. Along with rave reviews from national magazines including Travel & Leisure and Southern Living, it was voted "Top City in the U.S.Ф by Condé Nast Traveler magazine.
The next morning we take a ferry ride to Fort Sumter, where the first shots of the Civil War were fired in 1861. The on-site tour takes just an hour, but it's a must-see attraction for history buffs. After returning to town, we walk along The Battery, the waterfront promenade famous for its beautiful antebellum homes, gardens, churches and parks. Charleston is not only attractive, but its renowned seafood and nationally recognized cultural events make it one of America's top vacation destinations.
After a few days in Charleston, we continue poking along the ICW, stopping in Georgetown, Myrtle Beach, Southport and Wrightsville Beach. A good weather report encourages us to exit Masonboro Inlet at Wrightsville Beach (MM 283) and make the 75-mile offshore run to Beaufort, N.C. (MM 205). Both inlets are wide, deep and well marked. Beaufort (pronounced "bo-fort") has a rich nautical history, so after we tie up at Beaufort Docks, we visit the North Carolina Maritime Museum, where we learn about the local whaling industry as well as the shipwreck of Blackbeard's flagship, Queen Anne's Revenge. As we leave our marina the next morning, we get a glimpse of wild mustangs across the creek on Carrott Island, part of the Rachel Carson Preserve. Nature lovers can kayak to the island, which overlooks Shackleford Banks, where over 200 species of birds dwell.
Chesapeake Bay Bound

As we work our way north, stopping in Oriental (MM 182) and Bellhaven (MM 135), we need to decide whether to take the Dismal Swamp or Virginia Cut to Norfolk. While the Dismal Swamp route can be more interesting, as it cuts through a primeval forest, we decide to take the more direct Virginia Cut. First, we have to cross Albemarle Sound, which can kick up a nasty chop, but we have good weather and stop for the night at the Coinjock Marina (MM 50). The next day, we lock through Great Bridge Lock (MM 11.3) and reach the Tidewater Yacht Marina in Portsmouth, Va.
Portsmouth is an ideal place to stop and regroup. It's close to Mile 0 of the ICW, its "Old Towne" historic section has a variety of fine shops and restaurants, and it's just across the Elizabeth River from Norfolk's Nauticus Museum, battleship Wisconsin and the Waterside Festival Marketplace. The river here is too wide and busy for a safe dinghy crossing, but passenger ferries run frequently. If you're traveling with kids, be sure to take them to Nauticus, where they'll be entertained by the interactive displays and 3-D movies.
As the largest estuary in the U.S., with an area of 4,500 square miles and a shoreline of nearly 12,000 miles, the Chesapeake Bay offers virtually unlimited cruising opportunities. Secluded anchorages, scenic rivers, charming towns, major cities and a mostly soft bottom make it cruiser friendly. Cruising here is best in the spring and fall, though, as the summer months can be uncomfortably hot and humid.
We stop first in Deltaville, Va., 50 miles north of Portsmouth on the Rappahannock River. This small waterfront town has less than 1,000 full-time residents, but more than 3,000 boats are moored here. Its marinas, boatyards, marine supply stores, boat dealers, brokers and charter companies attract boaters from across the country. Walking the docks, I spot vessels from Florida, Maine, North Carolina, Pennsylvania, Michigan and California — along with hundreds from the Chesapeake Bay area.
The Chesapeake is a large body of water, and because it's quite shallow (average depth is 20 feet), it can create closely spaced, steep seas on windy days. Violent thunderstorms can roll up and down the bay, so it's a good idea to always have a plan for reaching a sheltered anchorage. Fortunately, you don't have to travel far to find one. Currents on the Chesapeake rarely exceed two knots, and tidal ranges are from one to three feet.
From Deltaville, we run 60-miles up the Western Shore to Solomon's Island, where the Patuxent River meets the bay. This is another boat-centric town that boasts some of the finest marinas and boatyards on the East Coast. We usually stay at Zahniser's Yacht Center or Spring Cove Marina. Many consider it to be among the top cruising destinations of the Chesapeake. Its rich maritime history is on display at the Calvert Marine Museum, and we find its exhibits of both wildlife and boatbuilding to be fascinating.
No cruise of the Chesapeake would be complete without visits to Oxford and St. Michaels on the Eastern Shore of Maryland, so from Solomon's we cross the bay and run up the Choptank River to Oxford. Lunch or dinner at the famous Robert Morris Inn is always a treat, but our favorite highlight is visiting the Cutts & Case Shipyard. Seeing the works of art being created or restored, we're thankful the Cutts family continues the great tradition of Maryland boat building.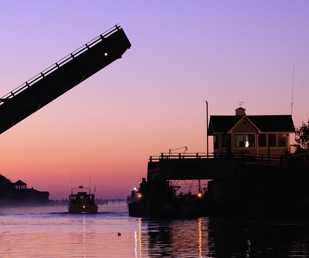 The next day, we cut through Knapps Narrows at Tilghman Island and head up Eastern Bay and the Miles River to St. Michaels, where we visit the ever-popular Chesapeake Bay Maritime Museum. One can easily spend a day here learning about the local watermen and their craft. When you've had enough education, you can hit the pubs, restaurants and shops of this delightful town.
Heading up the bay, the list of must-see towns includes Annapolis, Baltimore, Chestertown and Rock Hall, each offering its own local flavor and all sharing a rich nautical history. Many Loopers spend a month or more on the bay, often concluding that it was one of the most enjoyable parts of their entire 6,000-mile Great Loop adventure.
In our next issue, we'll be heading up the East Coast to the Erie Canal and traveling along the fascinating Trent-Severn Waterway.