It's no secret the houseboat industry has had a tough time over the last few years. Economic turbulence here and abroad even caused several prominent manufacturers to close their doors. But houseboaters are a passionate bunch, and if last year's sales numbers are any indication, these folks are starting to open their wallets and expand their horizons once more.

In this year's edition of our annual "state of the houseboat industry" survey, we reached out to the segment's premier manufacturers to hear about their latest models and consumer news, concentrating on those builders who have strong connections to the Heartland area. What we heard back was a growing sense of optimism, with some builders claiming that 2012 was their best year since 2008.

Bravada Yachts / Axiom Yachts

The newest company in our radar, Bravada Yachts, is busy reshaping its product line for 2013. Founded three years ago in Phoenix, Ariz., it focuses on the Lake Powell and California markets but has established a growing Heartland presence as well. The up-and-comer reports that 2012 was its strongest year yet, during which time it even teamed up with the Discovery Channel to film a houseboating lifestyle show.

The Bravada LT, GT, Limited and Custom models range from 75 to 85 feet in length and from 18 to 22 feet in width, with adaptable interior arrangements and sleek, glass-panel exterior walls. The models offer energy-saving options like solar packages, geothermal water-source heat pumps and ultraviolet water purification systems.

The builder's value-driven line is the Adventure Series, measuring from 45 to 75 feet in length. By using a different manufacturing process and limiting changes to the main- and second-floor structures, Bravada can better control the cost of these models.

New for 2013, Bravada's will introduce its first production houseboat line under the name Axiom Yachts. These "crossover" vessels blend the function of a houseboat and the form of a sport cruiser. Available lengths include 55 and 65 feet, with two floor plan choices. The two-stateroom model is open for entertaining; the four-stateroom model is more family friendly. A 16-foot beam and one-piece second level that's put on at the destination will help keep transportation costs down. This bridge deck has wraparound seating, a helm station, wet bar, four pedestal seats, sun top and screening.

Destination Yachts

Destination Yachts of Montgomery, Ind., used the fiscal downturn to concentrate on product development. Its new Elite Series is "something not anticipated from Destination Yachts," according to owner Sheldon Graber. Imagine a feature-loaded, full hull, custom model stretching up to 95 feet in length. Starting in the $500,000 to 600,000 price range, the first boat ordered boasts glass walls and offers remote control of a variety of operating systems via iPad.

At the same time, Destination is also focusing on producing high-value smaller boats for its entry-level customers and is confident enough of its future that it rejected a buyout offer last year and is looking for a larger facility. The company also recently introduced fiberglass pontoon models for saltwater markets.

MetroSHIP Modern Houseboats

Making a name for itself out of Atlanta, MetroSHIP Modern Houseboats is another relative newcomer that's having success and adding models to its line. These vessels are primarily designed as high-end, "floating loft apartments" meant to be moored in urban areas — with translucent walls that seem to glow in the dark from the interior lighting. Recent models have been shipped to California, New Jersey, the Hamptons and even Saudi Arabia.

The brand's newest projects, built on fiberglass catamaran hulls measuring 42 feet in length, will be used as hotel rooms in New England. These cats can also be produced in 8.5-foot by 26-foot trailerable or 10-foot by 36-foot deck boat versions. MetroSHIP is also producing hulls for other companies and for commercial applications.

Monticello River Yachts

Kentuckiana Yacht Services in Jeffersonville, Ind., maker of Monticello River Yachts, closed its doors last year. But then David Shaw, former vice president of operations, purchased the assets and started rebuilding. His first step has been producing parts and servicing Monticello and Jefferson Yacht customers, as well as offering brokerage services.

Also a designer with 40 years of experience, Shaw said his next step is to introduce a new product for today's houseboaters. He is working on different ideas and hopes to have something under way this summer.

Pluckebaum Custom Boats

The folks at Pluckebaum Custom Boats in Prospect, Ky., have been hard at work performing maintenance on some if its houseboats and refurbishing others, including one that had been completely submerged. The makeover required that they gut the boat inside and out, taking it back to the bare aluminum, and fabricate a new radar arch, swim platform and window tracks before repainting it.

The company says it is looking to firm up some commitments for new commercial vessels this year while still keeping an eye on the recreational market.

Sailabration Houseboats

Sailabration Houseboats of Powell, Tenn., split its time last year building new boats and refurbishing older ones. The company says it has enough customers ready for a new look that it currently has a backlog of people waiting. The owners of several older vessels requested to have their catwalks removed in order to create a more modern, wide-body style with greater interior room.

One of Sailabration's newest boats, fully loaded and measuring 16 feet by 77 feet, was launched in Nashville last year before the owner cruised it to its new home on the Illinois River. Another boat was built exclusively to travel the Tennessee River, with 46-inch pontoons normally used on wider boats, twin 135-hp engines, thrusters, a satellite TV and GPS navigation system.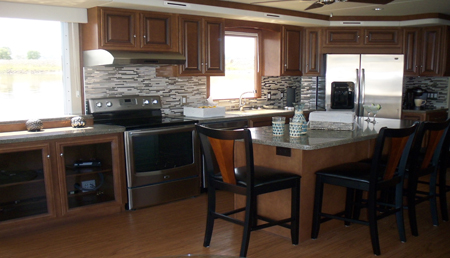 Skipperliner interior.

Skipperliner Industries

This La Crosse, Wis., company spent a lot of its time in 2012 retooling its sales and marketing efforts following acquisition by a new owner. Skipperliner finished a couple of boats started by previous management and then built two houseboats for demos and boat show use. These, says the builder, feature the best furnishings and appointments ever included on a Skipperliner.

One of these is a 16-foot by 65-foot vessel with a totally customized interior, right down to the maple cabinetry, two pop-up flatscreen TVs, window treatments, bath linens and dishes. There are two main-floor staterooms and two cuddies below in the 96-inch-deep hull. On the top deck, a large wet bar, gas grill and waterslide complete the picture.

The other new boat (17 feet by 57 feet) is being decorated by a well-known design firm. The interior will be stunning, says the company, and one of the below deck cuddies will be able to convert into an office by sliding the bed into the wall. An integrated package allows the owner to control most of the electrical functions remotely from a tablet or smartphone.

Stardust Cruisers

Stardust Cruisers reports that its sales have returned to the pre-2008 levels, but even with a backlog, it can still schedule for early summer delivery. The company has recently built boats destined for lakes in five states and has exported several more.

Buyers can currently choose from three hull designs: standard barge type, a new displacement hull or a catamaran. One particularly nice 18-foot by 90-foot model headed to Georgia had triple decks and a unique padded ceiling, patterned fabrics and LED lighting. Like all Stardust boats, it was built with wood-free walls. In the past year, the company has also installed a number of diesel generators in boats with gas engines for owners wanting greater economy and safety.

Sumerset Houseboats

They're back! The rights to Sumerset Houseboats were purchased by Thoroughbred Houseboats last April, and the company has retained many former personnel, easing the transition in ownership. In fact, it has already shipped one boat to its Atlanta dealer and has three others on order.

The revitalized builder plans to deliver its first glass-look yacht later this year, featuring glistening sides, sweeping front and rear edges, and white aluminum bulwarks to give the vessel a "yacht feel." Sumerset says it will hold over some customer favorites — LED front logo, 32-inch deep aluminum hulls and forward open bridge design — plus add new features like 8-foot, 6-inch side walls.

Sunstar Houseboats

During the slowdown in manufacturing, Sunstar Houseboats focused its attention on houseboat transportation and can now handle shipping of all sizes coast-to-coast. But with 2012 being its best sales year since 2009, look for lots of new boats to hit the water this year.

The latest vessel to roll out of the manufacturing facility was a model-year 2013 17-foot by 80-foot platform with twin MerCruiser sterndrives, a 14-kW generator, deck bridge with radar arch, 26-foot party top and top deck bar. It went to Lake Cumberland.

Thoroughbred Houseboats

In addition acquiring the rights to Sumerset Houseboats last year, Thoroughbred Houseboats also acquired the 60,000-square-foot Fantasy factory designed specifically for houseboat manufacturing.

The company had a big year with its glass-sided boats, which allow for inventive layouts and lighting to create elegant, custom designs. A new, 10-foot-long fiberglass bar is more affordable than its granite-topped predecessor but still comes with a large sink, icemaker and refrigerator and works well as a breakfast buffet. Fiberglass canopy tops on larger bridges replace stick-built or canvas tops. Low-maintenance, simulated teak exterior decking is being used more, as are underwater lights that add impressive night views.

Thoroughbred reports that sales have "taken off" in the Russian houseboat market, and with the huge waterway system there, the company looks forward to greater growth in abroad. Finally, it is now also building for saltwater applications by using a different aluminum and bottom paint.

If you, like a growing number of people, are considering the purchase of a houseboat, the place to be is the In-Water Houseboat Expo on June 7, 8 and 9 at State Dock Marina on Lake Cumberland. More than 35 exhibitors will display their wares here, including both new and used models. You might just find that the temptation to live large on the water is almost impossible to resist. 

Contact Information

Bravada Yachts, 602-278-3536, www.bravadayachts.com

Destination Yachts, 812-486-2628, www.destinationyachts.com

MetroSHIP Modern Houseboats, 818-357-4000, www.metro-ship.com

Monticello River Yachts, 502-419-7776, www.monticelloriveryachts.com

Pluckebaum Custom Boats, 502-569-9327, www.pluckebaum.com

Sailabration Houseboats, 865-947-4234, www.sailabrationhouseboats.com

Skipperliner Industries, 608-784-5110, www.skipperliner.com

Stardust Cruisers, 606-348-8466, www.stardustcruisers.com

Sumerset Houseboats, 606-340-3191, www.sumerset.com

Sunstar Houseboats, 606-348-6648, www.sunstarhouseboats.com

Thoroughbred Houseboats, 606-340-3191, www.thoroughbredhouseboats.com