You can't accuse this couple of sitting on the fence when it comes to making big decisions. In fact, Mike and Rosie made one life-changing decision just a few years ago, and as a result, they are now living the dream of countless boat owners around the world.

The course of their life started to change back in 2010, following a vacation to Florida. Mike and Rosie were living in St. Louis, Mo., when they flew down to visit with friends in Cape Coral. While in that town, the couple, who have been together for 36 years, spontaneously scouted property and even found a condo they liked. "I tend to be impulsive, yet once I get something into my head, things start to happen," says Mike, as if to explain why he spent the plane ride home crunching numbers to determine if the couple could afford to buy the place they saw.

At the time, they owned a condo in St. Louis, along with a 1996 Sea Ray 500 Sedan Bridge, Swing Set, that they really enjoyed and used as frequently as possible. In addition, both were planning to retire in the near future, so Mike was factoring in changes in income when he did the math. "In the long run, the numbers just weren't adding up," he says. Later, he told Rosie about his efforts to make the numbers work. Her response? "She said to me, 'Why buy a condo in Florida when we can take our boat there and live on it full time?'"

That was the tipping point. The couple agreed that their Sea Ray would be their future home. They then crafted a strategic plan that would enable them to make it all happen. They drew up a timeline for retirement; they put their condo in St. Louis up for sale; and they determined how they would pay off the boat before they cast off lines and left land for good, with as few financial obligations as possible.

Mike reached retirement age in 2011 and left his position at a larger brewer in St. Louis. Rosie, who was an administrative assistant at a private investment company, turned in her company ID for good in April 2012. They were on track to move aboard and slip the lines the following month. They chose May because they wanted to celebrate the anniversary of the day they met while under way aboard Swing Set. The couple, who are in their mid-50s, were eager to begin the next phase of their lives together. "We didn't want to put it off," says Mike, "because there will come a time when we can't do this. At this point in our lives, we're young enough and healthy enough to enjoy the experience to the fullest."

In the months leading up to their departure, the couple was busy tying up loose ends. Since they were selling their condo furnished, they didn't have to worry about divesting themselves of too many personal possessions. "And we're not pack rats," says Rosie. "We weren't in love with any of our stuff in St. Louis." They sold their motorcycle and two cars, and the clothes they kept were stored in space-saver bags so they would take up less room on board.

Then there was the boat. The couple spent almost two years prepping it for full-time residence. Among the upgrades Swing Set received were new dinghy davits, larger generators, an inverter, extra fans and more galley equipment. They also converted the second of two staterooms into an office/parts room. "That modification enabled us to bring all of our stuff on board," says Mike, who concedes there isn't a lot of spare space on the diesel-powered cruiser. "Today, if someone comes on with even just a big purse, it cramps our purpose a bit, but for the most part, we're very comfortable here. In fact, we sleep better on the boat than we ever did in our home."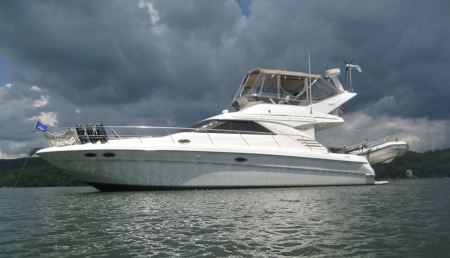 Mike and Rosie's 1996 Sea Ray 500 Sedan Bridge, Swing Set.                                                                                                                                                           

Despite their best-laid plans, not all of the pieces fell into place before Mike and Rosie hauled anchor. The condo, for instance, was still for sale when they were ready to wave goodbye to St. Louis. (It did sell eventually.) But depart they did, Mike and Rosie and their dog, Holly, a 6-pound Yorkie-Poodle mix. They took off after the spring flood, which allowed them to travel the full, navigable length of the Tennessee River, along with the Cumberland River and Kentucky Lake. They eventually hit the Tennessee-Tombigbee Waterway, which they traveled for 450 miles en route to Alabama's Mobile Bay, arriving in August. Mike and Rosie then traveled over to Cape Coral, Fla., where they spent five weeks before heading south. We caught up with them in Marco Island, where they were planning a run through the Everglades and then onto the Florida Keys. The Bahamas may be in their future, too. They say they've been cruising to a loose plan and are happy to have the luxury of not being held to a rigid schedule.

That flexibility is just one of the benefits they've enjoyed as full-time cruisers. Mike and Rosie have discovered many other advantages of living aboard.

There are the simple pleasures, such as mornings on the hook. "We lounge over breakfast, sometimes for up to two hours, during which we'll read through emails," says Mike. "It's just so nice out. We really enjoy that time of day." There is also the natural beauty of their surroundings. "The water gets prettier the farther south we go," says Rosie. "Each place we arrive at is better than the port we just left." The couple has found a social network, too. They've met many new people and made some good friends. A number of these acquaintances first heard about Mike and Rosie through their blog, also called Swing Set. "We receive emails from people who read about our plans to cruise through a certain area," says Mike. "They'll ask if we can meet up, and then they'll bring us stuff they know we like. That has been a pleasant surprise."

There has been one more pleasant surprise for this couple. Life aboard has been good for their relationship. "That was one of my main concerns prior to moving aboard," says Rosie. "I've heard stories about people filing for divorce after just a few months on a boat together. But we are getting along very well. We like to do the same things, and we agree on most things." The couple says one critical component to their good relationship is Holly. "Rather than focusing too much on each other, we have the dog, and she takes a lot of the pressure off the relationship," says Mike.

Even with the many advantages of cruising full-time, Mike and Rosie are quick to note that there are some unglamorous aspects about their lifestyle. "It's not margaritas everyday," says Mike. There are the logistical headaches of managing water, maintaining safety at anchor (they're on the hook 90 percent of the time), finding doctors and vets in unfamiliar locations, and even scouting for food. "In one port, finding a loaf of bread and some bologna was an extraordinary event," says Mike.

And then there's upkeep on the boat. "There are times when we tire of waxing and washing it every day," he says. For these reasons, Mike and Rosie sometimes wonder if they'll grow weary of life aboard. "We may get tired of it and decide to do something else," says Mike. "This could last a year, or it could last ten. We just don't know, and that's what is so great about it. We can pretty much do what we want."

Follow the continuing adventures of Mike and Rosie (and Holly) aboard Swing Set by by reading their blog here: http://www.heartlandboating.com/Swing-Set/.