There's more to boating in the Chicago area than negotiating congested harbors or venturing out onto the open expanses of Lake Michigan. Just 60 miles from many Windy City suburbs is the No. 1 attraction in the state, Starved Rock State Park, an oasis on the Illinois River that beckons to those in search of natural beauty and exploration.

With 18 sandstone canyons boasting seasonal waterfalls, the 2,630-acre park draws more than 2 million visitors a year to its forested trails and bluffs — including eagles that return every winter. Starved Rock takes its name from the legend of a group of Native Americans besieged during Chief Pontiac's uprising in the 18th century, and history and archaeology play large roles in any visit here. 

Likewise, the nearby towns of Marseilles, Ottawa, Utica and LaSalle are well known for having hosted some of the most important historical figures and events that helped to shape our nation. If you prefer adrenaline rushes to tamer attractions, try zip-lining or four-wheeling through wooded trails. You'll be surprised at the variety of opportunities in this something-for-everyone destination.    

Where to Dock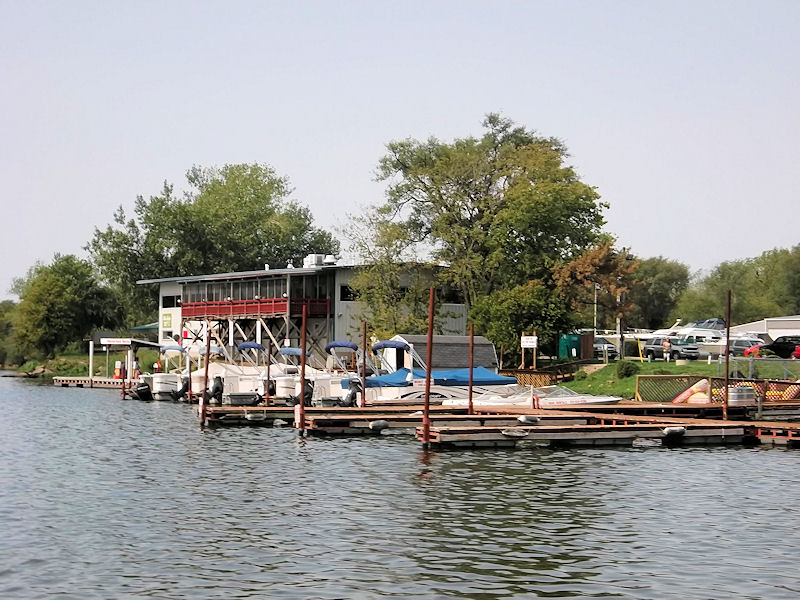 Starved Rock Marina

 

Two miles east of the Starved Rock Lock & Dam in a harbor off the main channel, Starved Rock Marina (starvedrockmarina.com) is a full-service facility in Ottawa, Ill., that has been in business since 1957. It has transient dockage, gas and diesel fuel, restrooms/showers, a ship's store and restaurant/lounge.

Further upriver, the Ottawa Courtesy Docks offers free use for up to 48 hours, and Heritage Harbor Marina (hhottawa.com) accepts transient docking with reservations and has full amenities and services, as well as rental cottages.

Also nearby, Anchor In Marina (anchorinmarina.com), Hidden Cove Marina (thehiddencovemarina.com) and Spring Brook Marina (springbrookmarina.com) serve Seneca, Ill., above Marseilles Lock & Dam, about 20 miles from Starved Rock State Park.

What to Do

Speaking of Starved Rock State Park (starvedrockstatepark.org), it tops the list of attractions, with 13 miles of trails for hiking or viewing the many overlooks along the Illinois River. The park is best known for its amazing rock formations, dating back 425 million years. During early spring, when winter thaw is occurring and rains are frequent, sparkling waterfalls can be found at the heads of the 18 canyons. The park's visitor center is home to a museum with historical artifacts, dioramas, informational movie and more.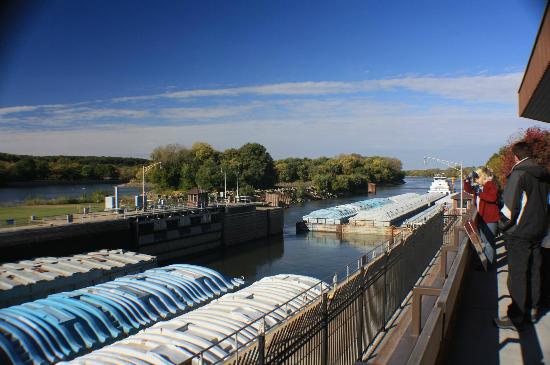 Illinois Waterway Visitor Center

 

Located at the Starved Rock Lock & Dam, the Illinois Waterway Visitor Center (mvr.usace.army.mil/Missions/Recreation/IllinoisWaterway.aspx) is owned and operated by the U.S. Army Corps of Engineers. Along with indoor and outdoor viewing areas for watching river traffic navigate through the lock, it has a life-size towboat pilothouse and displays that teach about the history of water transportation in Illinois.

The LaSalle County Historical Society Museum (lasallecountymuseum.org) in downtown Utica is accommodated in a stone warehouse built in 1848 to serve the Illinois & Michigan (I&M) Canal. It collects and preserves artifacts and paintings, and also maintains an 1865 one-room schoolhouse, working forge and blacksmith shop, and an 1875 barn with vehicles and tools spotlighting agrarian life on the Illinois prairie.

The LaSalle Canal Boat and Lock 16 Center (lasallecanalboat.org) in LaSalle (12 miles west of Starved Rock) is the hub for LaSalle Canal Boat rides on the historic I&M Canal. Period-dressed guides take you back in time during a tour of life on the American frontier.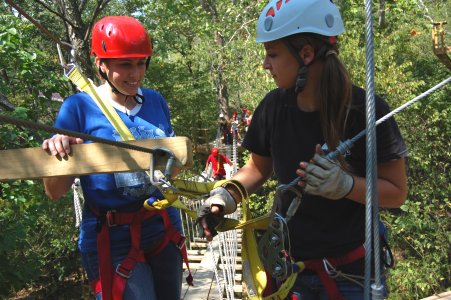 Zip Chicago

 

Had enough history? The town of Marseilles and its The Cliffs Insane Terrain (thecliffsinsaneterrain.com) have 300 acres of off-road trails for 4×4 thrills, whether you're a beginner or advanced rider. Dirt Runner (dirtrunner.us) is a mud run/obstacle course with a four-mile route, 30+ obstacles and a total elevation change of more than 1,200 feet. Also in Marseilles, Zip Chicago (zipchicago.com) includes eight different zip lines, as well as suspension bridges and treetop platforms surrounded by hardwood forest.

Where to Stay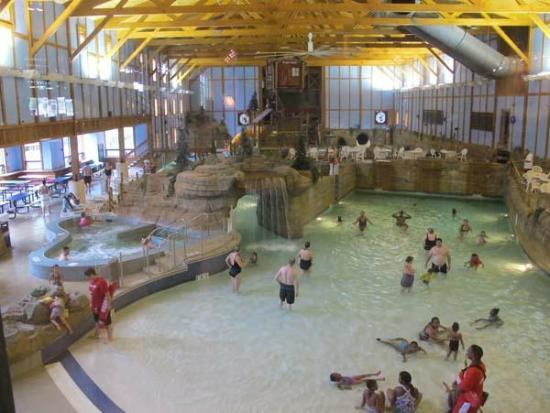 Grizzly Jack's Grand Bear Resort

 

If you're traveling with kids, then you don't want to miss Grizzly Jack's Grand Bear Resort (grizzlyjacksresort.com), which includes an indoor waterpark with wave pool and waterslides, amusement rides, multiple arcades, laser tag, miniature golf and more. It's open to the public, but staying there lets you take full advantage of movie nights and other special activities.

The Willows Hotel (thewillowshotel.net) is a boutique property nestled in downtown Utica, just a short stroll from shopping, restaurants, wineries and pubs. Choose from a standard room with living area or a deluxe suite with full kitchen, double fireplace and Jacuzzi. Indulge in the concierge services and maybe even an en suite massage.

Starved Rock Lodge (starvedrocklodge.com) is ideal for those who want to be in the heart of the action. Stay at the lodge itself or book one of the cozy cabins in the woods. An indoor pool complex has a heated pool, hot tub, children's wading pool, two saunas and poolside tables.

Where to Eat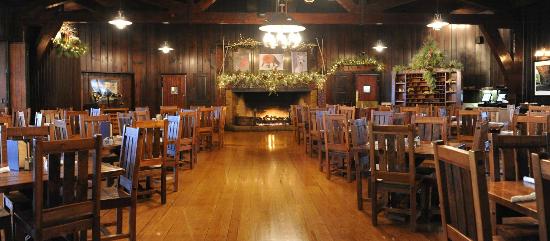 Elements at Starved Rock Lodge

 

If you're staying in the Starved Rock Lodge or happen to be there at mealtime, Elements (starvedrocklodge.com/dining/main-room/) serves breakfast, lunch and dinner seven days a week. The setting is classic frontier, with exposed rafters, hardwood floors and furnishings, and overhead lamplight. Unique menu choices including avocado fries (appetizer), pulled pork or Gorgonzola meatloaf sandwiches, pot roast and Drunken Goat Mac & Cheese.

Downtown Utica has a number of restaurants and pubs along its quaint storefront main avenue just a short drive away. Canal Port Bar & Grill (canalport.com) has a casual steakhouse feel and serves steaks, seafood and chicken, as well as soups, salads and pasta. Skoog's Pub & Grill is known for its homemade food — virtually nothing is "out of the box" — with sandwiches, burgers and wings topping the list.

A little further down the road, The Cajun Connection (ronscajunconnection.com) features many of the family recipes of owner Ron McFarlain, including fried gator tail, crawfish etouffee, frog legs, boudin and more. Trust us when we say it's legit.