Rook Nelson had a perfect opportunity to sell his boat, so he did. Then, he was sorry. "I was instantly missing it, of course," he said. But rather than invest in a new boat right away, he took advantage of another option for boaters: He joined a club.

Boat clubs come in all shapes and sizes, but they all promise to get you on the water without the hassle or expense of ownership. It's what the club owners call "country club" or "concierge" boating because you set up your day on the water like you'd call for a tee time at a golf course. You just show up and play. When you return, you tie the boat up at the dock, pay for your gas and go home. No cleaning or trailering. No boat payments, storage fees, insurance or registration fees.

It's not like renting a boat, where you fill out the paperwork every time you arrange to go out on the water. And, if you use the membership frequently, it's not as expensive as an hourly or daily rental. It's another creature entirely, what Linda Johnson, who operates Quest Express Boat Club at Heritage Harbor on the Illinois River at Ottawa, Ill., calls a "boat ownership alternative."

"It allows people the opportunity to get their feet wet in the boating lifestyle without going in head first," Johnson said. Quest Express offers unlimited use of the club's two Chaparrals and two pontoon boats with the annual family membership of $3,495 plus a one-time orientation fee of $295.

John Verba is one of those new boaters. He built a town home at Heritage Harbor and said he'd always thought boating "would be a wonderful thing to do, but I'm not very mechanically inclined." He used the club's boats about 30 times last season. He said he likes the variety.

"Pontoons and speedboats," he said, "that's been a great luxury to have." He's taken his sons, ages 11 and 9, out tubing, then switched to the pontoon to entertain out-of-town visitors.

Choosing a club has a lot to do with geography. Quest Express members spend their time on a specific stretch of the Illinois River. Other clubs are limited to one lake, like Gordy's Club on Wisconsin's Lake Geneva. Steele Whowell, owner/operator at Gordy's Lakefront Marine, says the club offers two Cobalt boats and keeps the member/boat ratio at 10:1 to allow everyone an opportunity to enjoy the water. His reservations are for half days, and members can use the boats as many times as they wish, but can only hold two reservations at one time. There's an initial one-time fee of $995 and an annual fee of $3,540, paid in 12 monthly installments.

Carefree Boat Club, with 23 locations, is a franchised operation. Tony Howard owns and operates a boat dealership and three Carefree locations: South Holston Lake in Abingdon, Va.; Watauga Lake near Butler, Tenn.; and Boone Lake in Johnson City, Tenn. Because his three clubs are connected, members get unlimited use of boats on all three lakes for a one-time fee of $1,997 and the $315 monthly fee. His fleet includes bowriders and Crest pontoon boats, which he turns every three years. He maintains an 8:1 member/boat ratio, with a 99-percent availability rate.

"Owning a boat is not for everybody," Howard said. "It costs less, quite a bit less, for a boat club versus owning a new boat."

An advantage of a national club is being able to use boats in several locations with no additional fees. Howard said members at his three clubs can use other Carefree locations twice a year.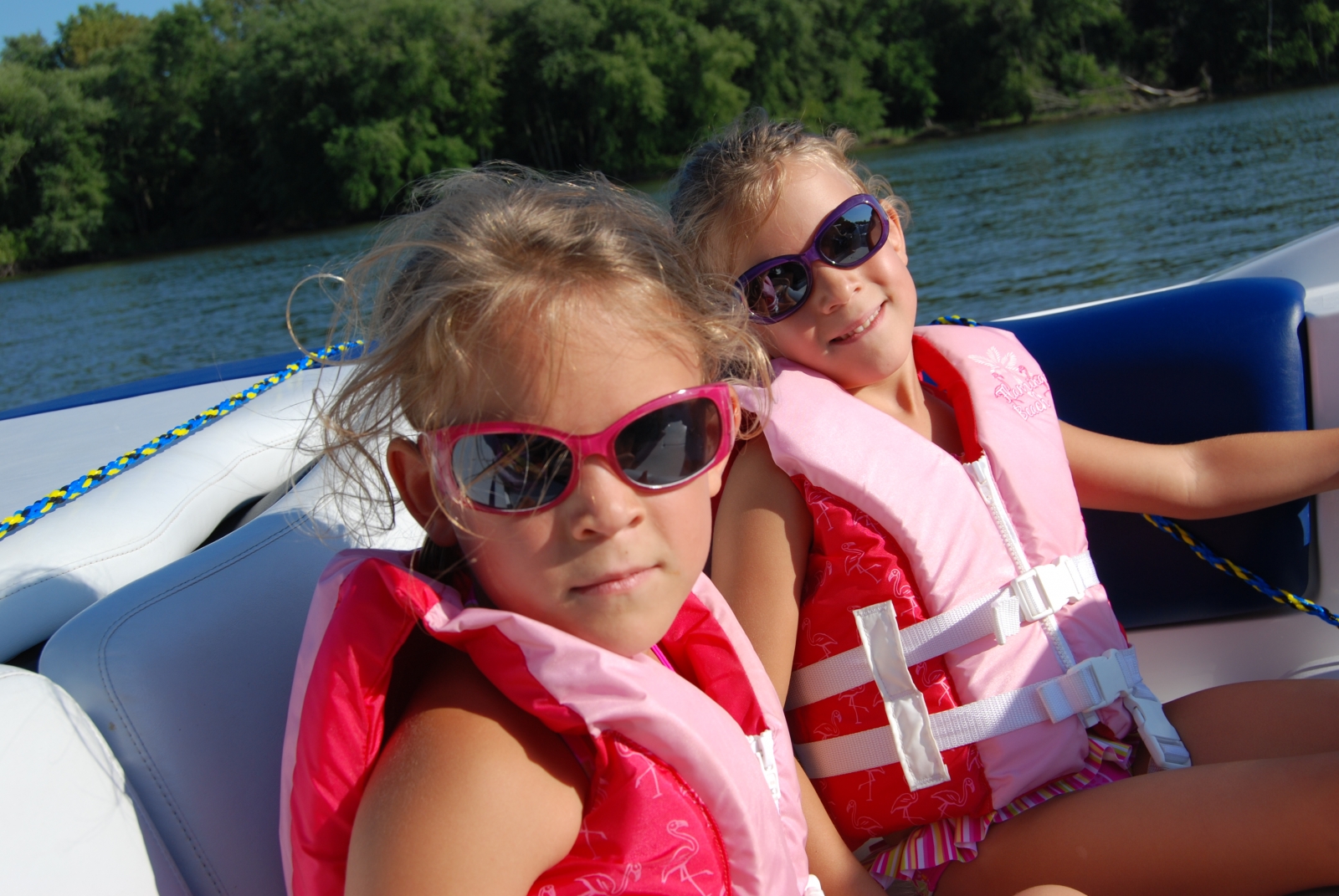 Isabel (left) and Eva Heimsoth enjoy their family's Quest Express Boat Club membership.

Quest Express Boat Club

John Giglio, president and owner of Freedom Boat Club, said its members have unlimited use of their home location and four boating days per year at each of the other locations. With 50 locations, that can translate into a lot of days on the water.

One of the oldest clubs, Freedom began in 1989 in Sarasota, Fla., and now has more than 650 boats nationwide. Members run the gamut from "former boat owners who have owned boats from 5 feet to 100 feet to complete rookies," he said. There's an online reservation system where you chose date, time and type of boat. Freedom is expanding into the Midwest, with franchises so far in Sandusky, Ohio, and Knoxville, Tenn.

The membership costs vary with the location, Giglio said, generally with an entry fee of $2,500 to 5,550 and a monthly payment of $99 to 199. At the 11 locations he owns on Florida's west coast, the entry fee is at the high end of the range for use of his fleet of pontoons, inshore and offshore fishing boats, bowriders and center consoles.

So, boat clubs have their advantages, but they're not for everyone.

"If someone wants to boat all day Friday, Saturday and Sunday all year, it's not for them," Howard said. "But someone who uses the boat 20 times a year?" He said a club could be the answer.

Before you sign up, Giglio said you should do your homework.

"First and foremost is the condition of the boats," he said. Next is insurance. "A lot of boat clubs have limited insurance. Make sure as a member of the club that you are actually insured." And finally, he stressed looking at longevity. Has the boat club, the sponsoring marina or dealership been in business for a while or just sprung up over night?

For Nelson, choosing a club close to home is the best of both worlds for now. He spent last season cruising the Illinois River from Starved Rock to Seneca and the scenic back channels in between, sometimes three times a week. He renewed his membership in Quest Express this season.

"Maybe one day I'll have another boat," he said, "down the road a ways."