There's nothing quite like the feeling of riding a personal watercraft, or PWC. The anticipation as you see your bike at the dock and climb aboard, the rush of adrenaline as you press the start button and goose the throttle for the first time, the sheer excitement as you blast across the waves and lean into smile-inducing 360s. It's hard not to feel like a kid again, like you were born into the saddle.

If you've ever ridden a PWC before, you know what I'm talking about. If you haven't, now is a great time to get out there and give it a try. Bigger, cleaner, quieter bikes are now the norm, and 40-year-old parents have replaced 20-year-old hot-doggers as the average owner — proof that the appeal of these machines continues to diversify. In fact, today there are bikes built specifically for safe and casual operation, water sports, cruising and flat-out speed.

Sea-Doo's new RXP-X 260 rockets into the latter category. Propelled by a supercharged, intercooled engine with multi-port fuel injection, this 260-hp monster probably has more muscle than your car. To tame the beast, designers created a new performance hull, along with rear sponsons that improve lateral stability and can be adjusted to suit the driver's skill level, from aggressive to playful. The RXP-X 260 also shows off Sea-Doo's new Ergolock system — narrow racing seat with knee-grab design, adjustable handlebars, angled footwells — for greater control with less upper body fatigue. Sea-Doo won an NMMA Innovation Award for this system; see our June issue.

Other notable features of this two-person craft include the noise-reducing D-Sea-Bel system, trim tabs and the first-ever PWC braking system, called iBR, which the company claims can help riders stop up to 100 feet sooner than any other watercraft. How's that for added peace of mind? Of course, a hotrod like this deserves a racy options package. The X-Package gives owners a special, colorized seat; handlebars that can be adjusted for height, width and grip angle; and the new X-Gauge instrument panel with indicator showing boost pressure and engine load at all times.

Also new from Sea-Doo is the GTR 215, a bike based on the company's existing GTI hull. No lightweight in the horsepower department — it rates a formidable 215 hp — this three-person PWC is notably lighter than its two-person sibling. That translates to a lively ride and spirited acceleration. Like the RXP-X 260, the GTR 215 features the iBR braking system, as well as high-performance trim and pre-set engine calibration modes for sport riding, touring and ECO (improved fuel economy). Those last two are nice settings for those of us who like to cruise, as is the 30.8 gallons of storage. www.sea-doo.com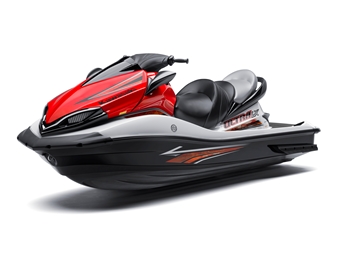 A few years ago, Kawasaki introduced the most powerful PWC on the market — the 300-hp Ultra 300LX. The idea behind the new Jet Ski Ultra LX was to make a less expensive, more efficient version, and the result is a bike that's still sport-driven but also comfortable for riders who don't want to spend the whole day with their hair on fire. The reinforced hull is strong and light, and has been retooled to be more balanced and maneuverable. (One criticism of the old Ultra 300LX hull was that it could be unstable at speed.) The jet pump, driveshaft and nozzle all come from the 300, itself developed from Kawasaki's racing machines, so the thrust is there.

Though not positioned specifically for cruising, the Ultra LX has a number of features that make it an admirable platform for this purpose. The watercraft's big, in-line four is surprisingly efficient, so you'll get a lot of exploration in before the 20.6-gallon fuel tank runs dry. Another reason you can disappear all day is the 60-gallon storage capacity. There's also a new luxury seat with bolsters to keep everyone's backsides happy, five-position steering that allows the rider to dial-in just the right amount of height, and splash deflectors to help keep everyone dry. www.kawasaki.com

The big news from Yamaha for 2012 is the complete redesign of its feature-rich, three-person FX Series — including the flagship FX Cruiser SHO, FX Cruiser HO, FX SHO and FX HO. The models in this luxury-performance line are now 7.5 inches longer than previous years for a lengthier, more comfortable seat when riding with multiple passengers. In fact, the FX Cruiser models come with a new two-piece seat that has an additional bolster support for the second passenger, plus stacked "theater" seating so everyone has a view of the water ahead. Testing these models earlier in the year, I've never been happier to take a back seat with riding.

New mechanical neutral lets the rider stay in place when boarding, loading or docking, making these maneuvers more convenient, and new dash instrumentation allows easier manipulation of the engine features (cruise control, low-RPM mode). In addition, the stern reboarding area is larger and incorporates a new fast-access storage compartment for wet items and tow ropes. Altogether, the new FX series is designed for the utmost in form, function and unadulterated fun. www.yamaha-motor.com

While Honda hasn't introduced any new watercraft in the past several years, the company still sells the three-person AquaTrax F-15 and F-15X. Each bike features a four-stroke engine — the F-15X is turbocharged; the F-15 is not — as well as a UV-resistant foam seat, ample onboard storage, programmable keyless ignition and eye-catching colors. www.powersports.honda.com