Heartland waters offer everything from some of the best bass fishing in the nation to incredible panfishing in backwaters that may be accessible only by skinny-water-running jon boats. Then there's our world-famous catfish and an open-water striper fishery that many say has never been better. Whether you're a hardcore angler or a fair-weather family fisherman, here are some watercraft you just might want to consider based on how you prefer to wet a line.

Bass Fishing Boat: Nitro Z-6

Priced at $20,000 matched with a 115-horsepower Mercury OptiMax and a custom trailer with swing-away tongue, the Nitro Z-6 from Tracker Boats is a great choice for serious Heartland anglers who want to chase bass as well as most of our other popular gamefish species.

The Z-6's 17-foot, 4-inch hull is built of hand-laid fiberglass and carries a 90-inch beam. There's three-across seating, with steps that lead to the aft deck and folding fishing chair. Up front is a bow bicycle seat. The all-inclusive rig comes with a 32-gallon livewell aft with timer, divider and pump-out system; a flush-mounted Lowrance Mark V fishfinder; and a Minn Kota Edge 12-volt, 54-pound thrust, foot-controlled trolling motor.

Storage abounds in port and starboard aft lockers with drop-in boxes molded to accept tackle trays; passenger rod storage with hold-down strap; port and starboard bow lockers; a center bow rod/gear locker; and an insulated cooler. www.nitro.com

Nitro Z-6

Length Overall            17 feet, 4 inches

Beam                           7 feet, 6 inches

Draft                            1 foot, 1 inch

Hull Weight                 1,300 pounds

Fuel Capacity              22 gallons

Max. Power                115 horsepower

Base Price                   $19,995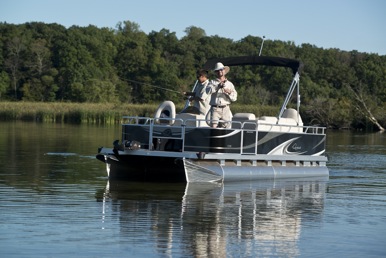 Pontoon Fishing Boat: Qwest 7518 VX Fish

This 19-foot pontoon is all about fishing in comfort, offering dedicated deck space fore and aft for angling. The boat, from Apex Marine, includes fishing features such as a fiberglass livewell, a rear fishing station with rod holders, a rod rack on the forward casting deck and a Humminbird fishfinder as standard equipment.

Seating for anglers includes two folding fishing seats on removable pedestals on the bow and a matching set on the stern. In the cockpit, there's a 46-inch-long reclining bench seat to port for relaxing between bites, and a deluxe captain's chair with folding armrests at the helm.

Pontoons with 23-inch diameters and full length keels are underfoot, supporting a premium carpeted deck constructed of marine plywood with a lifetime warranty. A large bimini top is overhead of anglers on board, while aft is an aluminum rear-entry ladder. The Qwest's deluxe fiberglass helm features a carbon-fiber dash with tachometer, volt gauge and accessory switches below the fishfinder. www.apexmarineinc.com

Qwest 7518 VX Fish

Length Overall            19 feet, 4 inches

Beam                           7 feet, 7 inches

Draft                            NA

Dry Weight                 1,325 pounds

Fuel Capacity              22 gallons

Max. Power                70 horsepower

Base Price                   $18,745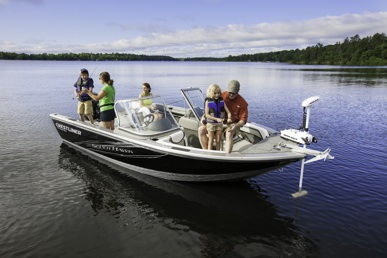 Fish and Ski Boat: 2013 Crestliner 1750 Super Hawk DC

For the fisherman with family members who want to enjoy more on-water action than simply wetting a line, this new 17-footer from Crestliner is worth a look. The 1750 Super Hawk DC is a member of the new fish-and-ski line for 2013 from Crestliner, which also offers 1650, 1850 and 1950 models, featuring a redesigned bow area that can morph into a comfortable lounging area, upgrades in the cockpit and stern, and an all-new optional anchor system.

Other features include no fewer than seven pedestal-seat bases to place anglers in a position to catch fish, a helm seat glider, folding boarding ladder, center in-floor locking rod/ski/wakeboard storage, open port-side rod storage with tubes, aerated 22-gallon aft livewell with divider, wrap-around sport windshield and no-feedback steering.

Underfoot, the keel of the 1750 is constructed using a durable, interlocking seam construction method, using high-grade aluminum extrusions with tongue-and-groove channels offering an extruded full-length keel and continuous seam welds.

The Super Hawk is a rugged, adaptable and comfortable fishing and watersports boat from one of the most respected boat manufacturers in the business. Priced with 115-horsepower Mercury outboard and trailer. www.crestliner.com

Crestliner 1750 Super Hawk DC

Length Overall            17 feet, 9 inches

Beam                           7 feet, 10 inches

Draft                            NA

Dry Weight                 1,450 pounds

Fuel Capacity              28 gallons

Max. Power                175 horsepower

Base Price                   $28,044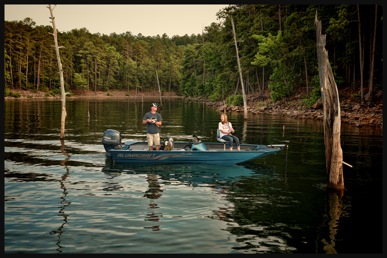 Aluminum Fishing Boat: Alumacraft PF 175

A great basic fishing boat that is stable, easy to trailer and launch, and fuel-efficient to boot, Alumacraft's affordable PF 175 package is a tough rig to beat. The boat comes with two pedestal seats, three pedestal bases and seating for four in the cockpit.

Anglers will appreciate a pair of 20-gallon livewells, lockable rod storage, and the fact that the package comes rigged and ready to go with a fishfinder on the dash, a Minn Kota electric trolling motor on the bow, a matching trailer under the hull and your choice of Mercury, Honda, Evinrude or Yamaha outboard on the transom.

Like all Alumacraft models, the all-welded 175 is constructed from a single piece of heavy gauge, top quality, 5052 marine-grade aluminum that eliminates rivets and welds. Other standard features found aboard the PF model for 2013 include: dual lockable rod storage, dual aerated livewells, under-seat storage, a windscreen, stowable running lights, bilge pump and built-in fuel tank. Priced with 50-horsepower Yamaha outboard. www.alumacraft.com

Alumacraft PF 175

Length Overall            17 feet, 5 inches

Beam                           7 feet

Draft                            NA

Dry Weight                 1,085 pounds

Fuel Capacity              20 gallons

Max. Power                90 horsepower

Base Price                   $15,645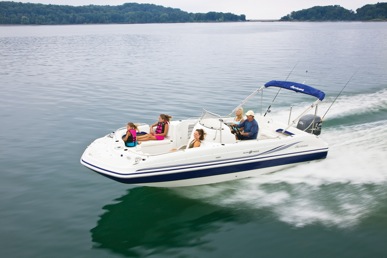 Fishing Deckboat: Hurricane SS 231 OB

It's been nearly 40 years since Hurricane debuted the first deckboat, and today, practically every builder has its own version. These are adaptable, stable, roomy vessels that make excellent recreational fishing craft, especially for multiple anglers or families. Hurricane's SS 231 model is rated to carry up to a dozen passengers and is rigged for fishing — not that we'd suggest more than a third of that crew angling at any given time!

The Hurricane has a center console design to allow anglers the ability to fight fish all the way around the helm and cockpit. It offers a pedestal seat base up on the bow, a livewell in the stern with a recirculating pump to keep the bait and the catch active, rod holders, tackle drawers, racks to keep rods out of the way when not in use, and lots of elbow room for casting and catching fish.

Angling options include several models of fishfinders and a livewell and trolling motor harness on the bow. Standard features include an entertainment center, boarding ladders at the bow and stern, 25-quart portable cooler, an anchor locker and plenty of comfortable interior seating. Base power is a 115-horsepower Yamaha F115XA outboard. www.hurricaneboats.com

Hurricane SS 231 OB

Length Overall            23 feet, 2 inches

Beam                           8 feet, 6 inches

Draft                            2 feet, 2 inches

Dry Weight                 3,200 pounds

Fuel Capacity              55 gallons

Max. Power                300 horsepower

Base Price                   $37,054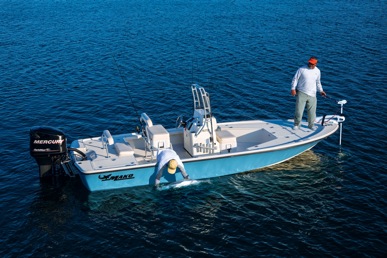 Inshore Fishing Boat: Mako 21 LTS

Also known as bay or flats boats, inshore fishing rigs like the new 21 LTS (Light Tackle Skiff) from Mako have a saltwater pedigree that means they're built to be stable and sturdy. Measuring a big 21 feet by eight-plus feet, this craft offers an impressive amount of non-skid on the fore and aft platforms for coils of fly line and cast nets, along with reliable firmness under way and at rest.

Inshore waters can be skinny, but the Mako's design allows it to operate with short-shafted motors and jump on plane quickly with little bow rise. And because it's rated for up to 225 horsepower, those long runs to your favorite spot aren't so long anymore. Standard power is a 150-horsepower Mercury OptiMax Pro XS.

Inside, the 21 LTS is ready for tournament anglers and professional guides with a removable forward-console fishbox/cooler, vertical rob holders and tackle storage, a padded helm seat/cooler, spacious storage compartments, an aerated 30-gallon livewell and more. www.mako-boats.com

Mako 21 LTS

Length Overall            21 feet

Beam                           8 feet, 4 inches

Draft                            1 foot

Dry Weight                 2,100 pounds

Fuel Capacity              56 gallons

Max. Power                225 horsepower

Base Price                   $35,995