We've all seen the porch signs saying: "Life is Better at the Lake." And who could argue? Whereas our rivers are the lifeblood for inland cruising and commerce, it's our lakes that have always been centers for recreation. In fact, I'll bet most of us who live in the Heartland know the phrase "going to the lake" to be a wholly reasonable answer to the question "whatcha doing for fun this weekend?"

When I was growing up in St. Louis, the lake that people were chronically going to was Lake of the Ozarks in central Missouri. The 55,000-acre body of water is among the largest man-made lakes in the country, with a main channel stretching 92 miles and surrounded by rolling hills and verdant woodlands. The serpentine layout of the lake makes boating the best way to get around, so it comes as no surprise that an abundance of water services and activities are at hand.

While there are nearly countless ways to spend a vacation at Lake of the Ozarks, we've put together a sample schedule focused on boating fun while still taking advantage of the beach-town attractions that typify the Midwest-meets-Florida milieu. Or you can visit www.funlake.com and plan your own itinerary.

Day 1. Fish & Frolic

Lake of the Ozarks has more than 100 marinas and 12 public boat ramps at Bagnell Dam, Gravois Mills, Sunrise Beach, Lake of the Ozarks State Park and other locations. So, be sure to bring your boat, or rent one, and head out to enjoy the 617 billion gallons of water.

Many angling pros point to this fertile lake as one of the best year-round fishing spots in the country. Largemouth bass, crappie, white bass, stripers and catfish are abundant, with dozens of knowledgeable guides just waiting to put you on the bite. Fishing-friendly places like Alhonna Resort and Robin's Resort feature heated docks when the weather turns cold.

After catching your limit, head over to Lake of the Ozarks State Park at the east end. Its 17,626 acres offer two sand beaches for swimming as well as the Ozarks Aquatic Trail. Designed for boaters, it meanders to 14 buoys along the shore, each one marking a unique natural feature like ancient caves, rock chutes, low dells or soaring bluffs. A booklet with map and descriptions of each stop is available for free from the park's gas docks or office.

Day 2. Do the Strip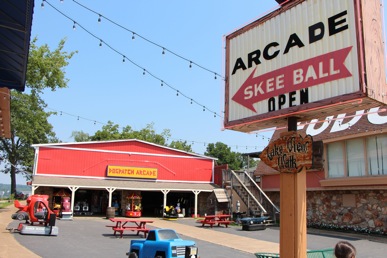 No trip to Lake of the Ozarks is complete without a visit to the Bagnell Dam Strip, a mile-long embodiment of all-American kitsch. It's the quintessential "tourist" boulevard, attracting window shoppers with its T-shirt stores, flea markets, arcades and snack bars. It's also the landing for Paradise Parasail, Lake Ozark Helicopters and the Tom Sawyer paddlewheel excursion boat.

Start with a hearty breakfast at Stewart's Restaurant, a "mom and pop" diner located right in the heart of the action. (Warning: Be prepared for comfort food, and heaping portions of it.) The specialty of the house is homemade cinnamon rolls the size of a catcher's mitt. One is enough for the whole table.

Next, drive up to the scenic overlook for a bird's eye view of the 148-foot-tall, 2,543-foot-long dam and then head across the street to the Willmore Lodge. This Adirondack-style building includes museum exhibits on the area's history, the construction of Bagnell Dam and the lake's development over the years. It also has a spectacular view from its back porch.

Hang out on the strip for a few hours or the whole day. There's no shortage of fun family activities, including batting cages, go carts, skee ball, a merry-go-round, miniature golf and old-time photos.

Day 3. Dock & Dine

What would a great vacation be without great food? Lake of the Ozarks is home to more than 100 restaurants — from gourmet to take-out — and at least 40 of them are on the water. You'd be hard pressed to find a better opportunity for dock-hopping your day away. (Remember to appoint a designated driver if you'll be imbibing.)

On the north side of the lake, Shady Gators has 100 slips, a pool and three giant patios lakeside. It serves pub food with a Cajun touch, and has a full entertainment schedule. Nearby, H. Toad's Bar & Grill is slightly more upscale but no less popular with the boating set, thanks to its proximity to the Toad Cove Yacht Club & Marina.

Lake West has Papa Chubby's Food & Booze (think Italian deli on the water) and Paradise Restaurant & Bar, a decked-out establishment with a New Orleans-inspired menu and open-air stage. Captain Ron's Bar & Grill, home of the Lake of the Ozarks Shootout, has burgers, steaks and seafood, as well as an outdoor tiki bar and sand beach for swimming and volleyball.

To the east, Dog Days Bar & Grill overlooks the Glaize Arm of the lake and features an appetizing array of food items (from wraps to snow crab), plus an arcade and extensive calendar of events. Shorty Pants advertises "authentic Creole cuisine at the water's edge" in addition to a full marina with gas dock and store.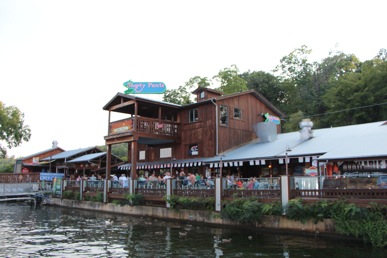 Try Miller's Landing Oar House Bar & Grill in Lake South, serving sandwiches and pizza, with a marina and beautiful views. Pier 31 Restaurant & Marina features all-you-can-eat catfish, or pull into Larry's on the Lake and take the Big Larry Challenge: Eat five pounds of burgers, fixings, fries and onion rings in 30 minutes and get your name on the wall!          

Day 4. Hit the Trail

Set aside a day to explore the land-based attractions that make Lake of the Ozarks a premiere destination for non-boaters, too. The Golf Trail here consists of 13 courses boasting designs by a who's who of links legends: Arnold Palmer, Jack Nicklaus, Robert Trent Jones Sr., and more. You can play two courses a day for a week and never see the same hole twice.

On the 95-mile Art & Ambience Trail, visitors will take country roads and highways in route to art studios, galleries, museums, theaters, upscale retail shops and boutique local eateries. Many of the artists ply their trades in their own homes and welcome people to come in and visit.

Six local wineries make up the lake's Wine Trail: Casa de Loco, Eichenberg Winery, Golden Rock Winery, Seven Springs Winery, Shawnee Bluff Winery and Sugarloaf Winery. Enjoy tastings from each cellar — from signature sweet whites to deep, dry Norton reds — along with delectable food in charming settings. There are even a few micro-brews for those with an alternate palate.

Day 5. Set a Date

Plan your trip wisely and take in one of the many shows and festivals to descend on Lake of the Ozarks each year.

Aquapalooza, typically held in mid-summer, is the lake's largest family boating event, with live music, games and activities, and a giant raft-up lasting all day long. At Brostock, two dozen of the world's best wakeboarders compete in contests for cash prizes and bragging rights. The Lake of the Ozarks Shootout is the largest unsanctioned boat race in the U.S. (see page 4), and several harbor hops and poker runs provide opportunities for hands-on boating adventures.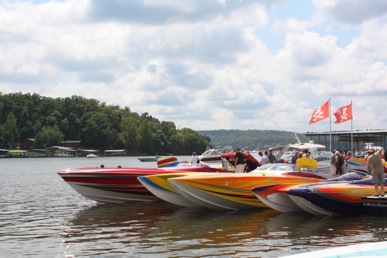 Of course, there are also activities "on the hard." The Magic Dragon Street Meet Nationals, for example, draws more than antique 900 cars, trucks and motorcycles to the Bagnell Dam Strip, and the Versailles Old Tyme Apple Festival features everything apple, plus a parade, fiddle contest, beauty pageants and more.

A full list of events can be at www.funlake.com/Events?category=Events&type=Event.