Summer means one thing to countless Americans:
Road trip!!!
In the next few months, families everywhere will hit the highway, headed for the West's many national parks, for the Upper Midwest's cool north woods, for the Smoky Mountains, even for Disney World.
They may not realize it, but the Interstate system will take them within easy reach of some of the country's best inland boating — from well-known hotspots to hidden gems. So, budget a little extra time and bring along the old family funship. Your run-of-the-mill driving waypoints could become true heartland boating adventures.
COLORADO
What: Lake Dillon
Where: Off I-70 west of the Continental Divide, between the mountain communities of Keystone, Dillon and Frisco
Why You Should Go: Home to North America's highest yacht club and the world's highest deep-water marina, this Denver Water reservoir is nestled in the Rocky Mountains at 9,017 feet. It features 26 miles of shoreline, 3,300 acres of surface water and two marinas with free public ramps for trailer boaters. You can't swim, waterski or wakeboard here — and the water's so cold you wouldn't want to — but the lake offers spectacular day cruising, sailing, fishing and paddleboarding. Boats are available for rent, and nearby you'll find campgrounds, parks, hiking trails, bike paths, microbreweries, restaurants, performing arts, museums and farmers' markets.
DAKOTAS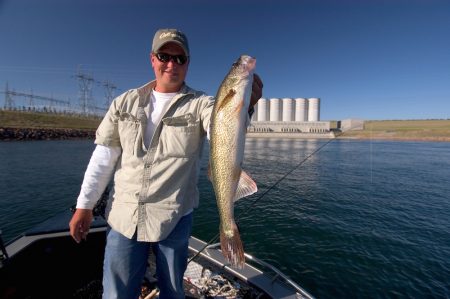 What: Lake Oahe
Where: Between I-90 in South Dakota and I-94 in North Dakota, stretching 231 miles from Pierre to Bismarck
Why You Should Go: Not only did the Oahe Dam north of Pierre tame the wild Missouri River and create the country's fourth-largest reservoir, it gives trailer boaters the opportunity to have a real Wild West experience. Here, you can cruise upriver for days, explore the same remote country that challenged Louis and Clark, and fish for walleye, pike and smallmouth bass. The Spring Creek Resort & Deep Water Marina has transient slips and a launch ramp; additional ramps dot the lakeshore. Be sure to experience Lakota culture on the nearby Cheyenne River and Standing Rock reservations, especially during powwow season.
GEORGIA
What: Lake Lanier
Where: 30 miles northeast of Atlanta city limits, between 1-75 and I-85
Why You Should Go: Home to two of the largest freshwater marinas in the world, Holiday Marina in Buford and Aqualand Marina near Flowery Branch, this 37,000-acre reservoir has 692 miles of shoreline, 10 marinas and approximately 50 public launch ramps. Host of the 1996 Summer Olympics' rowing and sprint canoeing events, the lake has an active canoe and kayak club, a thriving sailing community, and plenty of opportunities for anglers to catch bass, black crappie and walleye. Then there are the public parks, shoreside restaurants and attractions like LanierWorld at the Lake Lanier Island Resort.
KENTUCKY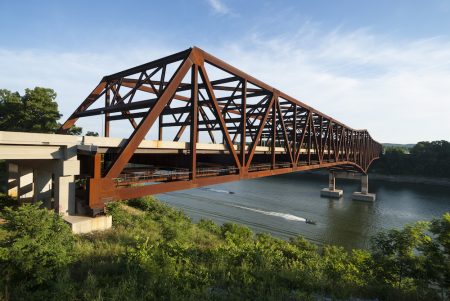 What: Lake Cumberland
Where: 70 miles south of Lexington, between I-65 and I-75 in the south-central part of the state
Why You Should Go: At full pool, this reservoir offers more than 1,200 miles of federally protected shoreline and more than 63,000 acres of surface water. While it's considered to be the country's No. 1 destination for houseboating — more than 1,500 ply its waters — it's also perfect for camping, hiking, resort vacations and every type of water sport imaginable. The lake hosts the Lake Cumberland Thunder Run in June and the Lake Cumberland Poker Run in September, is home two Kentucky State Parks and is a major fishing hotspot, renowned for its striped bass (especially the state record 58-pounder). But don't forget about all the trout, sauger, walleye, sturgeon, crappie, bluegill and catfish, too.
MINNESOTA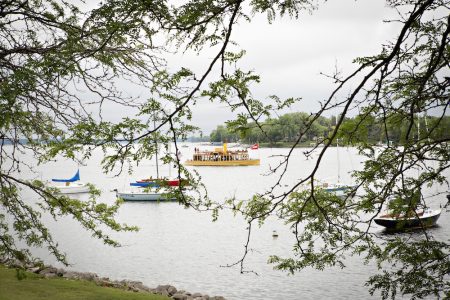 What: Lake Minnetonka
Where: Just 20 miles west of the Twin Cities, easily reachable from I-94 or I-35
Why You Should Go: Made famous by Longfellow in his 1855 poem "Song of Hiawatha" — and by Prince in the 1984 film "Purple Rain" — Minnesota's busiest lake is worth a midweek visit. You'll find 140 miles of shoreline, 30-plus bays, 20 public launch ramps, full-service marinas, and plenty of dockage for waterfront dining and shopping. Summer water temperatures are pleasant for swimming, and if you're an angler, you can try your hand at fishing for muskie, northern pike, largemouth bass, walleye and yellow perch. Watch for Lou, the mysterious 10-foot-plus sturgeon who is the lake's very own Loch Ness monster.
MISSOURI
What: Lake of the Ozarks
Where: Central Missouri, reachable from I-70 and I-44
Why You Should Go: This 55,000-acre lake is often called "the Magic Dragon" due to its 1,200 miles of shoreline and four labyrinthine arms. Start your adventure at the Ozark Yacht Club in Jennings Branch Cove, near the Bagnell Dam Strip and its many shops, restaurants and attractions. The marina has 80 covered and open-dock slips accommodating boats up to 60 feet, plus a fuel dock, pump-out station, cafe, ship's store and clubhouse. Go waterskiing, wakeboarding or tubing; drop the hook for swimming and sunbathing; fish for bass, catfish, walleye and bluegill; and visit to the Horny Toad Bar & Grill in Camden on the Lake, Coconuts Caribbean Bar & Grill in Gravois Mills, and Lake Ozark's Lodge of the Four Seasons.
NEBRASKA
What: Lake McConaughy
Where: 9 miles north of I-80 and the city of Ogallala, just northeast of the Colorado border
Why You Should Go: Fed by the North Platte River and snuggled against the southern edge of the remote Sandhills region (designated a National Natural Landmark in 1984), this 22-mile-long, 4-mile-wide reservoir affectionately known as "Big Mac" offers nearly 36,000 acres of surface water and 76 miles of shoreline. This is an unexpected Great Plains watersports mecca, with 15 public boat ramps, fishing-guide services, professional parasailing and kiteboarding operators, and PWC rentals. Visitors can take advantage of 15 lodging options near the lake, as well as 16 state and private campgrounds, house and RV rentals, and a variety of dining options.
NEW YORK
What: Finger Lakes
Where: South of I-90, in a triangle between Syracuse, Rochester and Elmira-Corning
Why You Should Go: Eleven glacial lakes hang like tears beneath Lake Ontario's eye, offering approximately 134,000 acres of pristine waterways to explore; Cayuga and Seneca lakes are among the deepest in the country at 435 and 618 feet, and they're nearly 40 miles long. Take advantage of mountain biking, hiking, camping, rock climbing, paddling, whitewater rafting, golf and the area's rich wine country. Fish for trout and salmon in the deep, cold-water lakes and bass, walleye, perch, pike, muskies and panfish in the warm-water ones. Add the amusement and water parks to your bucket list, and don't forget your camera — the region is dotted with dramatic gorges, overlooks and waterfalls.
UTAH
What: Great Salt Lake
Where: Adjacent to I-80 in northwestern Utah
Why You Should Go: The country's second-driest state boasts the largest natural lake west of the Mississippi River. At 75 miles long and 35 miles wide, the Great Salt Lake also is the largest saltwater lake in the Western Hemisphere, and boating is year-round here (with 5- to 27-percent salinity, the lake never freezes). Cruise to Antelope Island, with its resident populations of bison, mule deer, pronghorn and bighorn sheep; amenities include a marina, restaurant, horseback riding, camping and plenty of mountain biking and hiking trails. Also, check out Fremont Island, which has a wild-horse preserve, petroglyphs, homestead ruins and a cross carved by 19th century explorer Kit Carson.
WISCONSIN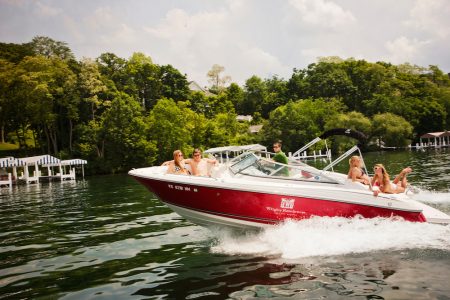 What: Geneva Lake
Where: Reachable from both I-43 and I-94, just a stone's throw from the Illinois border
Why You Should Go: Celebrated for its historic district, U.S. Mail Boat Walworth, Lake Geneva Cruise Line and 21-mile lake footpath offering stunning views of yesteryear's most glamorous estates, this 7.5- by 2-mile natural lake encompasses the communities of Lake Geneva, Fontana-on-Geneva Lake, Williams Bay and Delavan. It has public launches in downtown Lake Geneva, Fontana and Williams Bay, with three additional ramps in Linn Township. Enjoy fishing for bass, panfish, pike trout and walleye; cruise into dining hot spots like the Geneva Inn, the Abbey Resort in Fontana and Pier 290 in Williams Bay; and savor the myriad classic vessels that ply these storied waters.
Author: Heather Steinberger is a regular contributor to HeartLand Boating