The Complete Listing of Marinas and Locks on the Inland and Gulf Intracoastal Waterways 60th Edition Coming February 2022
Subscribe to our e-newsletter to get notified when the 2022 edition is available.
The 250-page, spiral-bound book covers 9,436 miles on 23 waterways and features more than 1,250 individual entries for marinas, docks, locks and dams, and fuel and service facilities.
Quimby's is updated annually using both public and expert-generated content for the utmost accuracy. It is arranged by river, then river mile, making it easy to use when routing a trip, with additional navigation notes, mileage charts, inland boating tips and local attractions making it an essential part of any onboard library.
In addition, we offer an informative email newsletter with the latest news for boaters cruising this area.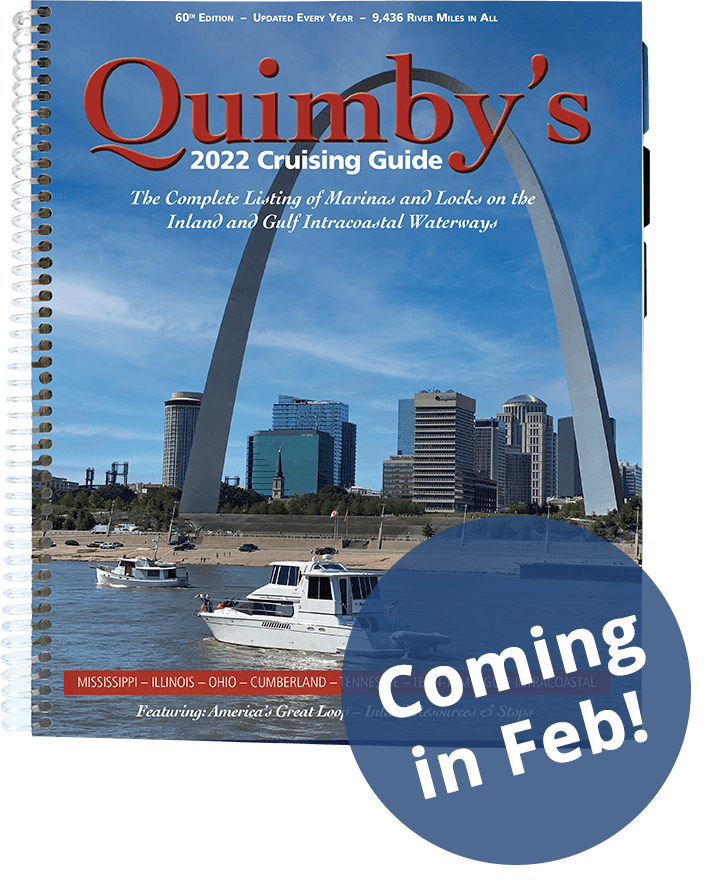 2021 Photo Contest Winners

2021 Photo Contest Semi-Finalists

The Pontoon Of The Future?

Top Great Loop Boats 2021

Vision Marine Technologies Designing World's Most ...

New Boat Insurance Option

World's Longest Continuous River Race

MarineMax Acquires Cruisers Yachts

Hannibal Riverfront Project Making Strides

'Airbnb Of Boats' Unveils US Site

Certificate Of Documentation Changed To 5 Years

Boat Sales Reach 13-Year High

Green Turtle Bay Set To Host 2021 True Course Capt...

Coast Guard Announces New Engine Cut-off Switch La...

2021 Quimby's Cruising Guide Now Available

Apollonian Yachts Launches Brand New Cruiser

Paducah Transient Dock Continues Awards Streak

American Cruise Lines Launches New Music Cities Cr...

Lost Paddle Media Acquires Four Consumer Fishing, ...

Conley Bottom Marina Restoration Nearing Completio...

Viking Cruise Lines Investing Heavily On The Missi...

Illinois River Open for Transient Boating

Homemade Raft Makes 1,700 Mile Mississippi Trip

Walk the Mississippi River

Aspen Power Catamarans launches the new C108

River Pilot Canoes Length of Mississippi River

New Dinghy Lift for Outboard Powered Boats

Digital Guide To The Ohio River

Two Rivers Marina Under New Ownership

Asian Carp Fishing Method Being Tested In Kentucky

$8.2 million in grants available to aid communitie...

Yacht Club of St. Louis Building on the Past

1st Annual Kemah Catamaran Boat Show

Turtle Creek Harbor Under New Ownership

Historic River Town Opens New SkyTour

Tres Monet Launching in New Orleans

Fairhope Docks Marina Continuing Updates

Youth Summer Boat Building Program

Alton Inks 5 Year Deal with American Cruise Lines

A Floating Island in the midst of Historic Floods

Midway Marina Updates Restaurant

Pebble Isle Marina Maintaining Course in 2019

Columbus Marina Under New Management

Paducah Receives Boaters' Choice Award for Transie...

Ohio Clean Marina Touts 2018 Successes

Another Expansion for WindRiver Marina

Post-Hurricane Renovations at Two Port Aransas Mar...

Drake's Creek Marina Gets Major Updates

Marina District Revitalization in Toledo, Ohio

'Captain Pip' Becomes New Owner of TowBoatUS Clear...

Five Tips for July Fourth Boating Safety

2018 Top 10 Boat Names Released

Paddlewheeler 'Pilot in Training' Starts Recreatio...

Fees Are Waived For Recreational Boaters On Erie C...

Chicago River to Be Transformed

Invasive Carp Continue Spread In Upper Mississippi...

Rock Island Marina Seeks New Management

Volunteer Landing Dock Reopens in Knoxville

New Marina Proposed on Kentucky River

Missouri Bill Changes Three Rules for Boaters

Oahe Marina Closed for 2018 Season

Michigan Clean Marinas Increase Nearly 20 Percent ...

TowBoatUS Opens New Locations in Racine, Wis., and...

Gathering the Untold Stories of Vanishing River Pe...

New Owner at TowBoatUS Ports in Mississippi and Lo...

America's Great Loop Cruisers' Association Announc...

Uber-like Boat Service Comes to Lake of the Ozarks

The Return of Gibson Houseboats

Premier Marine Introduces Pontoon Overnighter

Honda and Yamaha Release New 2018 Outboards

Wonders of Wildlife Museum Opens

The Future of Paper Charts

West Marine Awards BlueFuture Grants

Walstrom Opens Traverse City Location

NOAA 2017 Hurricane Predictions

Best Places to Fish and Boat

TowBoatUS Starved Rock Opens

Coast Guard Releases New Safety Statistics

Bass Pro Shops Donates 40,000 Rods and Reels to Ki...

Trump Touts Inland Waterway Improvements

Suntex Acquires Loggerhead Marina Portfolio

Lund Launches Pontoon Line

Lowrance Celebrates 60 Years

National Marina Days 2017

Electric, Stand-Up PWC Launched

Boating Industry Reveals 2017 Top Products

Suntex Acquires The Ridges Marina

Ranger Boats Launches Pontoon Line

Maritime Group Urges Congress To Fund Carp Efforts

Lifelong Seafarer Brings TowBoatUS to Eagle Mounta...

Chris-Craft Announces 12 New Dealerships

Brunswick Innovation Laboratory to Open at the Uni...

Ranger Welcomes Water's Edge Marine as Dealer

Bass Cat and Yar-Craft Welcome New Dealers

TowBoatUS St. Charles Has New Owner and Home Base

New Carver Dealer in Oklahoma and North Texas

2017 Innovation Award Winners Announced

Suntex Renovating Three Marinas on Eagle Mountain ...

2016 Marine Industry Customer Satisfaction Index A...

Marina in Van Buren Provides Needed Services to Ar...

EPA Approves Pathway for Isobutanol as Advanced Bi...

Mercury Marine Earns Sixth "Green Master" Honor...

Ohio Clean Marinas Recognizes New and Recertified ...

EPA Program Makes $1 Billion in Loans Available fo...

Water Infrastructure Improvements for the Nation A...

Developer Proposes Resort, Marina on Raystown Lake

Boating Industry Names Top 100 of 2016

Cross View Renovations Underway

New Mississippi and Missouri River Guides Launched

2016 IBEX Innovation Award Winners Announced

Suntex Merges with Marina Jack

Research Reveals How Boat Fires Happen

NMEA Names 2016 Product Award Winners

World's Largest Nautique Dealer Opens New Store

Suntex Acquires Wolf Creek Marina

Suntex Acquires Kentucky Dam Marina

Evinrude Launches New Motors, Engine Tech

Tennessee Marina Anticipates Summer Groundbreaking

Chattahoochee Lock Closures

Louisiana City Using BIG Grant for Marina

Paddle4Blue Comes to the Heartland

Caesar Creek Marina Opens in Ohio

Float-Up Dining on Kentucky Lake, Lake Barkley

Brig Boats Enters U.S. Market

Campbell Point Marina Completes Renovations

Arkansas Startup Launches App

TVA Sunsets Floating Homes

SkipperBud's Expands in Illinois

Safe Harbor Buys Brady Mountain

Suntex Acquires Laurel Marina

Trophy Boat Brand Returns

Life Jacket Design Competition Winners Awarded

Westrec Acquires Lazy Days

Boating Groups Urge Caution About Fuel Choice

Big Thunder, Tritoon Town Merge

Dale Hollow Marina Bought

Correct Craft Enters Aluminum Fishing Boat Market

Boating Industry Names Top 50 Products

Beneteau Expands Midwest Dealer Network

RBFF State Innovative R3 Grants Announced

2016 Asian Carp Action Plan Released

Quimby's Cruising Guide Releases 54th Edition

MarineMax Brings Galeon Yachts to U.S.

BoatU.S. Celebrates 50 Years

National Marina Day 2016 Announced

VC Marine Opens in Illinois

Hideaway Bay Marina Is Deeper Than Ever

Iguana Boat Sales Expands in Missouri

Suntex Marinas Acquires State Dock Marina

MarineMax Dallas Debuts New Sea Ray L590

MarineMax Purchases Bahia Mar Marina in Pensacola

2016 MIBS Innovation Awards Announced

NMMA Announces 2015 Marine Industry Customer Satis...

Mercury Marine Earns Fifth "Green Master" Honors

Isobutanol-Blended Fuel Enters Marine Market

Gordy's Lakefront Marine Wins Top Dealer Award

MarineMax Launches Supreme Towboats in Texas, Geor...

Boating Industry Magazine Names 2015 Top 100 Deale...

Pearl Harbor Tug Arrives at Arkansas Inland River ...

Green Turtle Bay Resort Set to Change Hands

Baja Marine Adds Heartland Dealers

River Mayors Tout Mississippi's Impact

IBEX Innovation Awards Presented

Bennington Acquires Nautic Global Group

High Water on Mississippi River Leads to Dangerous...

Corps Opens Nickajack Lock to Public

Bass Pro and Toyota Team Up on Special Tow Vehicle

Correct Craft Acquires Bass Cat And Yar-Craft

West Marine Opens Flagship Store in Midwest

Gulf States Unveil Solution to Red Snapper Managem...

Ohio River Most Polluted in U.S.

2015 MIBS Innovation Awards Announced

More Than $14 Million in Grants Will Support Recre...

Corps to Congress: Asian Carp Not Advancing

Corps to Raise Confederate Vessel

New Legislation Would Fix Renewable Fuel Standard

BoatUS Lowers Cost of Boating Safety Courses

Congress Extends Tax Provisions for Boats

Clemons Boats Adds Carefree Boat Club

Michigan's Recreational Boating Industries E...

Marquis-Larson Shows Sizable Sales Growth

One New Marina, Eight Others Certified as Michigan...

West Marine Hands Out Conservation Grants

Yamaha Plans Expansion in Tennessee

Bass Pro Acquires Ranger, Stratos and Triton Boat ...

Mercury Marine Earns Fourth "Green Master" Designa...

Tige Boats Adds Dealer in Tennessee

Bryant Boats Adds 19 New Dealers in 2014

First Larson-Built Gekko Boat Rolls Out

Chaparral and Robalo Boats Win "Best in Show" at 2...

Boating Industry announces 2014 Top 100 Dealers

Mercury Promotes Boating and Fishing for Kids

Discover Boating Reports 1.2 Billion Impressions

New Fish Barrier Proposed on Illinois Waterway

Court of Appeals Dismisses Recreational Boating In...

19 Products Recognized for Innovation at IBEX 2014

NMMA Announces 2014 Marine Industry Customer Satis...

Chaparral Boats Presented Special Commendation by ...

Coast Guard Shares Safety Tips, Establishes Ohio R...

Missouri Corn Growers Pushing for More Ethanol at ...

Corps Release Lower Mississippi River Recreation R...

Corps Udpates, Expands Carp Plan

Coast Guard Rolls Out 'Virtual' ATONs

Lock Closure Included in WRRDA Stirs Concerns

Coast Guard Awards $4.8 Million in Grants for Recr...

Coast Guard Advises Safety for Ohio River Valley B...

'Near- or Below-Normal' Hurricane Season...

2013 Has Lowest Number of Boating Fatalities on Re...

TVA Warns Boaters of Low Water in Three Tennessee ...

Donzi Builds Boats for Missouri State Highway Patr...

Missouri Senate Passes Bill to Make Boat Rental Ea...

Illinois DNR Awards Boat Access Area Development G...

NOAA Predicts Moderate Spring Flood Potential in M...

Spirit of Peoria & Hakuna Matata Offer Themed ...

New Boating Simulator Launched

Dr. Shrink Offers Shrink Wrap Recycling Program

Fairline Boats Comes to Tennessee

Louisiana Boating Fatalities Hit All-TIme Low

Michigan Governor Pledges $6 Million to Fight Asia...

Freedom Boat Club Launches Lake of the Ozarks Loca...

Ohio Law May Do Away with Spotters

Corps Releases New Carp Report

BoatUS Provides Child/Teen Life Jackets

Recreational Boating Continues Rebound

Ohio Gets Boating Education Grants

35 Heartland Dealers Make Top 100 List

Waterway Bill Could Benefit Recreational Boaters

New Online Course Available for Inland Boating

BoatUS Urges People to Take Precautions with E-10 ...

NMMA 2013 CSI Award Winners Include 21 Heartland B...

Marine Sales Welcomes Kentuckiana Yacht Sales to F...

USA Today Calls Ethanol Mandate "Obsolete"

Barges for Paducah Riverfront Project Halted

Harmful Algal Blooms Found in More Kentucky Lakes

Ohio Governor Signs Act to Decrease Boarding

Longer Hours Sought for Calcasieu Barrier

Friends of Pool 2 Supports Scheduled Lock Times fo...

Experts Link Gulf 'Dead Zone' to Ethan...

Gekko Tow Boats Restarts Production

$14 Million in Grants Support Clean Waters and Rec...

Illinois Governor Would Consider Lock Closures

Corps Implements New Lockage Policy on Arkansas Ri...

"Float for Hope" Fundraiser Hits the Missouri Rive...

Boating Fatalities, Accidents Hit All-Time Low

Rising Water Buoys Lake Cumberland Tourism

Boating Safety Courses a Priority with National Sa...

ValvTect and Century Team Up to Prevent Ethanol Pr...

Ethanol Debate Hits Capitol Hill

Midwest Leads Overall Household Boating Participat...

Wicker, Vitter Introduce Bill to Roll Back Ethanol...

West Marine Honors 2013 Green Product, Hot Picks

NMMA Announces 2013 Innovation Award Winners

Tenn. Corps of Engineers to Prohibit Fishing in Pr...

Study Emphasizes Importance of Updated Charts

Powerboat Sales Projected to Grow in 2013

The Narrows Marina at Barren River Lake Closes

Window Closing For Low-Water Action on Mississippi...

Merco Marine Donates Dock in West Virginia

NMMA 2012 CSI Award Winners Include 28 Heartland B...

33 Heartland Dealers Make Boating Industry's...

Bass Pro Builds Monumental Store in Memphis

E15 Labels Highlight Potential Dangers

Reduction of Lock Service on Heartland Waterways C...

Coast Guard Considers Paddleboards "Boats&quo...
2021 had its ups and downs — but one thing that remains constant is the solitude and beauty that the waterways provide. Take a look at our 2021 photo contest finalists. Read More