Every year, Americans gather with friends and family to celebrate Independence Day. As the holiday approaches, experts with the Texas A&M AgriLife Extension Disaster Assessment and Recovery, DAR, Unit are encouraging Texans to take precautions with firework safety. 'Fundamental preventative measures' The safest way to enjoy fireworks is simply leaving it to the professionals, said Payton Morris, […] Read More
The Complete Listing of Marinas and Locks on the Inland and Gulf Intracoastal Waterways

Quimby's Cruising Guide has been your complete source for marinas and locks on the Inland and Gulf Intracoastal Waterways for 61 years.
The 250-page, spiral-bound book covers 9,436 miles on 23 waterways and features more than 1,250 individual entries for marinas, docks, locks and dams, and fuel and service facilities.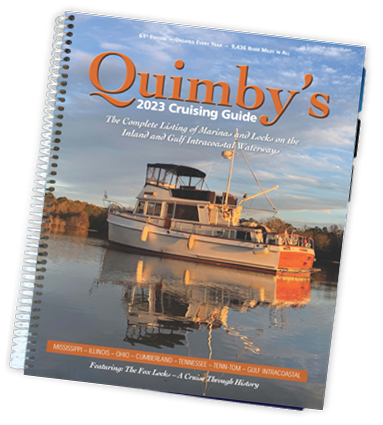 Stay in the know.
Our newsletter delivers the best and latest inland boating tips and information straight to your inbox.