America's Heartland is home to dozens of towns with truly authentic character as well as access to inviting lakes and rivers. Last year we asked you to help crown the top boating destinations in the region (see the sidebar), and this year we started with a blank slate and took your nominations again — setting aside the past winners to get a fresh batch of favorites. So, without further ado, here's our second annual list of towns you love to visit on our inland waterways.
Louisville, Kentucky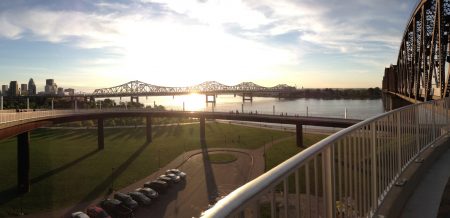 Never heard of NuLu? Next time you're cruising the Ohio River, be sure to stop and check out the revitalized arts and entertainment district, which is short for New Louisville. While you're in town, visit one-of-a-kind attractions like Churchill Downs, the Louisville Slugger Museum & Factory and the Muhammad Ali Center. Louisville has been voted one of the "10 Best New Food Cities" by Jetsetter magazine and features the world's only citywide bourbon trail, connecting award-winning distilleries and restaurants serving up "spirited" dining options. Dock near downtown at RiverPark Marina (502-292-6800), or across the river in Jeffersonville, Indiana, at Admiral's Anchor Yacht Marina (812-282-8205) or Kentuckiana Yacht Services (812-282-2660).
Gulf Shores, Alabama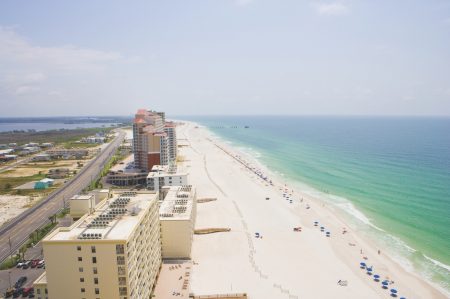 Made almost entirely of quartz grains washed down from the Appalachian Mountains thousands of years ago, the white-sand beaches that edge Gulf Shores are some of the finest in the world. A getaway here is an ocean-themed affair, with soaring seagulls, crashing waves, deep-sea fishing, dolphin tours and great seafood at waterside eateries. Fold in a history lesson during a trip to historic Fort Morgan, the guardian of Mobile Bay since 1834 and where four wars were fought. Orange Beach, another boating mecca, is a short cruise east along the Gulf Intracoastal Waterway. Dock at Homeport Marina (251-968-4528), ICC Marine (251-752-6558) or Gulf Shores Marina at Fort Morgan (251-540-2628).
Lake Charles, Louisiana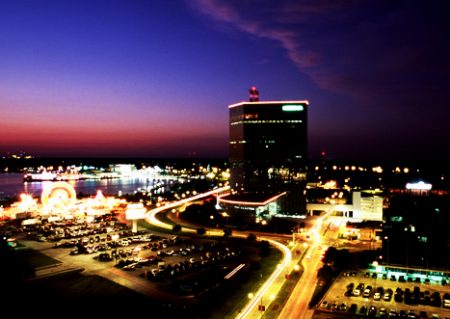 This southwestern Louisiana town is a smorgasbord of tastes and attractions, from glitzy casinos to bayou adventures to over 75 festivals, including the area's family friendly Mardi Gras and Contraband Days Pirate Festival. There are five diverse museums, one of which houses the largest display of Mardi Gras costumes in the world, in addition to charming galleries rich with art. Try the world-famous Cajun cuisine or drive along the Creole Nature Trail All-American Road — teeming with wildlife such as alligators and birds. Visitors can also stroll through the Charpentier Historic District, with leaded glass glittering in the lamplight, or dance the night away at clubs featuring Zydeco, swamp pop, country music and more. Dock at any of the half dozen nearby marinas.
St. Charles, Missouri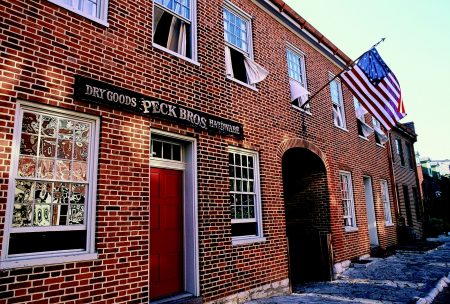 Just west of St. Louis lies St. Charles, a small town that has been welcoming big names since 1796. Meriwether Lewis and William Clark met here in 1804 at the start of their Corps of Discovery expedition along the Missouri River, and Daniel Boone established his Boone's Lick Road here — it later became the eastern starting point of the Santa Fe and Oregon trails. Today, St. Charles' historic Main Street features dozens of boutique stores and eateries. Within walking distance, the Lewis & Clark Boat House & Nature Center educates as it entertains. Nearby wineries and the Ameristar Casino Resort Spa provide modern lures. Dock at the Yacht Club of St. Louis (636-250-4435) or any of the other marinas in Dardenne Slough, a short drive away.
Put-in-Bay, Ohio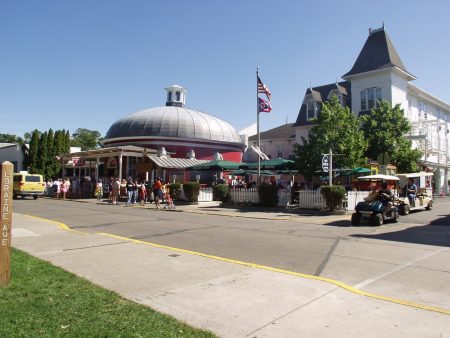 It's no secret that this town on South Bass Island is among the Great Lake's top party spots, with excellent restaurants, live entertainment and spirited taverns drawing revelers from all over the region. But there's much more to Put-in-Bay. You can step back in time with Commodore Oliver Hazard Perry and learn about the Battle of Lake Erie at Perry's Victory and International Peace Memorial. See the world's largest geode at Heineman's Crystal Cave and discover South Bass' underground lake. Play putt-putt golf, stroll the sandy beaches, tour the Chocolate Museum or ride the antique carousel. Boaters can stay in the heart of it all at a number of public and private docks, including the Put-in-Bay Municipal Docks (419-285-2068).
Apalachicola, Florida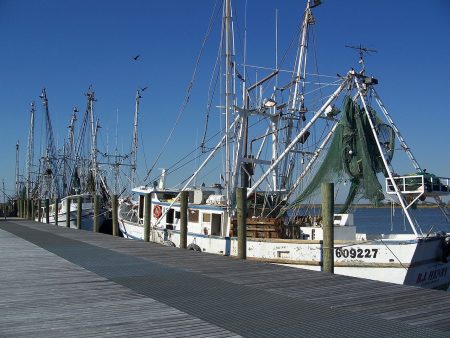 Located in the heart of Florida's Forgotten Coast, Apalachicola remains an unvarnished waterman's town. Yet it has attracted new residents with the resources to restore its old homes and commercial waterfront. There are 900 buildings listed as part of its National Historic District, some dating back to the 1830s, and many of these now house charming inns, quaint stores, art galleries and local restaurants. Seafood and oysters are served up right off the boat, or you can catch your own in the seemingly endless supply of protected bays. There are also acres of national and state forests to explore here, and some of the nicest people anywhere. Dock at Apalachicola Marina (850-653-9521), Scipio Creek Marina (850-653-8030) or Water Street Hotel & Marina (850-653-3700).
Gainesville, Georgia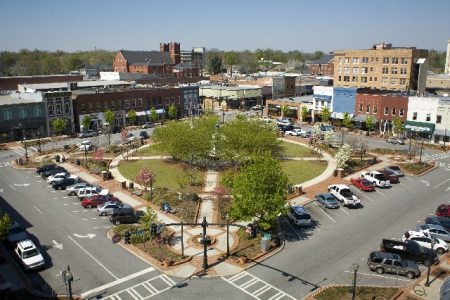 Situated between the shores of Lake Lanier and at the foothills of the Blue Ridge Mountains, Gainesville is a gateway to outdoor recreation, with golf courses, horseback trails, campgrounds and even a water park. The town hosted the 1996 Olympic paddling events, and you can still rent a canoe or kayak at the Olympic venue. A woodland refuge and museum at Elachee Nature Science Center are located adjacent to the Chicopee Woods Nature Preserve and Chicopee Woods Agricultural Center. Downtown is the Georgia Mountain Museum, plus a myriad of shops and restaurants and a historic square with 19th century Victorian homes. Dock at Gainesville Marina & Boat Sales (770-536-2171), Port Royale Marina (770-887-5715) or Sunrise Cove Marina, (770-536-8599).
Memphis, Tennessee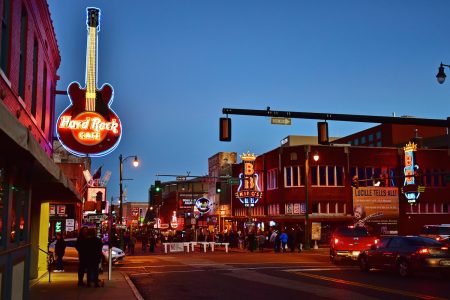 Its prime location on the Mississippi River was one of the reasons for its early success, and Memphis remains a town known for its melting-pot culture and iconic contributions to music and food. Legends Elvis Presley, Johnny Cash, B.B. King and Otis Redding all made their marks here, and you can still hear their influences spill out of the juke joints on Beale Street. Memphis is also home to more than 100 barbecue restaurants (it was voted "America's Best BBQ City" by U.S. News & World Report), as well as Southern-style soul food and eclectic dishes. History buffs won't want to miss the National Civil Rights Museum or the Center for Southern Folklore. Dock at the Memphis Yacht Club (901-525-3808) or Riverside Park Marina (901-946-2000).
Little Rock, Arkansas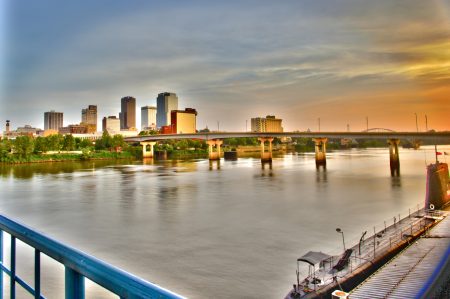 Named after a small rock formation on the south bank of the Arkansas River called La Petite Roche (the little rock), this is place where stately antebellum structures and ornate Victorian buildings are neighbors to gleaming, glass-façade skyscrapers. A booming outdoors scene here includes the Arkansas River Trail, which is 17 miles long and crosses the river to attach 38 parks and six museums on both sides. (The Arkansas Inland Maritime Museum is home to the USS Razorback, the longest serving submarine in the world.) There are 300 restaurants and grills in the Little Rock area, as well as Riverfest, a festival that draws 250,000 visitors each Memorial Day weekend. Dock at Rockwater Marina (501-347-8275), River Valley Marina (501-868-5869) or Little Rock Yacht Club (501-868-4401).
---
2015 Top Boating Towns*
Chattanooga, Tennessee
New Orleans, Louisiana
Vermilion, Ohio
Grand Rivers, Kentucky
Pittsburgh, Pennsylvania
Galveston, Texas
Mackinac Island, Michigan
Alton, Illinois
Destin, Florida
Nashville, Tennessee
Grand Haven, Michigan
*As chosen by you, our readers, in no particular order
Author: Brad Kovach is the editor of HeartLand Boating magazine