Mildred Quimby was driven by curiosity and a unique appreciation for rivers and boating. It started with family canoe trips on the Baraboo River in Wisconsin and resulted in a legacy that continues today in the pages of
Quimby's Cruising Guide
, which she produced single-handedly for 20 years.
Born in 1913 in Reedsburg, Wis., Quimby earned a journalism degree at the University of Wisconsin and worked as a reporter for several newspapers — including stints in Washington, D.C. and Los Angeles — before returning to home upon the death of her mother. She settled across the river in McGregor, Iowa, in 1962 and later that same year published her first Harbor Guide to the Upper Mississippi River.
Quimby was curious about the services available to boaters up and downstream from McGregor and had cruised the Mississippi in a 16-foot boat, gathering information. The resulting 30-page mimeograph included where to buy gas, bait and anything else that might be important to river travelers, along with hand-drawn illustrations of various channel sections and sketches of common wildlife such as egrets, beavers and raccoons.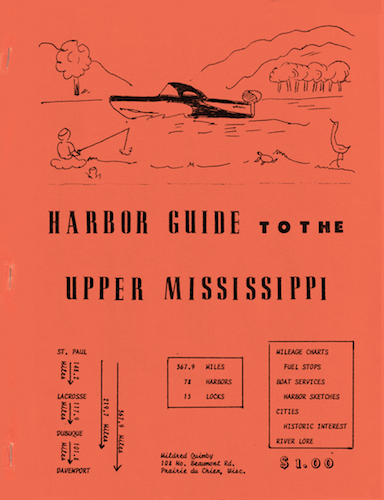 The 1963 edition expanded to include 367.9 miles from Minneapolis to Rock Island, Ill. In 1971, she added the Mississippi below St. Louis and, in 1974, the Arkansas River. Each year, Quimby would sell about 2,000 copies.
As time went on the renamed Quimby's Harbor Guide and then Quimby's Cruising Guide grew to become known as "the bible" for pleasure boaters on the inland waterways. "The Memphis Yacht Club mechanics have told me they find boats that have every single guide I've ever put out under the seats," Quimby once told the Cedar Rapids Gazzette.
When the author died in 1983, The Waterways Journal Inc., a marine publishing company in St. Louis (and also the owners of HeartLand Boating), took over the guide and continued to broaden its reach. Now in its 53rd year, the 250-page book covers 9,436 miles on 24 rivers, with more than 1,250 individual entries for marinas, docks, locks and dams, and fuel and service facilities.
But more than that, Quimby's Cruising Guide serves as a monument to our country's distinct rivers, and distinct river personalities.
A Reflection of the River
Not unlike the Mississippi itself at the time, Quimby's early publications were simpler, listing the harbors, landings and other places that catered to boaters. They also included basic river knowledge and miscellanea about towns and landmarks. She noted, for instance, that Lynxville, Wis., "has a good smoked fish place." Also, pertinent at the time was information about bus and train service.
Subsequent editions illustrate how marina ownership changed hands over the years, so much so that there are now few locations listed that have the same name they did in 1963.
The guide's popularity accompanied an increasing interest in boating and taking extended river trips. Jim Trollen, whose father built the marinas on the St. Croix River in Hudson, Wis., and Afton, Minn., said Quimby's growth mirrored the increase in horsepower of outboard motors, which allowed people to do more than just putt out to their favorite fishing spot. Then boats with sterndrives and larger cabins became extremely popular.
In McGregor, former marina owner Alan Butterfield recalls the number of boats that traveled up and down. "We were the stopping spot for a lot of boats coming down from the St. Croix," he said. He formed some friendships that later led him to a manager's job at the Port of Sunnyside Marina in Stillwater, Minn.
In 1953, also in McGregor, Capt. Robert Meyer's father opened what is now the second oldest houseboat rental company in the country. Boatels Houseboat Rentals built their own models in order to compete with the other 14 rental companies listed in the 1980 edition of Quimby's. Meyers recalls Mildred and her drive to constantly learn more about accommodations for boaters. "What she put together," he said," was like a AAA guide for boaters."
Meyers' childhood friend, John Bickel, now president of the National Rivers Hall of Fame in Dubuque, calls Mildred a true river rat, "and I say that with the highest degree of respect." He and his family were part of the great number of people who would take annual river trips. In their case, they would load up their 21-foot Chris-Craft and head for Stillwater, some 200 miles north.
Down in Rock Island, Ill., Bob McClanahan, longtime owner of Mississippi River Boat Works, said that if you had a boat in those days, taking at least one week-long trip was just part of boat ownership.
McClanahan said his flotillas would always stop at one particular gas dock because the attendants wore bikinis. On the other end of the spectrum, the attendants on the dock at the Steamboat Inn in Prescott, Wis., wore white pants and red and white striped blazers. You had to have a reservation to dock there.
The big difference between then and now, McClanahan says, is that back then, "people boated."
The Go-To Guide
Some folks relied on Quimby's as they traveled from marina to marina while others used the guide for information about locks, gas stops and other necessary river information.
In 1963, Ron Riecken built Inland Marina on the Ohio River in Evansville, Ind. He says most of the transients had an edition of Quimby's with them, but now and then a boater with no experience would stop in. Riecken said he would make sure the person left with a copy.
Ike Hastings, currently featured in the History Channel television series "Mississippi Men," has been running the inland waterways for more than 50 years in his sternwheelers. He says that regardless of the river he was on, if he had a question, "I'd look it up in my Quimby's and get an answer."
By 1984 coverage had expanded to include the entire Mississippi and the Illinois River. Then, in 1985, the Tennessee River and Tennessee-Tombigbee Waterway were added. This is when Green Turtle Bay on Lake Barkley placed its first full-page ad. Bill Gary, Sr. says the marina has long been a regular stop for folks doing the Great Loop and those taking their boats south for the winter and returning north in the spring.
In 1994, in an effort to verify Quimby's information about the marinas, Capt. Jerry Troyanek was hired as a traveling correspondent. For the next five years he cruised aboard Dawn Treader, his 36-foot Gibson houseboat, which is still his winter home. Though originally contracted to cruise 6,810 miles, he had logged far more by the time he got done visiting every marina in the guide. Each facility was so different that stopping at all of them "was just an adventure," he said.
River cruising experienced some peaks and valleys in the 1970s, '80s and '90s, but Quimby's has passed the test of time. For some it has been a "wish book" about places they dream of visiting. For active cruisers it contains the necessary information they need to plan and make their journeys easier, safer and more convenient.
The National Rivers Hall of Fame's Bickel feels Quimby and her guide were several generations ahead of her time. "She invented an internet for river travel before the internet was thought of," he said.
Learn more about Quimby's and order the latest edition at www.heartlandboating.com/categories/quimbys/
Author: Gary Kramer is a regular contributor to HeartLand Boating