Yeah, sure, Chicago has its famous lakefront. But there's another water wonderland in Illinois, just about an hour's drive from the Windy City, where boaters can enjoy 15 lakefronts that are all connected.
The Chain O' Lakes, sometimes called the Northern Illinois Chain O' Lakes or the Fox Chain O' Lakes, stretches 45 miles from the Wisconsin border to the southwest corner of Pistakee Lake, where the Fox River then continues downstream. The area boasts 15 lakes comprising 7,100 acres of water, 488 miles of shoreline and 29 miles of natural and dredged canals.
All combined, the Chain O' Lakes is smaller than some single lakes in the Heartland region. Yet this is rated the United State's busiest inland recreational waterway, according to the Fox Waterway Agency (FWA), which works to maintain and improve the area. An estimated 60,000 to 100,000 people take to the local waters on weekends, with about 23,000 boats currently registered here.
What's all the hubbub about? Well, it's not easy to sum up the "The Chain & The Fox," and perhaps that's part of the appeal. The lakes were formed when the Wisconsin glacier melted thousands of years ago but vary in size and depth, and have distinct "personalities." The northern ones are calmer and quieter, while the heaviest activity centers on the Fox, Petite and Pistakee.
Sandbars and beaches on Petite Lake attract a bevy of day boaters and overnighters; watersports enthusiasts head to calmer lakes and sheltered coves. Fishing has always been popular, as the different lakes tend to hold different species, from channel catfish to crappie to muskellunge. Numerous tournaments are held here every year.
The Fox River runs through the chain to connect everything.
Time Passages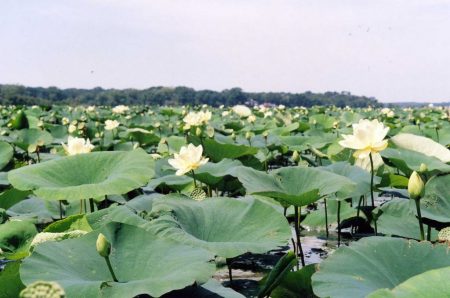 The Chain O' Lakes has gone through several stages over the years. At one time, in the late 19th and early 20th centuries, the dense Egyptian lotus flowerbeds here attracted curious tourists, and some of the beds still remain on Grass Lake.
Given its proximity to Chicago — as well as Milwaukee, Wisconsin, and Rockford, Illinois — the area became a getaway for prohibition characters like Al Capone and George "Bugs" Moran and their nefarious activities, including a mob-related hit carried out at Manning's Hotel in Fox Lake in 1930.
Today, the Chain O' Lakes is dotted with both vacation cottages and permanent homes, and a wide variety of boat-related businesses, resorts, bars and restaurants.
The 2,793-acre Chain O' Lakes State Park borders three of the lakes — Marie, Grass and Nippersink — and contains a 44-acre lake within its own boundaries. The park has a public launch ramp, 230 campsites, three cabins, and four trail systems for hiking, biking and horseback riding. Fishing and hunting are allowed with permits, or you can simply watch the wildlife at the 80 acres within the park that are set aside as a nature preserve.
Local Knowledge
Boating activity on the Chain O' Lakes is regulated by the FWA. The agency has a variety of programs that are funded by boater fees, and all vessels on the water here must display a Fox Waterway Agency sticker (see "Fox Waterway Agency Sticker"). There are one-day and 10-day stickers, along with seasonal ones, all based on the length and horsepower of the boat.
The FWA website offers downloadable navigation maps that show areas of concern, such as hazards and no-wake zones. Because the depth of the lakes varies considerably and several highways have bridges over the water, the agency also monitors and publishes lake depths. Those depths can then be transferred to a chart showing bridge clearances.
At the Route U.S. 12 train bridge, for example, pool depths ranging from just under 4 feet to 6 feet give clearances from almost 11 feet to just over 8 feet. Lake depths range from 40 feet in Lake Marie to a maximum depth of 6 feet in Grass Lake.
Links in the Chain
Along with numerous land-based events in the towns along the Chain O' Lakes, boaters can enjoy water-related activities all summer long. One is the Chain Crawl Challenge, where cruisers gather a couple times a month and head to participating establishments for food and drinks. Another big event is Venetian Night on Fox Lake; it features a boat parade, block party and fireworks. The Build Your Own Bikini and Boxers Contest is an annual highlight at Captain's Quarters Marina, in addition to sand volleyball leagues.
At last count, there were approximately 68 bars and restaurants directly on the water here. The best known is Blarney Island, recognized as "The Greatest Boating Bar in the World" by several media outlets. It sits on an island in Grass Lake and has to be reached by boat or by ferry from the shore-based facility, Port O' Blarney. Blarney Island has a full menu of live music and events like Thursday night drag-boat races that draw all classes, from beginners to pro-level competitors.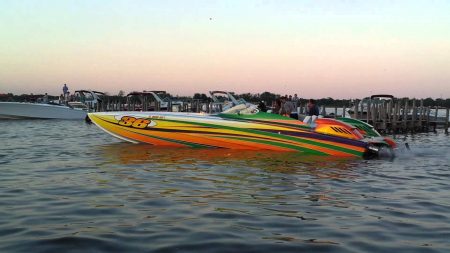 Other frequently mentioned places include Famous Freddie's Roadhouse, a sports bar with "inexpensive, fast and hot eats," a lakeside bar and patio, and second-floor nightclub. El Puerto Mexican Restaurant has a huge outside deck, a lot of which is shaded; kids enjoy feeding the huge fish there. Cabana's on the Chain has 175 feet of frontage and, like the others, offers lots of specials and entertainment.
From the raucous events at places like Blarney Island to the quiet and calm of the state park and the northern lakes, there's water-focused fun of all types on the Chain O' Lakes. And the best part is, you can to do it all conveniently from your boat.
---
Family Facilities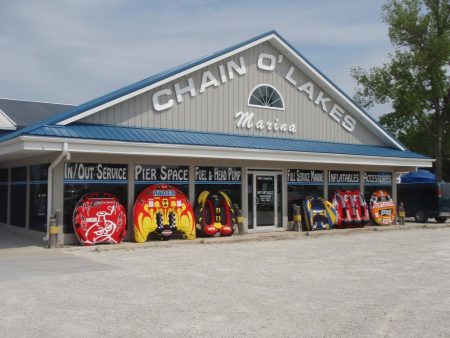 One notable aspect of the Chain O' Lakes is the number of marinas and resorts that have long been family owned:
C. Haling & Sons Marine offers a marina, boat dealership and vintage parts sales, and dates back to 1920; www.chalingandsons.com
Steitz's is a third-generation business with marina, bar/restaurant and RV park, established in 1938; www.steitzs.com
Chain O' Lakes Marina, now with a large ships store, started in 1952 (the family also opened Fox Lake Harbor); www.colmarina.com
Ben Watts Marina, with a full-service marina and sales facility, goes back to 1956; www.benwattsmarina.com
Bob's Marina, providing sales and service on the south shoreline of Lake Catherine, dates back to 1959; www.bobsmarina.com
Webb's Marina, on the quieter northern end, opened in 1940 and was bought by the Morici family in 1974; www.webbsmarina.com
Spring Lake Marina has been family owned and operated since 1984, with a large rental fleet; www.springlakemarina.com
Cyprus Resort & Marine features cottage rentals and a wedding venue, and has "been in the family" since 1986; www.cypressofantioch.com
Bald Knob Marina, has been family owned since 1989 and is on Pistakee Lake near Fox Lake; www.baldknobmarina.com
---
Fox Waterway Agency Sticker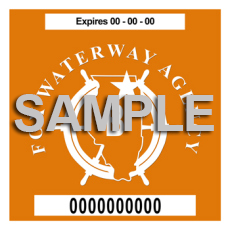 All boats on the Chain O' Lakes must display a Fox Waterway Agency sticker. Its use is required by law, and with your purchase you contribute to maintaining the lakes and rivers of the Fox Waterway for your enjoyment, as well as for waterways conservation and sustainability for years to come.
The Fox Waterway Agency sticker changes color annually. It is valid for a one-year term, from March 31 of the present year through March 31 of the next year. Included on the sticker is a bar-coded number, expiration date and letter in the middle indicating which type of sticker it is.
Besides the Fox Waterway Agency sticker, all boats must display a current Illinois Department of Natural Resources sticker. It can be purchased or renewed through www.dnr.illinois.gov or by calling 800-382-1696.
Author: Gary Kramer is a regular contributor to HeartLand Boating magazine