Locals say, when speaking of Lake Superior, "The lake is the boss!" There's good reason for this. Lake Superior is generally considered to be the largest freshwater lake in the world by surface area, stretching approximately 350 miles west to east and 160 miles north to south. It's the coldest and deepest of the Great Lakes, with an average depth of nearly 500 feet. Its shoreline is almost 2,800 miles long. As Rev. George Grant said in 1872, "Superior is a sea. It breeds storms and rain and fog like the sea…It is wild, masterful and dreaded."
If the lake is rough, stay on shore. But if it's calm, it can be an enchanting boating destination, especially along Wisconsin's northern coastline where the Apostle Islands National Lakeshore is located. There are only four national lakeshores in the U.S., two on Lake Superior and two on Lake Michigan. They're operated by the National Park Service (NPS) and must be established by an act of Congress.
The Apostle Islands are a group of 22 islands off the Bayfield Peninsula, and all the islands except for Madeline, the largest, are part of the National Lakeshore. They're known for their sandstone sea caves, old-growth forests and historic lighthouses — the Apostle Islands National Lakeshore has more lighthouses than any other NPS area, with eight of the beacons on six of the islands.
The town of Bayfield serves as starting point for exploring the Apostles. The small town has every amenity necessary for the boater and traveler: restaurants, locally owned motels and inns (no big chains) and marinas. Bayfield is known for good sailing due to the shelter offered by the islands. The National Lakeshore headquarters and visitor center are also located here.
The Apostle Islands offer outstanding boating opportunities with their protected bays, public docks and natural beauty. Public docks are found on 13 of the islands. The islands also offer opportunities to view interesting rock formations and shipwrecks. (There have been 350 shipwrecks on Lake Superior.)
At some docks, space is reserved  for NPS vessels and excursion boats. The remaining space is available to the public on a first-come, first-serve basis for a small fee. There are also public boat launches in Bayfield and surrounding towns.
Kayaks & Cruise Vessels
There are several ways to explore the Apostle Islands. Many visitors choose to kayak, either by bringing their own or renting from a local shop. Of course, smaller boats can be extremely hazardous when weather conditions become unfavorable. Before launching, as any wise boater knows, check the water conditions and plan accordingly.
Lake Superior is renowned for its cold temperatures, rough seas, fog, and sudden squalls. Average water temperatures in May and June are only in the 40s. Even in late summer, surface temperatures rarely exceed 60 degrees, except in protected bays. Average summer winds blow from five to 20 knots, with waves of one to four feet or higher.
Tour boats are sometimes preferable because they have narrators on board who know the history of the islands. The Apostle Islands Cruise Service offers a variety of nonstop sightseeing excursions along with shuttles that stop at several islands. Its office is located in Bayfield near the city dock. All cruises depart from Bayfield.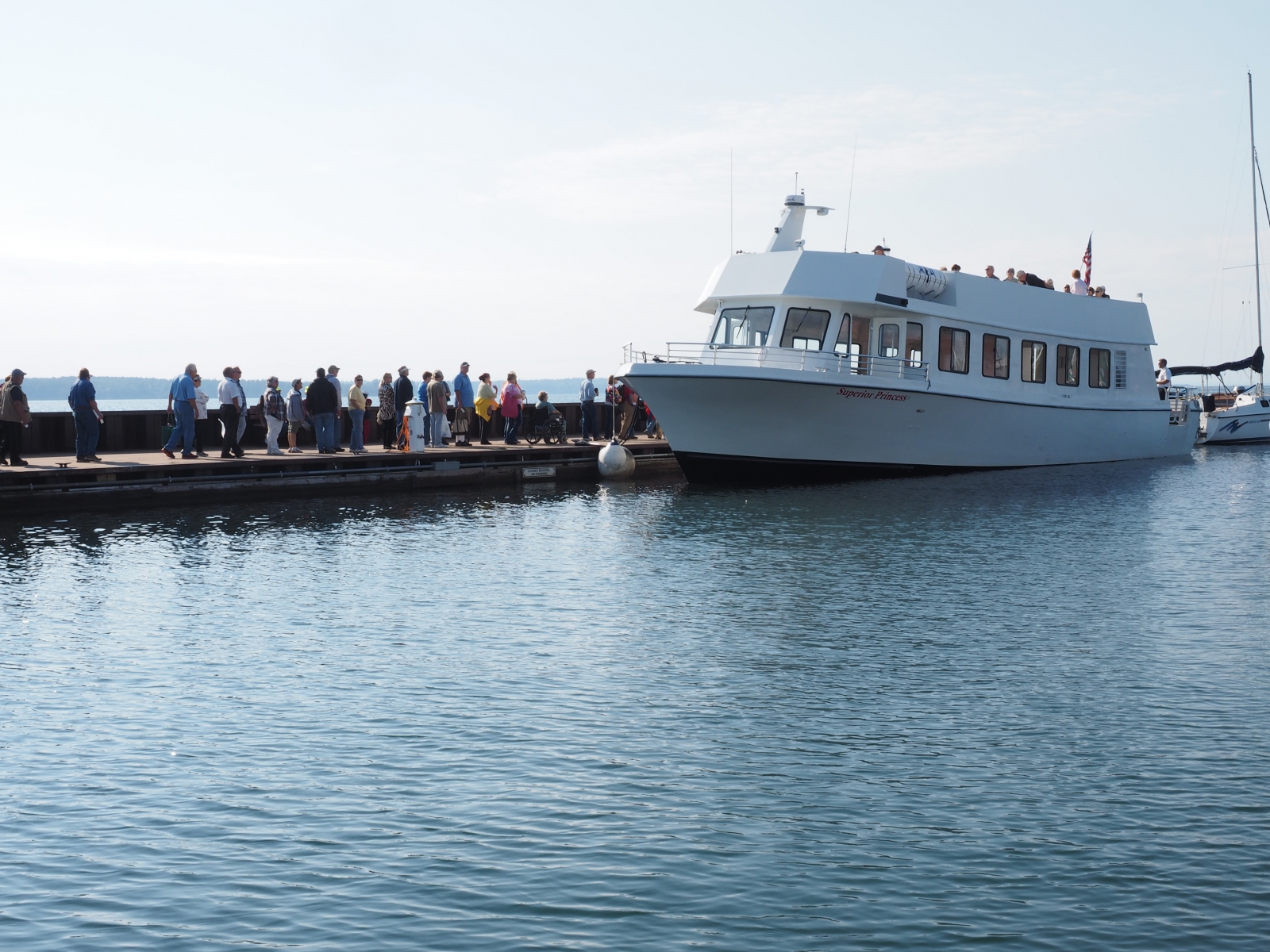 The origin of the name "Apostle" for the island chain is believed to have come from early explorers, who regularly gave holy names to new places. Individual islands have names like Hermit, Oak, Outer, Cat, Otter, Rocky, Bear, Sand and Devils — and most have special characteristics, too. Devils Island, the northernmost point in Wisconsin, for example, features sea caves that are the result of erosion in its sandstone cliffs. These are a favorite destination of kayakers and tour boats. You can find sea caves on the east side of Sand Island, as well.
The Apostle Islands Cruise Service offers daily trips to the Raspberry Island lighthouse in summer. The lighthouses on Sand, Devils and Michigan islands are staffed by volunteers, who give tours to tourists who get there in their own boats. During the Lighthouse Celebration in September, the cruise service schedules trips to all the sentinels on the islands mentioned above plus Long Island.
Camping & Cars
Permits are required for all camping on the National Lakeshore, where it's permitted on 18 of the 21 islands. Also there are more than 50 miles of hiking trails on the islands. These trails provide access to lighthouses, abandoned quarries, old farm sites, historic logging camps, beaches and scenic overlooks. The islands and surrounding area allow for great bird-watching and offer anglers opportunities to catch lake, brook, rainbow and brown trout, as well as coho salmon.
Madeline Island, the only one of the Apostles accessible by car, is not within the National Lakeshore. Attractions here include Big Bay State Park, with its lakeside campground, and the Madeline Island Historical Museum, which houses exhibits about the fur trade era. Madeline offers full tourist services. With a population of 302, La Pointe, the only town on Madeline, has restaurants, lodging and various activities. The population increases to over 1,500 when summer residents arrive.
Transportation to and from the mainland is by the Madeline Island Ferry Line, a car ferry from Bayfield that runs from spring breakup to winter freeze-up — generally from early April through early January. If there's ice, a wind sled (a flat-bottomed vehicle with an airplane propeller on the back) carries passengers prior to an ice road opening, which happens when the ice is thick enough and deemed safe to allow vehicles to drive between the mainland and Madeline Island. Naturally, caution is always advised if driving the ice road.
Visiting the Apostle Islands in northern Wisconsin is a rewarding and unique trip, and one that should definitely be on your boating bucket list. Just remember, "The lake is the boss!"
Author: Jame Richardson is a contributor to HeartLand Boating
---
If You Go
Apostle Islands Cruise Service, (800) 323-7619, www.apostleisland.com
Apostle Islands National Lakeshore, (715) 779-3397, www.nps.gov/apis
Bayfield, Wisconsin CVB, (715) 779-3335, www.bayfield.org