Kosciusko County, a land of over 100 lakes, is the Hoosier State's ultimate watery destination. Located in northern Indiana, it boasts both the state's largest natural lake, Lake Wawasee, and the deepest, Lake Tippecanoe. But to us, the best of the bunch is 500-acre Webster Lake, dotted with small islands, a shoreline of sandy beaches, family run hotels and restaurants, and a classic small town of friendly folks and shops.
There's the beguiling lure of history here as well.
"Carol Lombard used to have a cottage here," said Karilyn Metcalf, president of the non-profit Dixie Sternwheeler Inc. (more on that later). The 1940's movie star brought hubby Clark Gable to stay at the swank Yellow Banks Hotel, which supposedly earned its name because of the yellow rowboats kept on its beach, making it look like, well, a yellow bank. "You can still see the old stairs from the water," added Metcalf.
Bad boys John Dillinger and Al Capone also stayed at the Yellow Banks — though not at the same time, as far as we know. The latter reportedly used to demand that the other guests leave before he showed up. And who ever said no to Al Capone?
Though the Yellow Banks is gone, one enduring link to the past is the Lake Webster Ski-Bees, a water ski team organized in 1953 and still vital to the community; it even has families with generations of participants. In the summer, on many Saturday evenings, people crowd the shores of the small public park and its sandy swimming beach to watch free Ski-Bees do their thing. (For a show schedule, visit websterskibees.com.)
"Our son, Mark, joined the Ski-Bees at age 9, skied for Purdue University and continues to ski in the club and is our current vice president," said Wanda Wyrick.
It's that kind of lake and that kind of town.
What to Do
With so much water, the best way to start your exploration is to clamber aboard the Dixie, the oldest sternwheel paddleboat left in Indiana (Ride the Dixie, www.ridethedixie.com). Celebrating its 86th year and on National Registry of Historic Places, the two-story boat started off in 1929 delivering mail, groceries and wood as well as offering blacksmithing services to those living on the lake. Now restored, the 35-ton Dixie runs 75-minute daily cruises for the astonishingly low cost of $7. Bob Barnes, known as the "Voice of the Dixie" for his recorded music and tour commentary, also performs on Saturday nights during the 9 p.m. twilight cruise. While on the water, look for beaver, deer and ducks.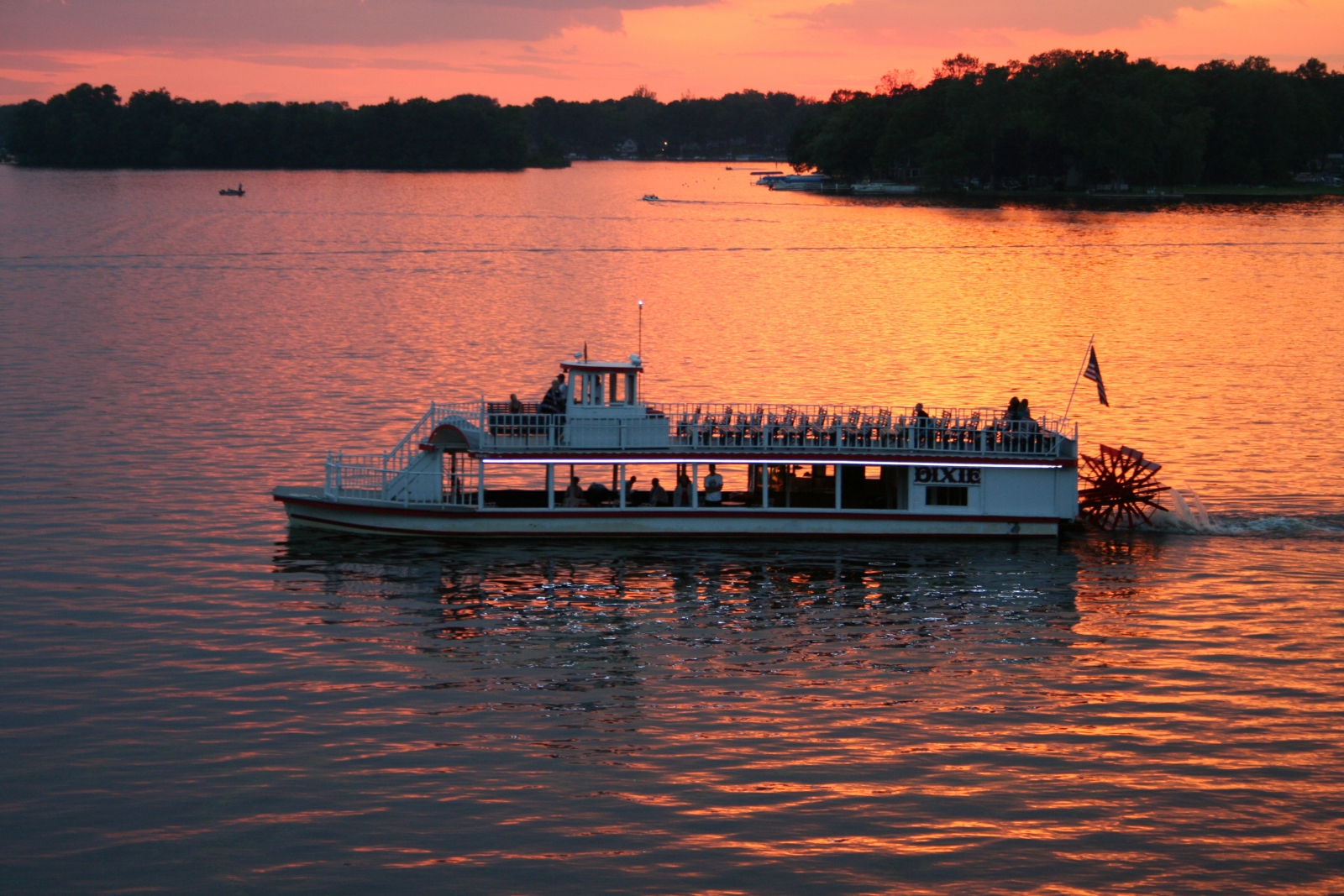 You can rent fiberglass boats and pontoons at several Webster Lake resorts, including Dixie Haven and Fisherman's Cove. Toss in a line, as the lake is known for its muskie, largemouth bass, bluegill, perch and crappies. To put in, there's a DNR boat ramp on Backwater Lake, which is accessible to Webster by a channel.
Go shopping on Dixie Day, the annual sidewalk sale for North Webster and renamed in honor of the sternwheeler's place in the city's history. Any-day shopping options include Tangibles Resale and Consignment, a nice used furniture store. Sue's Creations sells gifts and flowers, and Native Images Gift Shop is known for its handmade cradleboards, dream catchers, pottery and jewelry. For antiques, try Heart of the Lake Antiques Mall. Bart's Watersports sells a plethora of equipment for enjoying time on the water, including water skis, towables, kayaks, flotation devices, water trampolines, stand-up paddleboards and apparel.
Even if Sunday services aren't normally your thing, rev up your engine and cruise over to Epworth Forest Conference Center (EFCC), where boaters can pull up to listen to the sermon from the hillside at this Methodist camp that provides programming for high school students, youth groups and adults with special needs, as well overnight and meeting space rentals for retreats, staff outings, camps and other events such as weddings. Or bring a lawn chair and sit out on the pier.
Celebrate the end of the season at the 6th Annual Heart of the Harvest Fall Festival, an all-day event featuring vendors, crafts, food, music and family friendly activities on Saturday, September 26.
Where to Eat
The diet-defying Hoe Burger at the American Legion in North Webster was voted the number one sandwich in Kosciusko County. Named after one of the chefs, whose nickname was Back Hoe (it's a small town thing and we're not sure exactly why), it's a cheeseburger topped with eggs and ham. Its nearest rival — and also served at the American Legion — is the fried cheeseburger, which is exactly as the name suggests but much more tasty than it sounds if you can get past the guilt thing.
Maria's House of Pancakes offers a buffet all day, has a long list of entrees and is known for such European-style dishes as potato pancakes. Sheila's Sweet Treats is the place to go for ice cream. Pizza King, the venerable Indiana chain, has a view of the lake and is open for breakfast, lunch and dinner.
For those willing to travel a bit, Winona Lake offers upscale dining on the water at both Cerulean and the Boathouse. In Warsaw, you can get fish (flown in fresh every other day) and Polynesian dishes such as coconut chicken, sweet and sour shrimp, and scallops and Kahlua pork at Noa Noa Wood Grill & Sushi Bar. Mad Anthony's Brewing Company redid a historic downtown building for its Mad Anthony's Lake City Tap House.
If you're like us and consider chocolate a major food group, then visit Weckmuller Fine Chocolates for artisan candies in nearby Pierceton.
Where to Dock
Fisherman's Cove offers overnight dockage for boats up to 24 feet, 90-octane (no ethyl) gas and occasional dock rentals to non-overnight guests depending upon availability. Nine docks are available.
Dixie Haven Resort has three public slips for visitors as well as nine docks for overnight guests and for weekly or seasonal rental. It can accommodate large pontoons. No gas facilities are available.
Socks Marine has 50 feet of shoreline and a 24/7 boating ramp for public launching on Webster Lake but dockage only for those dropping off for service. The marine, in business since 1959, rents pontoon boats and provides repairs, sales and refurbishing.
Clark's Marine, about a mile inland, offers sales, repairs and secure storage.
Author: Jane Ammeson is a regular contributor to HeartLand Boating
---
If You Go
Kosciusko County Convention & Visitor's Bureau, (800) 800-6090, www.koscvb.org