Why do they call them the Great Lakes and not the Good Lakes? Because they're Great!
Indeed, glacier-carved Superior, Huron, Michigan, Ontario and Erie make up the largest interconnected body of fresh water on the planet — accounting for 20 percent of the world's surface fresh water. The lakes are surrounded by 4,530 miles of shoreline, more than any of other U.S. coastline, and contain an amazing 30,000 islands.
As anyone who has visited here knows, the so-called "inland seas" are a world unto themselves. The Great Lakes are the northern lights and the Edmund Fitzgerald, buzzing metropolises and quaint resort towns, lonely lighthouses and grand old hotels, coastal sand dunes and dense forested wilderness. Best of all, the Great Lakes are a watery kingdom that lures boaters, divers and fishermen from around the country with their captivating Heartland attractions. If the Great Lakes are in your summer plans, you'll need a guide to all that should be seen and done in this remarkable region. To that end, we've put together this list of "secrets" to help you find your way.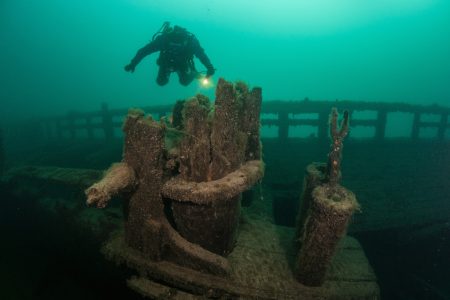 6 Diving Hot Spots
Alger Underwater Preserve, Lake Superior. Submerged sandstone cliffs and caves, plus buoys marking major shipwrecks.
Manitou Passage Underwater Preserve, Lake Michigan. One of Michigan's richest areas for wreck diving, along with dock ruins and artifacts.
Grand Traverse Bay Underwater Preserve, Lake Michigan. Several shipwrecks and shore diving sites like "Clinch Park Woodpile" and "the Junk Pile."
Isle Royale National Park Underwater Preserve, Lake Superior. Visit sites only accessible by boat, with buoys on many of the wrecks.
Thunder Bay National Marine Sanctuary & Underwater Preserve, Lake Huron. Clear waters, unusual limestone formations and "shipwreck alley."
Sanilac Shores Underwater Preserve, Lake Huron. Sixteen shipwrecks above 120 feet, most featuring mooring balls and descent ropes.
Learn more at www.michiganpreserves.org.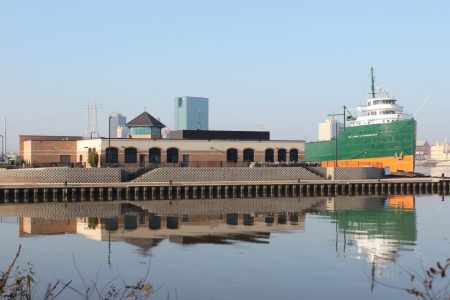 5 Marine Museums
Great Lakes Shipwreck Museum, Paradise, Michigan. www.shipwreckmuseum.com
National Museum of the Great Lakes, Toledo, Ohio. www.inlandseas.org
Great Lake Lore Maritime Museum, Rogers City, Michigan. www.gllmm.com
Great Lakes Aquarium, Duluth, Minnesota. www.glaquarium.org
Great Lakes Naval Museum, Great Lakes, Illinois. www.greatlakesnavalmuseum.org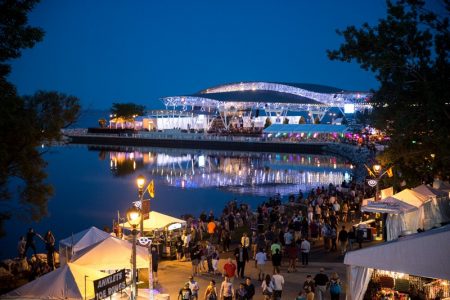 5 Great Events
Put-In-Bay Spring Fling, Put-In-Bay, Ohio. Two-day "block party" in May that attracts more than 2,000 people. www.putinbayspringfling.com
Summerfest, Milwaukee, Wisconsin. Billed as "The World's Largest Music Festival," happening each Fourth of July weekend. www.summerfest.com
Great Lakes Burning River Fest, Cleveland, Ohio. Get eco-conscious in August with fresh food from local farms and eateries. www.burningriverfest.org
Michigan City In-Water Boat Show, Michigan City, Indiana. In August, featuring the latest boats and marine products. www.michigancityboatshow.com
Great Lakes Brew Fest, Racine, Wisconsin. Sample more than 400 beers, ciders and meads in September. www.greatlakesbrewfest.com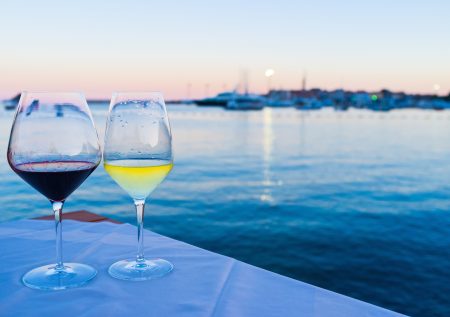 3 Trails & Tours*
Lake Michigan Shore Wine Trail. Visit 24 wineries with a short drive of each other in southwest Michigan. www.miwinetrail.com
Lake Michigan Circle Tour. Circumnavigate the lake and see unique natural features like magnificent dune-lands and cliffs. www.great-lakes.net/tourism/circletour/
Great Lakes Seaway Trail. Paralleling the St. Lawrence Seaway and Great Lakes in New York and Pennsylvania. www.seawaytrail.com
*Though designed for cars, these activities can be mirrored by boat.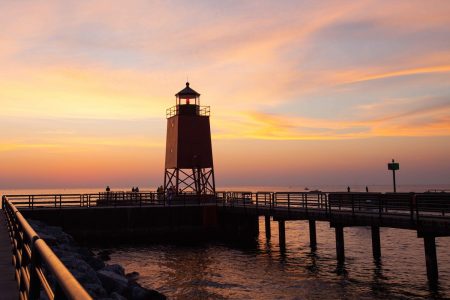 10 Must-See Lighthouses
Holland Harbor Lighthouse, Holland, Michigan.
Fort Gratiot Lighthouse, Port Huron, Michigan.
Old Mackinac Point Lighthouse, Mackinaw City, Michigan.
Charlevoix Lighthouse, Charlevoix, Michigan.
Grosse Point Lighthouse, Evanston, Illinois.
Old Lighthouse Museum, Michigan City, Indiana.
Devil's Island Lighthouse, Apostle Islands, Lake Superior, Wisconsin.
Wind Point Lighthouse, Racine, Wisconsin.
Marblehead Lighthouse, Marblehead, Ohio.
Sturgeon Point Lighthouse, Harrisville, Michigan.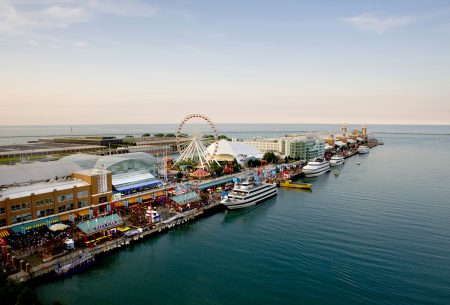 5 Top Destinations
Door County, Wisconsin. A mix of farm and coast, called "the Cape Cod of the Midwest."
Traverse City, Michigan. Visit Sleeping Bear Dunes National Lakeshore, then take a wine or beer tour.
Sandusky, Ohio. Home of Cedar Point, one of the country's top amusement parks.
Grand Haven, Michigan. A boardwalk, beautiful beaches, lighthouses and a historic downtown.
Chicago, Illinois. Many of its biggest attractions are within sight of Lake Michigan.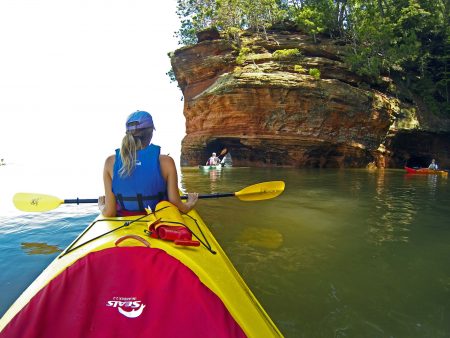 4 Island Getaways
Apostle Islands, Wisconsin. Ruggedly beautiful, with sea caves that you can kayak into.
Lake Erie Islands, Ohio. Diving, beaches, modern marinas, camping and "The Walleye Capital of the World."
Isle Royale, Michigan. This 45-mile-long bastion of protected wilderness has no homes and 165 miles of trails.
Mackinac Island, Michigan. Timeless and pristine, with horse-drawn carriages and majestic hotels.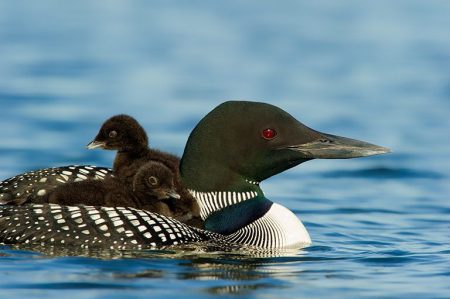 5 Terms to Know
Pop. The same thing as "soda" or "Coke" in the south.
Summer. A season that shows up in mid-May and hopefully lasts three months.
The UP. The northern of the two major peninsulas that make up the state of Michigan.
Dive Bombers. Another name for mosquitoes, which grow plenty big in these parts.
Loon. An aquatic bird found in many parts of the Great Lakes. Not your crazy neighbor.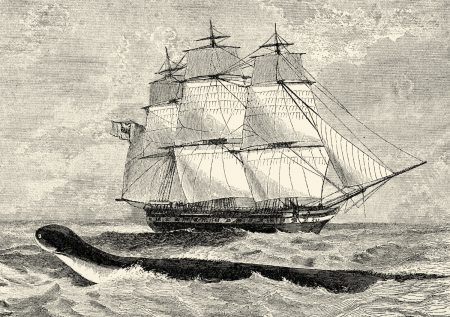 5 Hidden Sights (good luck finding them!)
Bessie is an alleged 30-foot to 40-foot-long "monster" living in Lake Erie. The earliest recorded sighting goes back to 1793.
Below Lake Huron are 9,000-year-old animal-herding structures used by prehistoric people when the water levels were much lower.
The Lake Michigan Triangle has a similar reputation to the Bermuda Triangle, with a large amount of "strange disappearances" and alleged ghost ship and UFO sightings.
Babe Ruth hit his first major league home run at Hanlan's Point Stadium in Toronto. It landed in Lake Ontario and is believed to still be there.
Singapore is a ghost town on the shores of Lake Michigan that lies buried under sand dunes near the mouth of the Kalamazoo River.
Author: Brad Kovach is the editor of HeartLand Boating magazine