Fall wraps the Heartland in a brilliant coat of jewel-toned colors as crisp days and cool nights provide an idyllic cruising experience that welcomes boaters with pleasant seasonal amenities — less crowds, mild temperatures, rate discounts. Whether you enjoy the timeless sites of history, the excitement of cityscapes or the solitude of natural sanctuaries, wonderful venues can be found along majestic waterways such as the Mississippi, Ohio and Tennessee rivers, Lake Monroe and Kentucky Lake.
Yes, it's time to calendar up one more excursion before you put the boat in storage until next year. To assist you, we've put together an "options itinerary" with something for everyone on board. The natural beauty of these locales comes alive with brilliant autumn hues in rich shades of golden yellow, burnt orange and deep burgundy — so, go ahead, drift into a new state of mind this fall.
Chattanooga, Tennessee
Steeped in Southern history and nestled in a scenic panorama comprised of mountains, ridges, the winding Tennessee River and nearby lakes (Chickamauga and Nickajack), Chattanooga affords boaters with a breathtaking excursion. Several marinas and ramps provide easy access to this beautiful waterway, including Raccoon Mountain, a favorite launch for boaters.
The Tennessee River Gorge, a 26-mile canyon formed by the river as it cuts into the Cumberland Plateau and carves an aquatic path into Alabama from Tennessee, is also known as the Grand Canyon of Tennessee. The Signal Mountain bluffs just below Signal Point offer a spectacular view of the Tennessee River as it moves along the Chattanooga riverfront, curves around Moccasin Bend and on past Williams Island in Marion County.
The Moccasin Bend Archaeological District, a 956-acre National Historic Landmark, sits across the river from Lookout Mountain. Both Moccasin Bend and Lookout Mountain possess immense historical aspects, from American Indian settlements to Civil War battles.
Meanwhile, Chattanooga's vibrant downtown riverfront offers a diverse attraction of parks, restaurants and museums: Tennessee Aquarium, IMAX 3D Theatre and Hunter Museum of American Art. The Tennessee Riverwalk runs nearly 13 miles along the river for a picturesque trek and a stop at the Chattanooga Choo Choo. This historic Southern Railway Terminal Station has been converted into a Historic Hotels of America property featuring vintage train car accommodations, giving visitors a trip down memory lane.
Cincinnati, Ohio
Mariner's Landing, a full-service facility 14 miles west from downtown, provides in-water slips directly on the Ohio River and easy access to Cincinnati. Whether the game plan calls for a day of Bengals football at Paul Brown Stadium or a city getaway, there's something exciting to do, including some mega events in September. Oktoberfest Zinzinnati USA (September 22-23) is a world-renowned German celebration that's second only to Munich, while the Cincinnati MidPoint Music Festival (September 27-29) rocks with some 250 national and international bands playing an array of genres.
A unique departure from Cincinnati's bright lights is the Little Miami River, a Class I tributary of the Ohio River flowing some 111 miles through five counties in southwestern Ohio. Designated as a National Scenic River, it joins the Ohio River just east of Cincinnati and invites boaters to discover timeless natural and historical treasures: abundant aquatic life, lush foliage and relics from the past.
The Four Seasons Marina east of Cincinnati is an ideal port for visitors who want to spend time exploring the Little Miami, its several state and county parks dotted with peaceful trails built alongside abandoned rail grades running beside the shoreline. Remember to exercise caution when traversing Little Miami due to the river's immense and often hidden power — high water and rapid flow from heavy rains, log jams or submerged trees creating strong forces in the current at low-head dams.
Grand Rivers, Kentucky Lake
The Tennessee River winds its way towards the Ohio River, flows into a portion of the stunning region known as Kentucky's Western Waterlands and makes its way to Kentucky Lake — home to the quaint town of Grand Rivers, a charming village dotted with antique shops, boutiques, restaurants and bike paths. The natural beauty of the area is truly an outdoor recreational destination all its own. Nicknamed the Village Between the Lakes, Grand Rivers boasts a spectacular lake view from the jetty (especially at sunset) and a wonderful two-mile trek along its walking trail. Lighthouse Landing, a picturesque resort and full-service marina, affords those with an appreciation of the outdoors a secluded yet convenient locale tucked along the Kentucky Lake shoreline that's a mile north of the entrance to Land Between the Lakes National Recreation Area and three blocks to area landmark, Patti's 1880s Settlement & Restaurant.
Lake Monroe, Indiana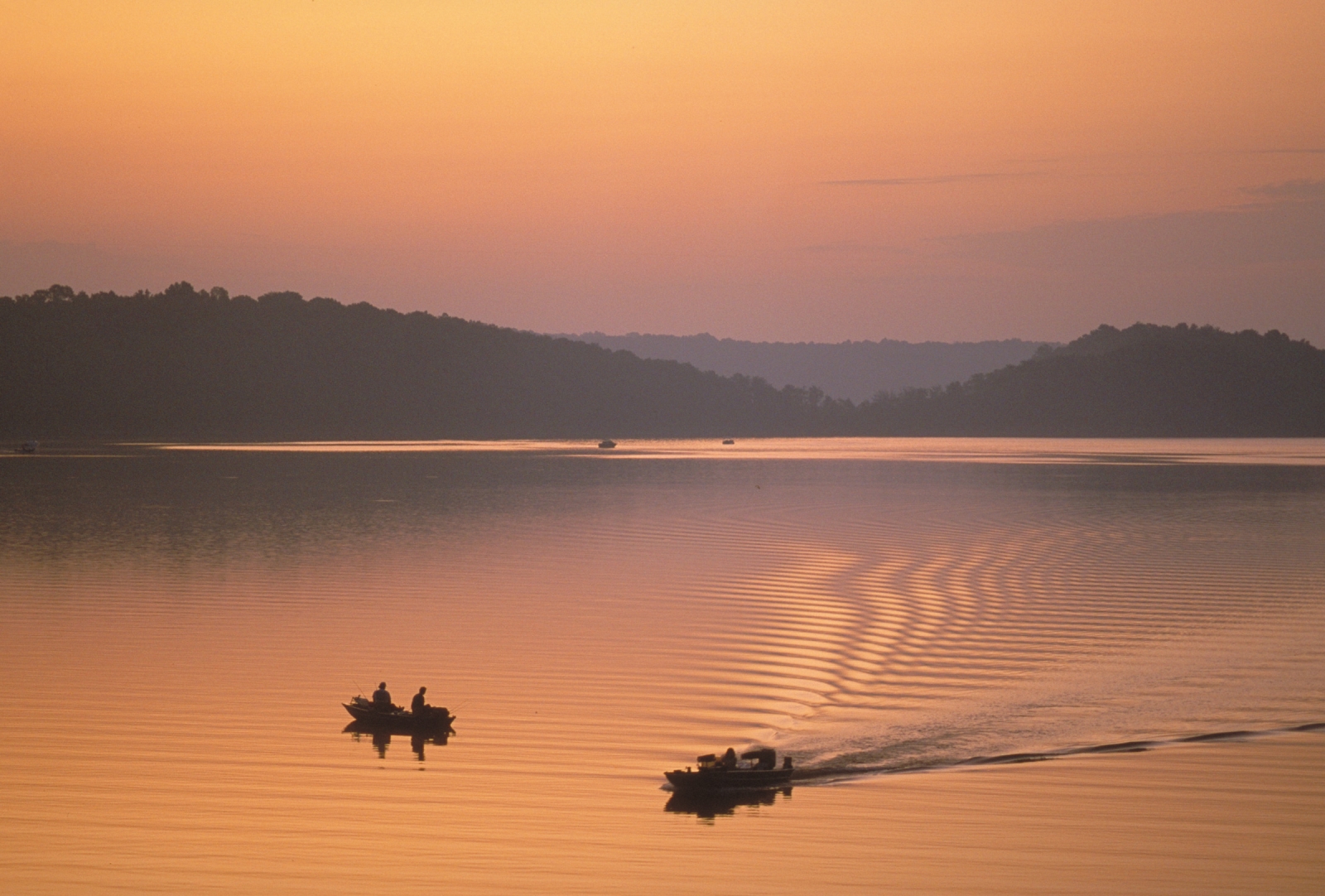 Lake Monroe at Sunset. Indiana Department of Natural Resources
A short distance from Bloomington is a delightful spot. Lake Monroe, the state's largest lake at 10,750 acres, provides ample boat ramps, beaches, picnic areas, state operated camping facilities, the Fourwinds Resort & Marina, two private camping resorts and 24,000 acres that house state-owned forests encompassed on three sides by Hoosier National Forest.
September delivers exciting events including the Lotus World Music Festival (September 20-23), while Harvest Moon Weekend (September 29-30) features programs, crafts and activities celebrating autumn and the harvest season at Paynetown State Recreation Area.
For incredible, early morning or sunset views, be sure to climb the fire tower at Hickory Ridge or make a trip in town to sample the restaurant fare. If you're there Saturday morning, the Bloomington Community Farmers' Market is a must.
Louisville, Kentucky
There's a variety of things to see and do at this interesting port along the Ohio River. Waterfront Park, located downtown and adjacent to the Louisville Wharf and Riverfront Plaza/Belvedere, provides boaters with at-your-own-risk dockage at the Wharf from June 1 to November 1. Boaters are urged to check that the channel is free of traffic upon approaching or leaving the area.
The complex is center stage for outdoor concerts and festivals, including the annual Birthday Bash for the Belle of Louisville, set for October 14. The Belle, built in 1914 and moored at the Wharf, is the oldest operating Mississippi-style sternwheeler steamboat in operation — so book your passage for back-in-time voyage (see xxxx on page xxxx for more information on this boat).
When taking in the downtown sights, the Brown Hotel (another Historic Hotels of America, built in 1923 at a cost of $4 million dollars) offers an amazing stop with its impressive English Renaissance architecture. Baseball aficionados will be mesmerized with a visit to the Louisville Slugger Museum & Factory.
The city boasts two annual happenings: The Kentucky Bluegrass Music Festival, one of Louisville's oldest music events at the Water Tower (September 1-3) and the Jeffersontown Gaslight Festival, which kicks off with a motorcycle rally (September 9). This fifth largest festival in the region features a car show, live entertainment and more than 140 arts and crafts booths during its nine days.
St. Louis, Missouri
The Gateway City is a splendid Heartland getaway, with a downtown comprised of historical and in-the-now attractions. Alton Marina (adjacent to Riverfront Park) and the St. Louis Yacht Club afford easy accessibility for cruising this city along the mighty Mississippi.
St. Louis' famed riverfront complex, Laclede's Landing, is housed in century-old buildings and cobblestone streets dating back to the early days of explorers, traders and settlers. The Landing boasts an array of restaurants, shops, theaters and is a short distance from the city's foremost landmark, the Gateway Arch. A thrilling, 630-foot ride to the top of the stainless-steel monument leads to an outrageous view of the city and Mississippi River. Make sure your sightseeing list also includes a horse-drawn carriage ride during the cool evening, the Museum of Westward Expansion or a stroll the St. Louis Riverfront Trail.
One of season's biggest events, the Big Muddy Blues Festival, takes place Labor Day Weekend (September 1-2) and features legendary and local performers at Laclede's Landing.
Additional cruising information is available at:
Chattanooga Convention & Visitors Bureau
(423) 424-4430
www.chattanoogafun.com
Cincinnati USA Regional Tourism Network
(859) 581-0168
www.cincinnatiusa.com
Grand Rivers Tourism Commission
(888) 493-0152
www.grandrivers.org
Louisville Convention & Visitors Bureau
(800) 626-5646
www.gotolouisville.com
St. Louis Convention & Visitors Commission
(800) 916-0040
www.explorestlouis.com
Visit Bloomington (Lake Monroe)
(812) 330-4303
www.visitbloomington.com