Island Cove Marina Manager Terry Kelley had just been served lunch on March 2, 2012, when he answered his phone to hear "We have been destroyed!" A few minutes later he arrived at the marina to find tornado devastation.
"Docks sunk, turned upside down, boats blown off trailers, boats destroyed, nine docks lost, power lines down, buildings damaged," Kelley recalled. "The first thing we did was get in a few small fishing boats to go out and find who had been on board, making sure everybody was OK. Fortunately, there were no serious injuries." He continued, "Understandably, customers wanted to get to their boats, but we had to stop them. The docks were still collapsing."
That was a Friday. There was an outpouring of support: people bringing food and water and offers to help. On Monday morning, the insurance agent showed up with a check for $1 million, saying, "This will just get you started." Then the hard work of recovering and rebuilding began.
Looking on the bright side Kelley said, "It did give us an opportunity to redesign some slips for the market needs, namely bigger boats." Restoration took three long years until, on March 1, 2015, the manager declared the marina totally restored, bigger and better.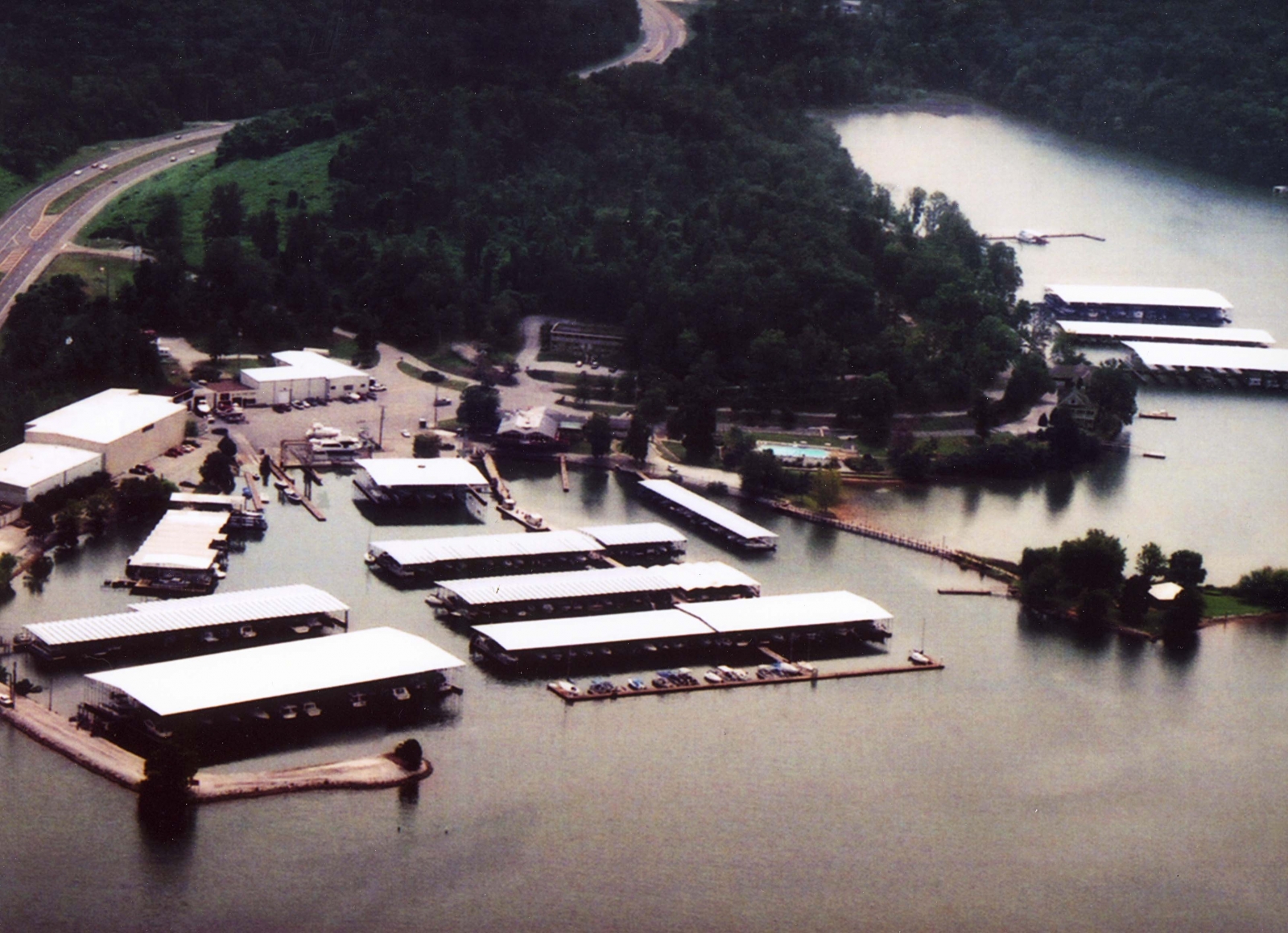 Deep Ties
Located just up the Tennessee River from Chattanooga, Island Cove Marina & Resort first opened as a tiny marina in 1949. Now owned by two Chattanooga businessmen, the 420 wet slips (380 pre-tornado) and 200 dry make it a candidate for the largest marina on the Tennessee River. Curving around the shoreline of sprawling Harrison Bay, it draws boat owners from the tri-state area and beyond. Many recall the wind-swept nightmare, but they wouldn't think of boating anywhere else, for numerous reasons. Each dock is a small community, with frequent gatherings and parties, or joining a few friends to watch a sunset over the islands. A narrow causeway in the middle of the marina leads to the party island, a setting for frequent cookouts and holiday celebrations, even weddings.
There are accommodations for family, friends or fishing fans who want to visit: two four- and five-bedroom rental houses, or check into one of 12 rooms in the motel that overlooks the marina and lake. On site is Amigos, a restaurant well known to Chattanooga area diners as well as boaters. It's a popular spot for afternoon drinks on the deck, delectable Mexican food and a sports bar for ballgame viewing. The marina's huge ship store has just about any equipment, accessory or water toy a boater could desire.
For venturing away from the docks, Harrison Bay provides plenty of nooks and crannies and islands for afternoon and weekend anchoring in a rural setting. In fact, every crew has a favorite spot.
City Life
If it's city life your crew craves, you have only to cruise across the bay into the Tennessee River and through nearby Chickamauga Lock. Then a short ride to tie up on the Chattanooga waterfront (Mile Marker 463.7) for festivals, such as River Bend Festival in June or Three Sisters Bluegrass Festival in October — even an ice skating rink in the cold months. On any day, it's an easy stroll from the docks to the Tennessee Aquarium and on into downtown for a wide variety of restaurants. Walk on uphill to the art district, Hunter Museum of American Art and more dining. Check it out on Chattanoogafun.com.
All this boating means, of course, a need for maintenance. Be assured at Island Cove the service department staff is professional, factory-trained and accommodating. Marina Manager Kelley began his career in this area, so he knows how vital it is. Stick your head into the service shop, led by Ronnie Payne, make a request or describe any boat problem, and the reply is, "We'll get her done." And they do.
Maybe you want to join the boating world or change boats? Island Cove Outdoor Center is just down the highway, where you can select a new or used boat from a variety of brand names.
Boaters are flocking in to fill up the new docks. Long-time residents wouldn't go anywhere else. Boating at Island Cove is pure nautical pleasure. Kelley and his fulltime staff of 28 intend to keep it that way. He wraps up the marina's philosophy, "All we've got to sell is fun."
Author: Joanne Cunningham Walker is a contributor to HeartLand Boating
---
Island Cove Marina & Resort
6701 Hwy. 58
Harrison, TN 37341
(423) 344-8331
www.islandcovemarina.us
From Mile Marker 477.5, follow green buoy line on secondary channel at Patten Island Lower Light & Daymark to second cove. Harbor comes into view. Stay in channel.
Dockage: 420 wet slips up to 80' (covered); 200 dry slips up to 24' with unlimited launching service
Fuel: 89-octane, non-ethanol gas
Electric: 30/50 amp
Amenities: Water, slip-side pumpout, free Wi-Fi, security gates, ship store, laundry, restrooms and showers, pool for members, picnic area, full service department with 44-ton lift, new and used boat sales, restaurant, two rental houses, hotel overlooking marina
Hours: 8 a.m. to 6 p.m. Monday through Saturday and 9 a.m. to 6 p.m. Sunday (summer); 8 a.m. to 5 p.m. Monday through Saturday and 11 a.m. to 5 p.m. Sunday (winter)
VHF Channel: 16 and 68