Think Indiana is all cornfields and flatlands? Well, it's got water, too. Lots of it. In fact, the Hoosier State is surrounded by water on all four sides: Lake Michigan with its magnificent sand dunes in the northwest, the Ohio River edging parts of the east as well as the entire southern border, and the Wabash River running along the western edge. And that's not all. Nestled between these boundaries, the terrain brims with hundreds of lakes, streams, waterways and pools. So, come on over — the water's fine.

Patoka Lake

Thick woodlands surround Indiana's second largest manmade lake, 8,800-acre Patoka Lake, making bald eagle and other wildlife sightings (osprey, deer, wild turkeys) a daily occurrence. With swimming beaches, watercraft rentals, fishing and hiking trails, there's no reason to leave the lake's peaceful confines. But within distances of an hour or less, there's plenty more to do. Explore Marengo Cave, one of the state's biggest show caves, canoe on the Blue River, visit Abraham Lincoln's boyhood home in Spencer County, or spend the day at Holiday World and Splashin' Safari in Santa Claus (yes, that's the name of the town). Rides here include the new Hyena Falls, featuring four in-the-dark waterslides, and award-winning wooden roller coasters.

You can't miss sampling Indiana vintages at the French Lick Winery or the spas, golfing, horseback riding and casino at the early 20th-century resorts West Baden Springs and French Lick Springs Resort. Both also offer daily tours.

Tie up at Hoosier Hills Marina, which offers 24- to 45-foot slips with or without electricity, free pump out and high premium ethanol-free gas. Patoka Lake Marina has courtesy slip/buoy rates at $25 a night and cruiser courtesy slips with electric at $35. Amenities at both include a marina store, food, utilities, bait and tackle as well as watercraft and houseboats rentals.

Mark your calendar to board the French Lick Scenic Railroad when the Lost River Renegades try once again to rob the train on horseback (September 2; October 5 and 6). Embark on the 60-foot Patoka Voyager for Patoka Lake Marina's Fall Foliage Wine Cruises every Saturday (except Labor Day weekend) or the Sunset Beer Cruise featuring Indiana artisan brews on October 4. Groove on the free music and peruse artisan arts, produce and foods from area farmers at the Ferdinand Folk Festival on September 21.

Visit nearby Jasper for the chance to indulge your inner German. Eat at the Schnitzelank, where waitresses dress in Bavarian garb, the Glockenspiel plays on the hour and the food is hearty and house made. Walk off those calories with a stroll along the Patoka River, taking time to tour the Jasper City Mill. Ride the Spirit of Jasper, a vintage train with excursions to French Lick with time out for gambling at French Lick Resort's casino.

Visit the Monastery Immaculate Conception, also known as the Caste on the Hill, in Ferdinand. Known for its peaceful setting, grotto and gardens, a must stop is their Simply Divine Bakery where the sisters bake old fashioned German-style cookies.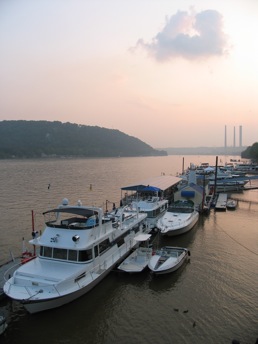 Madison public docks.

 

Madison

Settled when Indiana was still a territory, Madison, tucked among the rolling hills that meander towards the Ohio River in southeastern Indiana, became a city in 1809. Considered a major river port and supply town outfitting pioneers as they made their way into the Northwest Territory, it thrived during the Steamboat and Railroad eras.

Today, the city boasts the largest historic district in Indiana, with more than 130 blocks listed on the National Register of Historic Places. The architecture ranges from Second Empire and Victorian to Georgian and Federal styles. A river walk lines the banks of the Ohio, just steps away from the downtown and its restaurants, art galleries, shops and museums.

You can't miss an overnight stay at the Whitehall Bed & Breakfast, a pre-Civil War mansion with gorgeous gardens on the Ohio River. The owners have amassed a collection of museum-quality antiques, and their three-course breakfast is amazing.

Madison has several wineries, including two near the river: the award-winning Lanthier Winery, the city's oldest, and The Thomas Family Winery located in 1850s stables, which also features hard ciders. In the country, Madison Vineyards is also a bed and breakfast.

You can also listen to music and dine in the garden at the Broadway Hotel & Tavern, Indiana's oldest tavern, established in 1834.

Tie up at one at the full-service Rivercrest Marina, which can accommodate any boat size up to 150 feet. Pump-out service, running water, parking, a boat ramp, marine store and taxi service are available.

There's running water, electricity and dock space able to host up to 70-foot boats at the Madison Lighthouse Docks, located right in the heart of Madison's downtown.

Mark your calendar to see the Pony Express ride again at the Canaan Fall Festival and Pony Express Mail Run Celebration on September 13 and 14. On September 21, meet at the historic Broadway Fountain for Historic Madison, Inc.'s free architectural tour. That evening, attend the Black & White Party on the south lawn overlooking the Ohio River at the peach-colored Lanier Mansion, built in 1844 and considered one of the country's finest examples of Greek Revival architecture. On the last weekend of September, enjoy the music, food and good times at the 43nd Annual Madison Chautauqua.

Visit nearby Clifty Falls State Park, known for its limestone bluffs, fantastic river overlooks, canyons, creeks, hiking trails and seven waterfalls. The park's Clifty Falls Inn first opened in 1924 and has been extensively renovated and added onto since then. Many of the rooms have views of the river and downtown Madison.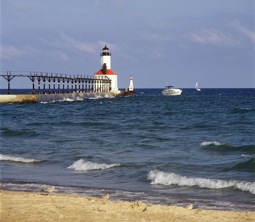 The Michigan City Lighthouse.

 

Michigan City

A large port on Lake Michigan's southern coast, Michigan City was founded in 1830 as the site for a harbor where Trail Creek meanders into the lake. The city offers something for everyone, like the 65,000-square-foot Blue Chip Casino and Spa, with 42 table games, eight live poker room tables and more than 1,900 slots, as well as a 10,000-square-foot spa and several restaurants. Also a Mecca for shoppers, Lighthouse Place Premium Outlet features some 120 stores.

Families and beach junkies will want to take a fall stroll looking for sea glass and stones at Washington Park, the city's fun-time beach, featuring a bird sanctuary and a zoo with two clouded leopards who just moved in.

You can't miss Michigan City's Old Lighthouse Museum, built in 1858 and the only working lighthouse on Lake Michigan's Indiana shore. Open to tours, it's said to be haunted by the friendly ghost of lighthouse keeper Harriet Colfax, who for 43 years climbed the 40-foot staircase to the lantern tower at least once a night.

Like Mediterranean cuisine? Try some of the signature dishes at Sahara, including its pan-seared tilapia or its spanakopita (spinach and Bulgarian feta baked in sheets of phyllo sauced with tomato cream). Order freshly brewed, foam-topped root beer or the secret recipe chili at Carlson's Drive-in, one of the few remaining drive-ins in Indiana and a part of Michigan City since 1947.

Tie up at either the Washington Park or Trail Creek marina, both managed by the Michigan City Port Authority. Transient slip rental rates at Washington Park, which can accommodate more than 500 boats ranging from 25 to 100 feet, are $1 per foot per night with a minimum fee of $35. Trail Creek, about 10 minutes upriver from Lake Michigan, offers both a 25-foot floating dock and fixed dock. Rates are $1 per foot per night with a $25 minimum.

Mark your calendar for the Tri State Regatta, which goes from Chicago to St. Joseph, Mich., and then Michigan City, to see hundreds of sailboats arrive on Labor Day Sunday and leave the next day. The Labor Dayz Festival in Washington Park offers a chance to sample a variety of foods, listen to live music and peruse locally made arts and crafts. Music buffs will want to visit the lovely, 106-acre International Friendship Gardens on September 8 for the Annual Preview of Chicago's Lyric Opera, as well as a chance to wander around the lakes and streams set amidst glens and gardens inspired by different countries.

Visit nearby Hesston Steam Museum in tiny Hesston, Ind., for rides aboard its narrow-gauge, steam-engine pulled trains. Open on Sundays, there's also an Art Deco-style soda fountain built in 1930 for ice cream treats, food and other goodies. Special events include the 57th Annual Hesston Steam & Power Show on September 1 and 2, and ghost train rides in October.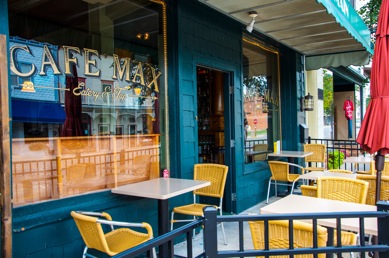 Cafe Max in downtown Culver.

 

Culver

Historic Culver is located on 1,864-acre Lake Maxinkuckee — the name comes from the Potawatomi word Mog-sin-ke-ki, meaning big stone country — Indiana's second largest natural lake. It's known as having some of the best walleye fishing in the Midwest. Long a draw for vacationers, such as the Vonnegut family, including author Kurt, it's also where Henry Harrison Culver founded the Culver Military Academy in 1894. In an interesting side note: Since 1913, the academy's Black Horse Troop has ridden in 15 Presidential inaugural parades. Lake Maxinkuckee buzzes year round, with ice fishing in the winter, but the real fun is spring, summer and fall for sailboat races, swimming and watercraft fun.

You can't miss a wood-fired pizza or the daily bison special made from bison raised on the chef's own farm at Corndance Café, or the chance to hoist a glass of Maxinkuckee Mist, a handcrafted microbrew made from local lake waters at the Edgewater Grille. There's also golfing at Mystic Hills, an 18-hole Pete Dye-designed course on Lake Maxinkuckee. And while in Culver, be sure to stop for a meal at Café Max, named as one of the best diners in Indiana.

Tie up at Culver Marina, with slip rentals up to 24 feet for $35 a night. It features pontoon, fishing boat, kayak, and stand-up paddleboard rentals, plus wakeboard and wakesurfing lessons at its Maxinkuckee Wakeboarding School. There's also a marine store and lively Boardwalk Bar & Grill.

Mark your calendar for the Culver Fall Fest on October 19 and 20. Activities include a Lake moonlight kayak and paddleboard ride, pet costume parade, pony rides, beer garden, bake sale and handcrafted items by local artisans.

Visit nearby Rentown, the name of the area and the general store selling Amish goods. The area offers one of the best opportunities to see day-to-day Amish life — from horse-pulled plows to women wearing bonnets hanging clothing out to dry. Follow the Marshall County Barn Quilt Trail, sighting 50 giant quilts painted on the sides of barns, residences and public buildings throughout the county.

What's Missing?

No story on boating in Indiana would be complete without mentioning Lake Monroe. Spanning 10,750 acres in the southern part of the state, it offers great marinas, resorts, fishing and more near the town of Bloomington and the campus of Indiana University. Nashville, Ind., is just 30 minutes away and features art galleries, shops, restaurants and Brown County State Park. Read more about Lake Monroe in our May 2012 issue.