The National Water Trails system celebrated its fifth anniversary at the end of February. And a lot has happened to both increase use of America's amazing water systems, and their stewardship by local communities, since water trails were added to the original National Trails System Act of 1968. Let's take a look at some around the heartland, starting with trails that were designated in 2012 (note that many trails were already in existence before the National Trails designation).
Alabama Scenic River Trail
If there's one National Water Trail that has it all, it's the Alabama Scenic River Trail (ASRT). It started with 631 miles of core trails and has continued to grow to include over 40 waterways totaling 5,000+ miles. More than 40 outfitters, plus a range of towns and cities along the way, provide services.
The trailhead of the ASRT is about three miles from the Georgia state line in northeast Alabama, at Cedar Bluff's Riverside Campground and Motel. From there, the core trail heads southwest across the state, ending at historic Fort Morgan in Mobile Bay. It's an outdoor wonderland, ranging through mountain streams and nine lakes, right to the salty water of the second largest delta in the country at Mobile Bay.
All types of watercraft can navigate the ASRT, although the nine dams present challenges. Powerboats will need to be trailered around a number of them (plan extra miles at Jordan Dam, as that stretch isn't recommended); paddlers can portage all but the Mitchell Dam, with its steep topography.
With the thousands of available miles, boaters will want to decide on an itinerary before setting out. You can purchase the Alabama River Trail Guide Book for detailed information on which sections of the trail suit your watercraft and boating interests. Powerboaters generally enjoy the lower half of the trail most, starting in Montgomery. The trip takes anywhere from two to four days, depending on the boat's speed. Campgrounds and facilities are available for overnighting, plus there are marinas in Montgomery and Mobile.
Paddlers have lots of options, ranging from whitewater to quiet paddling. The first paddler up the whole ASRT took 48 days, but most people explore it in sections. According to many, the most exciting stretch runs from below Jordan Dam into take-outs in Wetumpka.
Chattahoochee River National Water Trail
This water trail runs for 48 miles through the Chattahoochee River National Recreation Area. Connecting recreation sites from Atlanta to Lake Sidney Lanier (more commonly known as Lake Lanier), location of the 1996 Summer Olympics, this National Park can be used year-round. A number of marinas are available.
Open to small boats, this water trail is great for motorboats, canoes, kayaks, rafts and tubes (no personal watercraft allowed). While it's generally a calm river with a few shoals and rapids of Class I or II, it's more challenging when Buford Dam is releasing water from Lake Lanier. Water often rises very rapidly and comes in cold (water released from the dam is at approximately 50 degrees), so be sure to check the release schedule at 1-855-DAM-FLOW before you plan your trip.
The 15 land units included in the recreation area all have separate entrances and parking, so you can easily explore different sections, checking out more than 800 native species of plants and trees. It's a bird lovers' paradise, with 240+ species of birds, plus 35 different mammals, from opossums and rabbits, to feral wild horses.
You may want to start with the park contact station and headquarters, which are located in the historic Hewlett Lodge at Island Ford. Altogether, there are 18 access areas.
Mississippi National River and Recreation Area Water Trail
Variety is the name of the game when it comes to the Mississippi National River and Recreational Area (MNRRA) Water Trail. Whether you like to paddle in urban landscapes or wild ones, visit historic sites or wildlife refuges, enjoy big city lights or tent alone under the stars…it has it all.
The MNRRA is a partnership park (land is owned by various partners) that runs 76 miles from the twin cities of Minneapolis and St. Paul to Hastings, Minn., including four miles of the Minnesota River and the remainder on the Mississippi. Two of the park members, Fort Snelling State Park and the Mississippi National River and Recreation Area, are accessible directly from the water trail. All types of boating are allowed where appropriate, including motorboats, kayaking, canoeing and rafting.
Pleasure and commercial watercraft share the corridor below the Camden Bridge in Minneapolis. There are a number of marinas in both Minneapolis and St. Paul, so it's a good starting point for those with powerboats.
Five distinctive areas make up the park: The Wild & Scenic River, The River of the Falls/The Urban River, The Gorge/Where the Rivers Meet, The Working River, and the Forested Floodplain. Each offers a different environment to explore.
Mississippi River Water Trail (MRWT) Great River Water Trail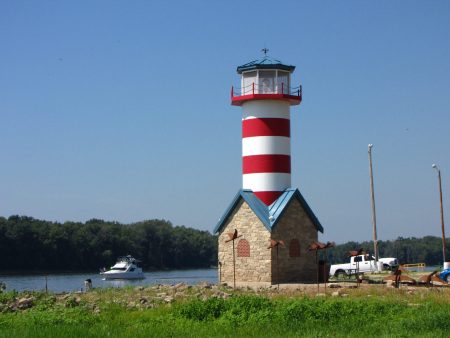 The mighty Mississippi also has a second trail designation, the Mississippi River Water Trail (MRWT). This trail runs 121 miles on the Upper Mississippi, south from Saverton, Mo., to St. Louis, although the river itself also flows through Illinois. Lock and Dam #22 at Saverton is on the National Register of Historic Places, while the Robert H. Thompson Conservation Area is just downstream.
This part of the Mississippi is noteworthy for its Native American heritage and cultural history, as well as the many outdoor recreational experiences and wildlife viewing. The trail is open to all types of watercraft, although a lot of the focus is on providing safe paddling opportunities. There are several full-service marinas on this part of the Mississippi, including Louisiana and Alton, Ill., as well as St. Charles, Mo., outside of St. Louis.
There are maps available for all four sections of the MRWT at the National Great Rivers Museum in Alton, Ill., a site note to be missed on a trip here.

Missouri River Water Trail
Experience 147 miles of the Missouri River from the Ft. Randall Dam near Pickstown, S.D., to Sioux City, Iowa, with the Missouri River Water Trail. Added to the National Water Trail system in 2013, it's one of the last natural stretches of America's longest river.
The trail has two paddling segments, one of 39 miles and one of 59 miles, which are connected by the Lewis & Clark Lake. Through the interpretive panels and guided talks provided at many of the trail's 29 access points, you'll discover a lot about these adventurers the lake is named for. All of the access points provide boat ramps and parking, and most have bathroom facilities, picnic areas and green space. A full-service marina, the Lewis & Clark, provides boat rentals and boat slips on the lake.
Red Rock Water Trail
The Red Rock Water Trail, also designated in 2013, provides a 36-mile paddling loop that explores sea caves, rocky bluffs, hardwood forest and Iowa's largest lake, Lake Red Rock. The lake itself is great for motorboats and has a marina with rentals available.
There are eight access points for paddlers around the lake, most located near campgrounds. For adventurers, there's also the Hickory Ridge Wilderness Campground, which is primitive and can only be accessed by hikers or paddlers. If you visit, check out Cordova Tower, an old water tower converted into an observation deck, offering panoramic views.
Rock River Water Trail
The Rock River Water Trail became the 10th nationally designated water trail in 2013. Three hundred and thirty miles long, the trail runs through two states, 11 counties and 37 towns and cities. There are a number of features that qualified it for inclusion as a national trail, including the diversity of its recreational opportunities and its landscape, as well as its ease of accessibility. In fact, out of the 155 access sites, 50 are designated as accessible to people with disabilities.
Starting at the river's headwaters above the Horicon National Wildlife Refuge in south central Wisconsin, the trail runs the length of the river to its confluence with the Mississippi River at the Quad Cities of Illinois and Iowa. It's best known for its paddling opportunities, which are categorized as Gateway (beginner), Recreational and Challenge, and its three types of access including urban, rural and wilderness. There are a number of marinas on the Rock River including Edgerton (Wis.) and Rock Falls (Ill.).
Bayou Teche Paddle Trail
Bayou Teche Paddle Trail was added to the National Water Trails system in 2015. Originally the main transportation route into what became Louisiana's Cajun country, the trail flows southward from Port Barre to the Lower Atchafalaya River at Berwick.
The cultural significance of the trail is evident when you visit some of the 13 towns, like historic Breaux Bridge and New Iberia, along the 135-mile long trail.
With 11 official access points and five recognized municipal access points, there are lots of opportunities to explore this wetland ecology. It also goes through one state park: Evangeline-Longfellow Historic Site and Park. There are public docks available at the communities of Port Barre, Arnaudville, Breaux Bridge, Parks, St. Martinville, Loureauville, New Iberia, Jeanerette, Charenton (Chitimacha Tribe of Louisiana lands), Baldwin, Franklin, Patterson and Berwick.

Arkansas River Water Trail
The 192 miles of the Arkansas River that run from Great Bend, Kan., to the Kansas/Oklahoma border were designated a water trail in 2016. The trail is open to all types of boats, from motorized through kayaks and canoes, as well as tubing. Historically, the Santa Fe Trail, a vital commercial route for seven decades in the 1800s, followed the river trail.
There are currently 22 established river access points on the Arkansas River Water Trail. They provide trip lengths that can be easily paddled in an evening, to two-day trips with an overnight camp. Depending where you are on the river, you may encounter anything from whitewater to still water, so check out your destination carefully in advance.
Great Miami River Watershed Water Trail
Contrary to what you might expect, the Great Miami River Watershed Water Trail isn't in Florida, but includes 291 miles of paddling, fishing and wildlife watching opportunities in 15 counties of Southwest Iowa. The river begins upstream from Indian Lake and flows southwest to its confluence with the Ohio River west of Cincinnati. Collectively, there are 117 public access sites along these rivers and streams. There's a spot for every type of boat, from motorized to paddling.
Designated in June 2016, this trail is one that requires careful planning before undertaking. More than 60 low dams exist on the rivers and streams in the Great Miami River Watershed. One of the most popular parts of the trail passes through downtown Miamisburg on the Great Miami River. You'll find outfitters and facilities of all kinds there, including marinas. There are also various services and marinas in Dayton and Cincinnati.
Find more information about these and other National Water Trails at nps.gov/watertrails/.