If you've never been to the "Miami Boat Show," it's worth the trip. Shall we count the whys?

First, it's not just one show but four: the Progressive Miami International Boat Show at Miami Beach Convention Center, Strictly Sail at Miamarina at Bayside, the Yacht & Power Boat Show at Sea Isle Marina and the Yacht & Brokerage Show at Collins Avenue. Trust me, you've never seen so much fiberglass and rigging before.

Second, who doesn't want to get out of the Midwest in winter? Miami is a warm, inviting, eclectic destination, and the boat shows are right in the heart of the action in Miami Beach. There's sun and sand, cafes and nightclubs, throwback hotels and ritzy resorts. And because the shows are usually scheduled for the second weekend in February, you can sell the trip to your significant other as a Valentine's Day getaway. You old romantic.

Third, the Miami shows are where the newest of the new products are launched — some so fresh from the shop that they haven't even been photographed yet! We already covered the Innovation Award winners in our Waterlines section (see page 8); following are 12 boats that rocked the show and had people lining up to climb aboard.       

Bayliner Element XL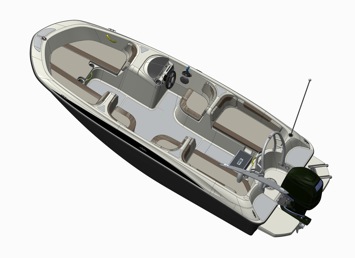 The next evolution of the Element deck boat (see May 2013), the Element XL is two feet longer yet remains easy to own, operate and maintain with its standard 90-hp Mercury outboard and $16,999 base price. It runs on Bayliner's patent-pending "M" hull and is available in an optional Sport configuration that includes a custom stainless-steel arch. www.bayliner.com

Carver Yachts C37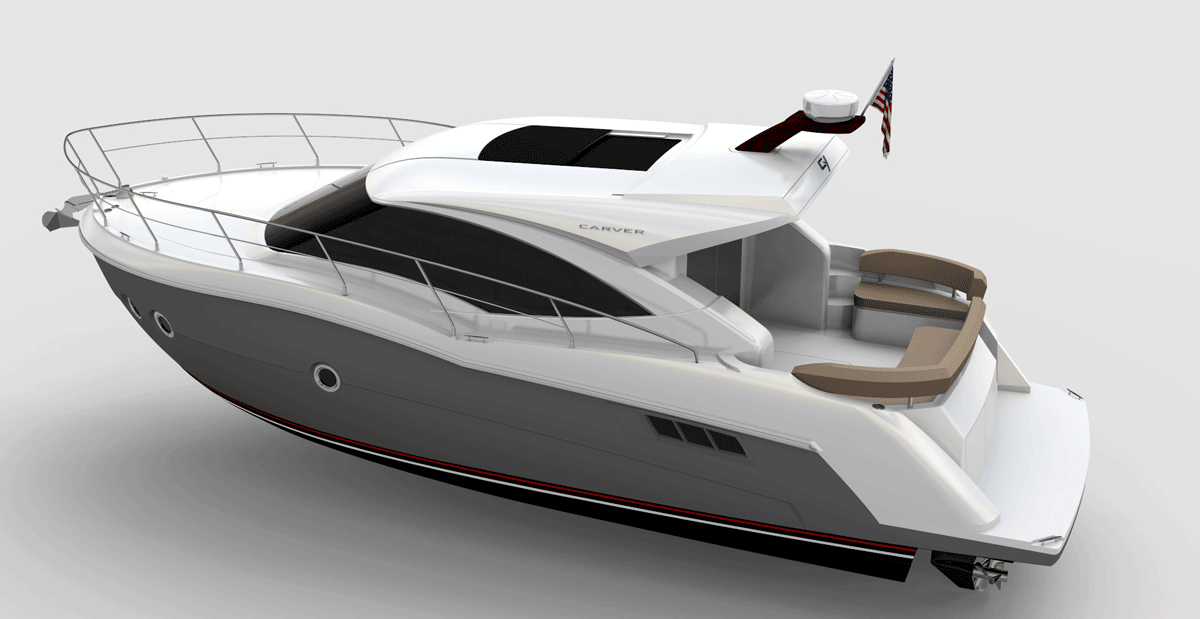 The C37 echoes the style, comfort, performance and value of Carver's C34 and C40 (see May 2013 and Sept./Oct. 2013). Powered by twin MerCruiser sterndrives, it's expected to approach top-end speeds of 40 mph. In addition, the C37 features a power-actuated sunroof, two private staterooms, home-like stall shower and aft cockpit with wraparound seating. www.carveryachts.com

Chaparral 203 Vortex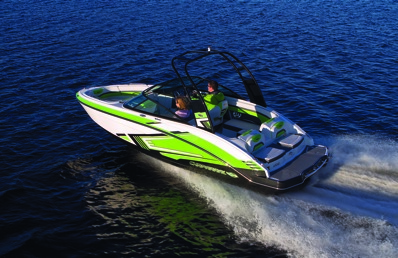 The 203 is the first in a new series of Vortex jet boats from Chaparral, to be joined later this year by the 223 and 243. It uses proven BRP Rotax power (the same as Sea-Doo until the brand vacated the jet boat segment last year) and adds convertible portside lounge seating, twin aft-facing transom seats and Kevlar reinforcement in the hull. www.chaparralboats.com

Chris-Craft Launch 36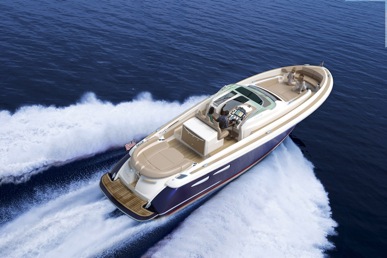 The exceptional layout of the Launch 36 combines the best of a center console, yacht tender and weekend cruiser. There are walkaround side decks that lead to a forward sun pad and lounge, U-shaped seating in the aft cockpit and a cabin with sleeping accommodations for five people, a full head and separate shower. www.chriscraft.com

Cobalt R7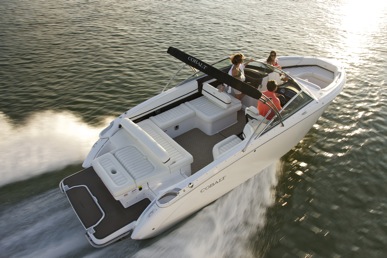 The R7, a larger version of the builder's R5, new last year, packs a lot of convertibility into its 27.5-foot frame. A fore-and-aft portside bench and a transom with both sun pad and lounge configurations help maximize comfort and entertainment options. A superior finish and fine details like a big swim platform with flip-down swim step truly set Cobalt apart. www.cobaltboats.com

Crestliner 2200 Intruder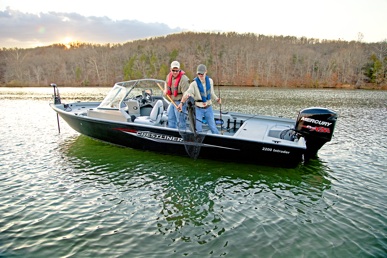 Big fish require a big boat. That's the idea behind this new model, which has the performance and capacity needed for the freshwater trophy chase. A low, crappie-style bow deck offers prime space to survey the surroundings, and there's a 100-gallon livewell, fiberglass console with room for 10-inch electronics and, of course, Crestliner's all-welded aluminum hull. www.crestliner.com

Danalevi 22 Furina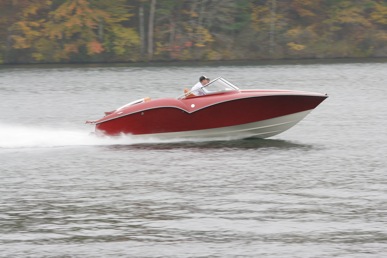 This boat stopped people in their tracks at Sea Isle Marina, and it's not hard to see why. Like a high-end sports car, the Furina has a style all its own that includes retro-chic curves; a custom windshield, dash and console; forward cabin with custom interior and air conditioning; a built-in cooler; and stainless-steel hardware. www.danalevi.com

Grady-White 251 CE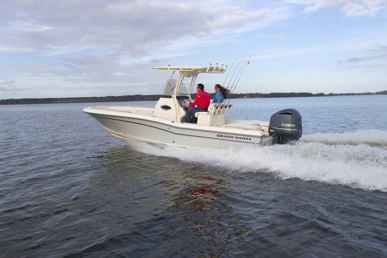 Those who fish right up to — and sometimes over — the inshore/offshore threshold will like this boat. The 251 is the first in a new Coastal Explorer (CE) series, designed low to the water for inshore fishing but with a deep-V hull for big-water capability. Features include convertible seating, bow and stern fishing platforms, and plenty of storage. www.gradywhite.com

StanCraft X30 MasterCraft Edition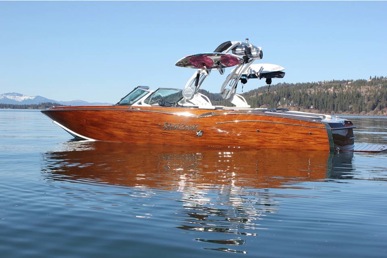 This ultimate gentleman's watersports boat is a collaboration between custom wooden boat builder StanCraft and premium towboat manufacturer MasterCraft. The latter provides materials like interior seating, towers, helms and audio components; the former does the rest. Three have already been sold, and only seven more will be built. www.stancraftboats.com

Sea Ray L650 Fly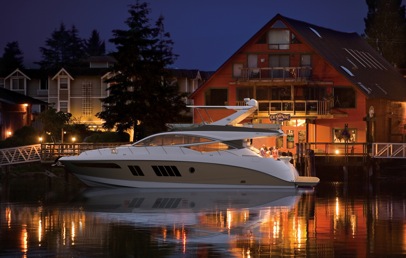 When one of the world's largest builders of fiberglass powerboats adds a new yacht class to its fleet, that's big news. The L650 Fly is the first L-Class model, which will see the L650 Express and the L580 Fly and Express later in 2014. Highlights include a "sun pad playpen" on the flybridge, a full-beam master suite and two additional staterooms. www.searay.com

Starcraft 250 SCX OB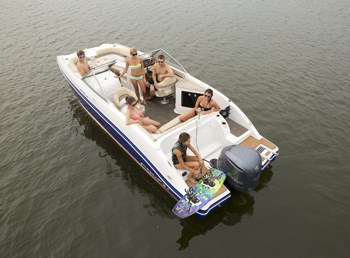 Like the SCX 210 OB (see January 2014), this hybrid deck boat has a modified dihedral hull with large side sponsons that increase stability and allow for an extra-wide bow. Plus, the use of outboard power results in enhanced handling, increased corrosion resistance and a shallow draft. www.starcraftmarine.com

Striper 200 CC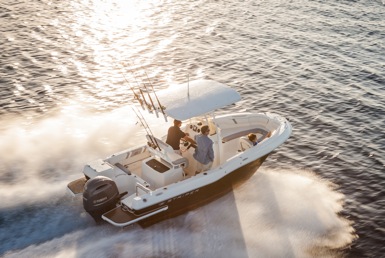 Performance and functionality are critical to a fishing boat, and this compact center console has them both. Outboard options range from 115 to 200 hp, with motors available from Mercury, Evinrude and Yamaha. The 91-gallon fuel capacity is best in class, while the proud bow and noticeable flair promise a stout, dry ride. Standard fishing features are plentiful. www.striperboats.com