Several years ago, my dad (Jimmy Miller) and my cousin (Glenna Acree) arranged a family reunion in the small town of Center, Ky., and that's when this born-and-raised South Floridian was introduced to the incredible boating locales in the Bluegrass State. Since that time, I've logged some amazing cruising adventures on Green River Lake and Lake Cumberland, both nestled in awesome countryside settings. To say I've been mesmerized by their contrasting beauty to my everyday boating world is an understatement.

While on a mix of assignments last fall, I made a trip to my dad's family home with plans to check out the city-side of Kentucky boating. Since my family history weaves across the state, only one locale stood out for a couple of reasons: It was an easy, 90-minute drive up I-65 from our Cave City hotel and provided an opportunity to take a look around Dad and Granddad's hometown. Destination Louisville was a go!  

This time, I opted for a change of boating pace and booked an out-of-the-ordinary excursion along the Ohio River aboard an authentic paddlewheel steamboat, the Belle of Louisville. The crisp, sunny fall day was made for boating as the Belle left the docks, headed towards McAlpine Locks, on to the K & I Bridge and back. 

If you're doing the cruising, RiverPark Marina provides an exceptional docking facility in close proximity to Louisville's downtown. The full-service, 150-slip marina with gated docks offers transient dockage (reservations are recommended) and access to the upscale RiverPark Place complex and its amenities.        

My initial visit to this history-rich city delivered a pleasant surprise wrapped up in a vibrant downtown riverfront with something for everyone all within easy walking distance. However, a trip to Louisville wouldn't be complete without visiting Churchill Downs and the Kentucky Derby Museum. Your to-do-list should include a sampling of Derby Pie and cool Mint Juleps, also.

The fast-paced day afforded a memorable experience exploring some of the city's riverfront destinations that stand as a tribute to the Louisville of then and now. 

Belle of Louisville

Built during yesterday's steamboat era, she was christened Idlewild when launched in 1914, renamed Avalon in 1948 and ultimately became the Belle of Louisville in 1962.  From her calliope signaling boarding time to the paddlewheel-driven steel hull, enjoy a delightful back-in-time excursion aboard the last of those authentic river steamboats that helped grow today's Heartland waterways.

The Belle and her wharfboat Life-Saving Station #10 were elevated to a national treasure status in 1989 when both were honored as National Historic Landmarks. As the grand lady turns 100 this year, the annual Belle's Big Birthday Bash cruises into a mega-party that spans a course of six days with the Centennial Festival of Riverboats from October 14 to 19 at Louisville Waterfront Park. The celebration of the Belle's milestone birthday boasts nine different riverboats from around the country and showcases Louisville's historical mix of art, bourbon, food and music.

Fourth Street Live!

This pulsating entertainment district has been re-styled from its former Galleria days with a selection of restaurants, clubs and Makers Mark Bourbon House, along with outdoor concerts and events.

Galt House Hotel

It was initially the home of Dr. W. C. Galt and developed into a 60-room hotel in 1835, until most of its original structure was destroyed in 1865 by fire. Some years later, a new building emerged as a social hub for nearly 50 years; however, changing trends delivered economic woes that closed its doors in 1919 followed by demolition three years later.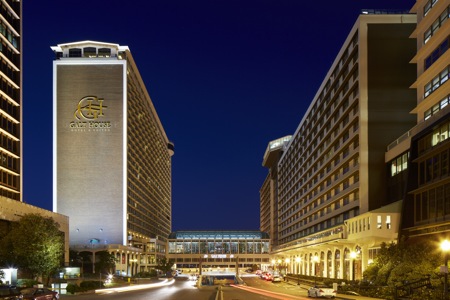 The city's dramatic 1973 Riverfront Urban Renewal Project ushered in a new Galt House, and by 1985, a newly constructed east tower welcomed guests to Kentucky's largest hotel. Today, the hotel is one of Louisville's iconic landmarks; the oldest and only riverfront hotel in the city with a spectacular skywalk (housing a conservatory, café, greenhouse and aviary) that bridges both hotel towers. Its historical significance is enhanced by a legendary list of visitors that includes presidents and celebrities.

Louisville Waterfront Park

Thanks to the efforts of the Waterfront Development Corporation (WDC), this once-upon-a-time underutilized area of abandoned buildings has been transformed into an amazing 85-acre park along the Ohio River banks. Attracting some 1.5 million visitors annually, the complex blends the outdoor and riverfront environs with a dynamic setting that provides dockage for the Belle of Louisville and sister ship Spirit of Jefferson, a center stage for over a 100 yearly events, or a great spot to relax and watch a variety of river traffic cruise by.

The downtown oasis has been applauded with various design and environmental awards, including an impressive accolade in 2006 as one of the Top Ten Urban Parks in the country by the Urban Land Institute. 

Captain's Quarters Riverside Grille

While prepping for my Louisville assignment, I heard lots of chatter about a local favorite called Captain's Quarters, and research unfolded an interesting chapter in my Kentucky family tree.

As history tells it, Harrods Creek (named for Col. James Harrod) was laid out by the Transylvania Company (my five times great-grandfather Col. Richard Henderson was a founder) prior to the turn of the 19th century. Harrods Tavern was strategically built and became a stopping point for boats headed downriver. Today, its stone walls remain part of a new boaters stopping point known as Captain's Quarters Riverside Grille. 

The short, scenic drive from Louisville along River Road was a must, providing a panoramic blend of riverfront and countryside vistas. The day had slipped away, allowing just enough time for a quick walk around what is best be described as a "boater's haven." Since I wouldn't miss another Kentucky cruising adventure, I've added a Captain's Quarters excursion to my calendar this year…stay tuned!   

Louisvile Resources:

Belle of Louisville – (866) 832-0011, www.belleoflouisville.org

Centennial Festival of Riverboats – www.festivalofriverboats.com

Louisville Convention & Visitors Bureau – (800) 626-5646, www.gotolouisville.com

Louisville Waterfront Park – (502) 574-3768, www.louisvillewaterfront.com

RiverPark Marina – (502) 292-4620, www.riverparkplace.net