It was a rare trifecta. We had an invite to visit one of our favorite Ohio vacation destinations on a prime summer weekend, a Sea Ray deckboat at our disposal and our timing to visit Kelleys Island would coincide with Homecoming Weekend, one of the most popular annual events on the 3,000-acre Lake Erie Island.

We started making plans as soon as the opportunity presented itself and were able to book a dock at Portside Marina and a two-bedroom suite at the Quarry Condominiums, a stone's throw from the village's downtown waterfront shopping and dining area.

Homecoming is part of a half-dozen УthemeФ or holiday weekends celebrated on Kelleys. It's also one of the busiest times of the year, so it pays to plan as far in advance as possible to line up dockage and accommodations if you plan on going.

One of the reasons Kelleys is so popular among boaters is that it's close to mainland Ohio and the marinas and public launch areas that serve boaters who want to visit the island. In our case, it was a four-mile cruise east by northeast from the MarineMax docks on Catawba Island, which is really more a peninsula connected to the Buckeye State by short causeways.

On a sunny Friday afternoon, we boarded our 260 Sundeck for the cruise to Kelleys. Clearing the West Harbor breakwall, we entered Lake Erie's South Passage waters, which separate mainland Ohio from its islands. With the Bass Island chain and the popular port of Put-in-Bay three miles to our north, we pointed the bow of the Sea Ray east toward Kelleys Island on the horizon, using the distinctive water tower that looms over the downtown area as a mark.

The relaxed run toward Kelleys took us past sailboats, charter fishing boats and a dense flotilla of powerboats, large and small, anchored off the island's southeast shore. We later learned the pack of boats were anchored over a popular schooling area for yellow perch, and anglers aboard were Уperch jerkingФ as fast as their baited lines hit the bottom 30 feet below.

Approaching and hailing the marina on VHF Channel 68, we were met by a dockhand and directed to our slip at Portside, which on that Friday was filling up fast with boaters arriving for the weekend. Some were in craft big enough to sleep aboard; others, like us, shuttled luggage to nearby motels, guest houses and rental condominiums. We were grateful for Portside's central location, within walking distance of most of the shops, restaurants and attractions we frequented over the next two days.

Land-Based Fun

For ground transportation, we rented a golf cart from Portside and used it to get to some of the Homecoming events staged across the island, as well as for general sightseeing throughout the weekend. We visited the swimming beach at Kelleys Island State Park on the north side of the island, a straight shot up Division Street from downtown, and the nearby Glacial Grooves, which are dramatic geologic features that were cut through a granite outcropping by retreating glaciers eons ago. We also used the cart to explore the island's back roads and discovered a small, sandy beach off a dead-end that we vow to return to someday.

Meanwhile, the Homecoming festivities, starting with a parade on Saturday morning, kept us occupied. After that, we headed inland on the cart to the school grounds for a barbecue, games, live entertainment and a flea market. We then cruised along Lakeshore Drive to look at the stately — and sometimes quirky — waterfront homes on one side and boats of all shapes, colors and sizes enjoying Lake Erie's sparkling waters on the other.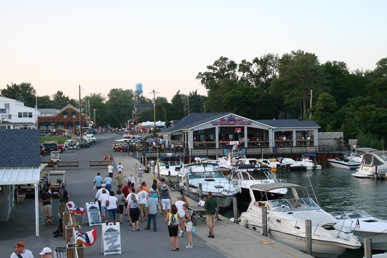 The Kelleys Island Ferry arrives.

We ended the afternoon at The Village Pump, an eatery in the heart of downtown across from Portside. We enjoyed an early dinner of fried clams, perch and a pitcher of their famous Brandy Alexanders, followed by a requisite nap aboard the Sundeck while our son fished off the transom in the marina. Three rounds of miniature golf under the lights and a moonlit cart cruise to the state park and back served as the night's entertainment.                                                                      

On the Water

To get an active start to our Sunday morning, we walked east along Lakeshore Drive to Inscription Rock Park to see petroglyphs, believed to have been inscribed by members of the Erie Nation more than four centuries ago. After checking out of the condo and packing the boat, we assembled an impromptu picnic lunch at the Island Market and hopped aboard the Sea Ray for a round-island tour, using the boat's portable cooler to keep everything chilled.

We arrived at the beautiful bay off Kelleys Island State Park campground around lunchtime, where we anchored in the sandy shallows and swam, fished, relaxed and did some beachcombing. We snorkeled in the clear waters off Camp Patmos children's summer camp on the east shore, following smallmouth bass and sheepshead through the weed beds and chasing them across the rocky bottom, and took turns towing each other in an inflatable raft we had brought along.  

Enjoying our Sunday afternoon afloat, we delayed our return to the mainland until I spied a storm cell looming over the horizon to the west. With little geography to break winds sweeping east across the Great Plains, and shallow waters for the breeze to kick up, Lake Erie is famous for producing fearsome boating conditions with short notice. The threat of foul weather prompted us to make a beeline for the mainland, where we arrived at the dock just before a squall blew through to provide a fitting end to a summer weekend enjoying a classic Lake Erie Island.

Visiting Kelleys Island

Anyone with plans to follow in our wake to Kelleys Island — by private boat or island ferry — should start the looking and booking process as early as possible, especially if they plan to visit on prime summer weekends such as Fourth of July, Island Fest (July 19-21), Homecoming (August 17-18), Tall Ships Visit (August 29) or Labor Day.

Call 419-746-2360 or visit www.kelleysislandchamber.com for the island's summer schedule of events and a list of marinas and accommodations, including The Quarry condominiums and a score of bed and breakfasts in beautiful, often historic, homes that line the waterfront.

The Kelleys Island Ferry, out of Marblehead, Ohio, due south of the island, takes vehicles towing trailered boats and is a good alternative for those who don't want to cross Southwest Passage aboard their own vessel. 419-798-9763; www.kelleysislandferry.com

Portside Marina is one of several marinas offering transient dockage to visitors arriving by private boat. 419-746-2668; www.portsidemarinaaki.com  

An excellent trip-planning source for the entire area is the Lake Erie Shores & Islands Welcome Center. 800-255-3743; www.shoresandislands.com