The waters of Lake Rathbun, which span some 11,000-square-feet, are known for boating, hunting, camping and fishing. Located in southeast Iowa and created for flood control and recreation in the early 1950s, the lake is surrounded by 155 miles of shoreline and 21,000 acres with eight wooded parks and restored native grasslands. Because of its size and prevailing winds — yes, they really do call it Iowa's Ocean — Rathbun Lake is also one of the best places to sail in the state.            

Inland, it's all small town charm: historic villages with downtown dining, shopping, cultural activities and unique local museums like the Appanoose County Historical & Coal Mining Museum and the Exline Hose Co. #1, a replica of an early 20th century firehouse with vintage fire and gas trucks. 

Where to Dock

Southfork Marina & Campground has both covered and uncovered slips for boats up to 50 feet and rents kayaks. Buck Creek Marina not only has high and low water ramps, covered slips for boats 24 to 60 feet, uncovered for craft 22 to 70 feet, a retail store and bait but also pontoon, fishing and power boat rentals. www.rathbunlakemarinas.com

Where to Stay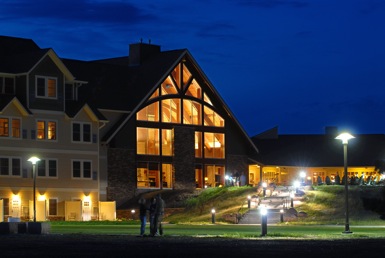 Honey Creek Resort State Park, on the shores of Rathbun Lake near the town of Moravia, is a luxurious way to "rough it," with  105 guest rooms and 28 luxury cottages, golf course, spa, indoor water park  and watersports rentals. All resort amenities are available for those staying at one of the Honey Creek's 20 RV spaces, which feature electrical, water and sewer hook-ups as well as on-site trash collection. www.honeycreekresort.com

Built in 1867, the One of a Kind Bed and Breakfast, a historic 34-room manse, is just 12 miles from Rathbun Lake. Its One of a Kind Tea Room serves breakfast (be sure to order the freshly made cinnamon rolls), lunch and dinner, and there's a gift shop, antiques, needlework, and art supplies and reproductions — many made on-site. www.oneofakindbedandbreakfast.com

Where to Eat

Built in 1892, the Continental Hotel (originally called Wagon Home) has been totally restored to its original grandeur and is part of Centerville's charming downtown, offering gourmet fare and both indoor and streetside dining. www.thecontinental.info/

Order an ice cream sundae at the old fashioned soda fountain, or grab breakfast or a burger, at the Exline Country Store and Antique Exchange in the tiny coal town of Exline, population 191. www.exlinecountrystore.com

Enjoy the view at the Rathbun Lakeshore Grille at Honey Creek Resort while breakfasting on Eggs Benedict or dining from a menu featuring such selections as Iowa Cobb Salad, Walleye with Citrus Pecan Butter and a Maytag Tenderloin (remember that Maytag blue cheese is local in Iowa). www.honeycreekresort.com/dining

What to Do

Want to pick up a souvrenier or something for that special someone? Peruse the offerings at The Shoppes at Bradley Hall, which has a bridal and baby registry. The converted, 22-room mansion in Centerville was built in 1909. www.bradleyhall.info

The Iowa Department of Natural Resources offers all sorts of sites to see and things to do. Take a tour of the Rathbun Fish Hatchery in Moravia, where about a million kinds of Iowa fish and 50 million walleye fry are raised each year. Or, grab a paddle and ease your way along the self-guided, 20-mile Rathbun Water Trail, which is designed for all levels. A downloadable map provides access points and other information. www.iowadnr.gov

The Moravia Fall Festival, Appanoose County Fair and Pancake Day (now entering its 66th year) are all annual events near Rathbun Lake. Both Albia and Centerville have old fashioned courthouse squares that are delightful to visit.

Guide to Fishing

Everyone who casts a rod in Rathbun Lake has a fish story or two to tell. But, trust us, they're really true. Huge walleyes — up to 14 pounds — have been brought to shore, and pan fish like crappies, channel catfish, and striped and white bass are said to abound.

Good fishing spots include the Rathbun Reservoir (amenities include boat rentals, beach, trails, playground, camping and concessions), Ham Creek and Fowler's Point. For 24-hour fishing, the North Boat Ramp provides around-the-clock access.

Fishing guides pinpointing up to 40 hotspots are available, and Lucky Leo in Moravia offers charter fishing trips; he supplies the bait and equipment, and with his 40-plus years of experience, knows where to go for crappie and walleye. www.lakerathbun.org

The Lake Rathbun Crappie Club sponsors fishing tournaments, so check out their calendar for upcoming events. www.lakerathbuncrappieclub.webs.com          

Guide to Hiking

All sorts of hiking options abound here. Watch for deer and wild turkeys while hiking at Lelah Bradley Park on the southwest side of Centerville and follow the 3.5 miles of wooded trails along the banks of Chariton River just east of town. The 8.2-mile Rathbun North Shore Trail connects Honey Creek Resort State Park and Prairie Ridge Park, showcasing the area's waterways, woodlands and southern Iowa prairies.

Both single-use hiking trails like Eagle View, Blue Grass and Turkey Run as well as interpretative trails crisscross Honey Creek State Park peninsula. The trails at Honey Creek State Park Resort, like Savannah Ridge, climb the contours of the land overlooking the water.