For some people, boating is a pastime enjoyed casually and, perhaps, briefly. For others, it's a calling that becomes a lifelong passion. Among the latter group, here are a few of the individuals and families who stand out as major contributors to boating on Heartland waters.
RON & EVA STOB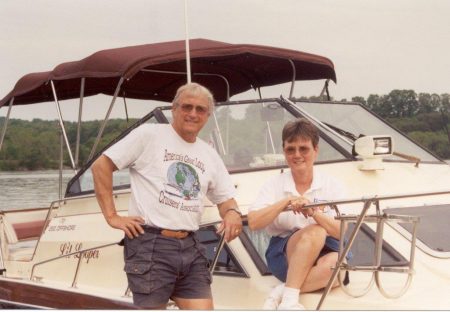 Ron and Eva Stob opened the door for thousands of boating enthusiasts with their book "Honey, Let's Get a Boat…" which chronicles their adventures (and misadventures) during a one-year, 6,300-mile cruise around the Eastern United States. Their entertaining account of traveling on a 40-foot trawler inspired many others to dream about making that trip, and realizing there was a growing interest from folks who wanted to follow in their wake, the Stobs formed the American Great Loop Cruising Association (AGLCA) in 1999. Under their eight-year guidance, nearly 4,000 people became members. (Janice and Steve Kromer took over in 2007.) The Stobs have continued cruising the inland waterways, photographing and writing about their trips. They still attend most of the AGLCA's Fall Rendezvous in Tennessee, where Loopers and wannabees gather to share information and swap tales. AGLCA membership has reached more than 12,000, with at least 615 known completed Loopers — and it was the Stob's tale that started it all.
MILDRED QUIMBY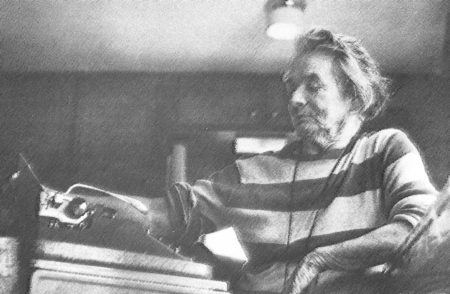 River cruisers are indebted to a one-of-kind woman named Mildred Quimby, who was a working journalist before she published her first "Harbor Guide to the Upper Mississippi" in 1963, in which she collected important cruising information covering 367 river miles. That venture became "Quimby's Cruising Guide," which is now published annually and covers 9,436 miles on 23 navigable waterways. Quimby explored the Mississippi in a 16-foot boat with her dog, taking notes and hand-drawing illustrations. In the winter, she traveled river roads to both gather information and sell her guides. A dealer in Wisconsin recalls going to work one morning to find that Quimby had spent the night in her car in his parking lot. Her guides, referred to as "the bible" for river boaters, expanded as cruisers eagerly ventured further from home. John Bickel, National Rivers Hall of Fame board member, says with the highest degree of respect, "She was a true river rat. What she put together was like a AAA guide for boaters."
CHARLES & FERN HOPKINS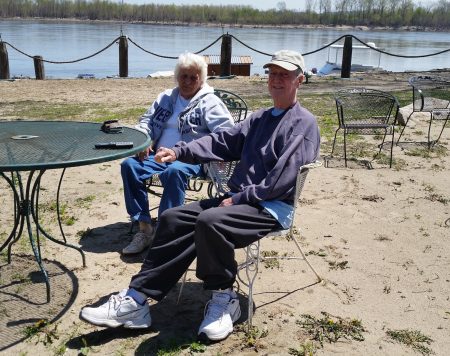 Mildred Quimby regularly traded information with Fern Hopkins at Hoppies Marina in Kimmswick, Missouri, just below St. Louis. Fern and her husband, Charles, were known as great sources of river news — and still are. Their facility, founded in 1934 by Charles' father, is a collection of barges tied together that almost every passing boat stops at not only for fuel but for Fern's daily "Chart Chats." Fern sits with travelers every afternoon and points out spots of interest, hazards and other important features on whatever river they plan to ply. She gathers information from both professional and recreational captains who call her with updates. Up to 300 travelers a year stop by, and many speak highly of the Hopkins' skill at docking their boats on a river that can have an extremely strong current. Fern has taught more than one new skipper how to dock and tie lines. Although Fern will tell you that her husband "taught me more about the river than anyone," boaters who contact each other on the water with questions frequently say, "Ask Fern."
CHAD PREGRACKE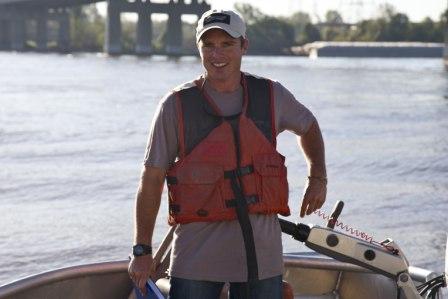 When Chad Pregracke was a teenager, he started clamming on the Mississippi River with his brother, Brent, and lived on islands. The amount of trash he saw upset him enough to motivate him to begin a one-man quest to clean up the river, one mile at a time. Today, his effort has become Living Lands & Waters (LLW), a non-profit environmental group that uses a fleet of barges, tow boats and heavy equipment to facilitate the efforts of volunteers who slog through mud and muck gathering trash. Based in East Moline, Illinois, the organization has worked on 23 rivers in 20 states, with almost 100,000 volunteers having removed 8.7 million pounds of debris. Pregracke's unflagging energy, enthusiasm and ability to motivate individuals and companies have produced joint efforts for a common purpose. He has been repeatedly honored, including being named as the "Hardest Working Man in America" and the "2013 CNN Hero of the Year." LLW has expanded to include an Invasive Species Removal program and a Million Tree Project for replanting native hardwoods along the rivers. Its Adopt-A-River-Mile program encourages on-going participation. Pregracke says one of his goals is to collect a million pounds of trash a year. "What we do," he said, "is just out of necessity."
IKE HASTINGS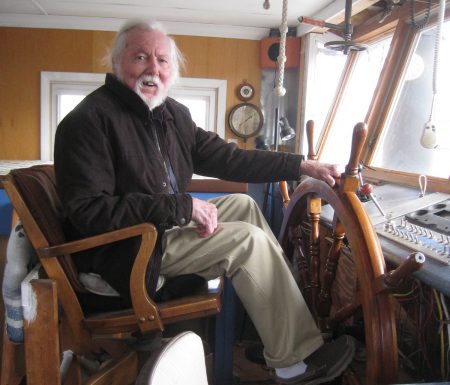 In 1960, Ike Hastings began cruising the inland waterways in a sternwheeler named Lilly Belle that he built on the Mississippi River. Since then, he has logged some 80,000 river miles, including traveling to the Ohio and Kanawha rivers over 45 times, often single-handed, so he could race his boats. His one longstanding crewmember was Harry, a parrot. Hastings sold the Lilly Belle to the Audubon Society in 2000 and captained her for three years while he built a replacement, which was the 47th boat he had built. Named the Pickett Hastings, he piloted it in the History Channel's "Mississippi Men" TV series in 2015. Both boats had barges as "front porches." They carried flowers and tomato plants, a fireplace and sometimes his Triumph Spitfire sports car or Ridley motorcycle. Occasionally, he carried his homemade amphibious plane. Hastings was an art teacher and still is an artist, known for loving fun, adventure, a good story and especially dancing with the ladies. Hastings will be 92 this year and recently decided to sell his boat. But, he said, with a twinkle in his eye, "People need to find their interests. I really need more than one lifetime to follow mine."
HANSEN FAMILY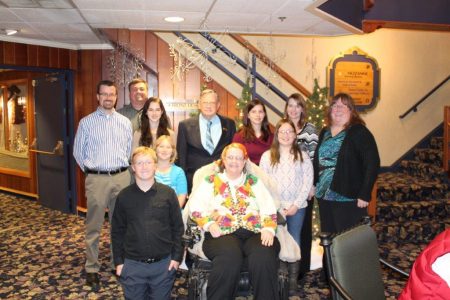 Lake Pepin is a spot on the Mississippi River where it becomes lake-like for about 22 miles as it spreads out up to 2.5 miles wide. The Hansen family, now working into their fourth generation at Lake City, Minnesota, has been operating Hansen's Harbor here since 1952. A. Martin Hansen started the marina when he dredged an entrance to an existing pond. Now there are 336 slips, plus a dry stack, multi-certified service department, large ship store and parts department, boat rentals and a sand beach. Peter Hansen began working there as a youngster, then took over management in 1972 and became widely known as a mechanic. He's still active, but now his son, Allen, is the manager. Allen began working there when he was 10, and his children now help out, too. Hansen's has focused on being environmentally sensitive, so the docks are 75 percent recycled material, including timbers from an old fishing barge. Many of the barrel floats are discarded food containers. Allen is proud to note the marina is privately owned, pays its taxes and gets no government funding, which, he said, is a rarity.
GARY FAMILY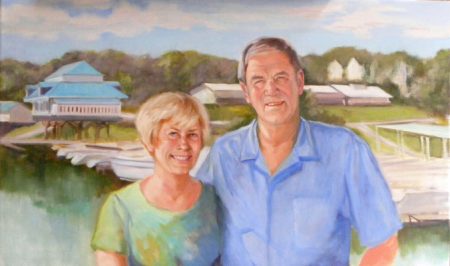 A boat trip in 1970 sparked an interest that eventually became Green Turtle Bay Resort & Marina on Barkley Lake. After Bill Gary III, two of his children and another family cruised to the Port Ken-Bar Marina, he never forgot it — and bought it in 1984. Green Turtle Bay now consists of a marina, dry stack, condos, spa and health club, two restaurants, a conference center and more. What helped turn the facility into what has been voted the "Great Loopers Best Stop" was the opening of the Tennessee-Tombigbee Waterway in 1985 and a dedication to first-class customer satisfaction. Bill III's wife, Bette, helped with policy, including organizing ideas coming from annual employee brainstorming sessions. Daughter, Vida, now president, started as a clerk and managed every new department. Bill IV came aboard after pursuing a dream of acting in Los Angeles. His transition to harbormaster was greatly aided by an existing competent staff. His wife, Machelle, is also involved. When a sales division was added in 2007, Vida's husband, Bill Huffman, took it on. Now Bill IV's children, Elliot and Isabelle, are breaking into the business. After considering then rejecting selling the marina last year, Bill III said, "This is a family affair if there ever was one."
PORTER FAMILY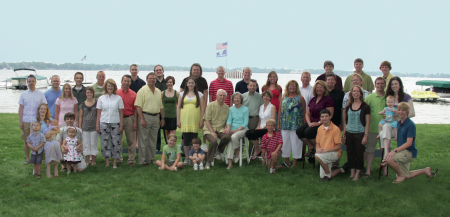 Victor B. Porter started in the marine industry more than 60 years ago. As chairman of Thunderbird Products, he has created a family enterprise spanning three generations and including more than 14 relatives. Vic was involved with several small boat companies before he began producing Signa and Formula boats. Signa's production ceased in 1979, but the Formula brand has grown considerably from its home in Decatur, Indiana. The family's business tree has many branches: Vic's wife, Kris, worked there. Five of his six children, who refer to themselves as G2 (Generation 2) are actively involved, along with eight other family members working full time. Several other grandchildren work part-time. G2 consists of Grant, executive VP; Wayne, VP sales; Jean Porter Brune, VP marketing; Ted, VP human resources; and Scott, president. Scott's wife, Shelley, works on promotion and information technology. G3 is now involved, along with some employee families, too. The key to their success, said Wayne, is their capacity to combine challenging each other with working together civilly.
ST. CLAIR FAMILY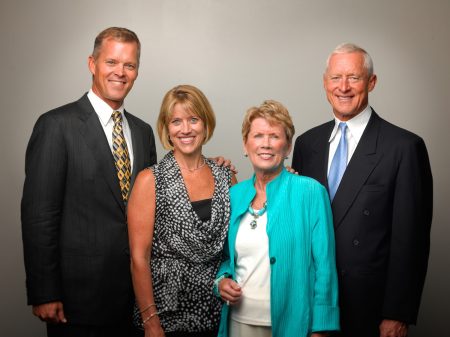 Paxson "Pack" St. Clair's business of making fiberglass slides for children wasn't working out, so in 1968 he began building boats. Sales were so-so until he saw a potential market for uncompromising, premium-quality boats. Today, Cobalt Boats in Neodesha, Kansas, repeatedly leads the industry in customer satisfaction surveys from J.D. Power and Associates and the National Marine Manufacturers Association. Pack's son, Paxson, is now CEO. His introduction to the business included a year in retail sales with a dealer. Pack's son-in-law, Sean Cullen, serves as president. A third generation of the family is involved in a variety of ways, along with an "extended family" of the talented craftsmen who have long built the boats. Many are farmers/factory workers and are part of a culture that stresses ingenuity, pride in workmanship and small-town values. Their sensibilities were illustrated when Cobalt opened a plant in Tennessee then closed it because it couldn't duplicate the Kansas facility's quality. It is that culture over the last 45 years, Pack said, "that has been the backbone of our success."
Author: Gary Kramer is a regular contributor to HeartLand Boating magazine