For more than a century, families have fled the stifling summer heat and crowds in Midwestern cities to seek respite on a cool, distant lakeshore. Twin Cities residents flocked to Lake Minnetonka, in Longfellow's celebrated "land of the Dacotahs," while Chicagoans rumbled northward to tony Lake Geneva, Wis. They still do so today.
And, in the heart of that transitional landscape where forest gives way to rolling prairie, urbanites from hundreds of miles across Iowa, Nebraska, Minnesota and South Dakota continue to converge on Okoboji.
The Iowa Great Lakes
Tucked against the Minnesota border in rural northwestern Iowa are six clear glacial lakes with a combined 12,000 acres of water and nearly 70 miles of shoreline. Comprising Iowa's largest natural lake, Big Spirit Lake, and five interconnected smaller lakes — West Lake Okoboji, East Lake Okoboji, Upper Gar, Lower Gar and Minnewashta — these are the Iowa Great Lakes, also known collectively as "Okoboji."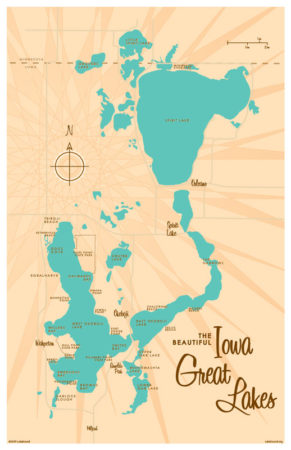 Accomplished sailor, photographer and adventurer David Thoreson grew up just southeast of the lakes, in the small community of Algona, Iowa. In the years since, he has traveled around the world, becoming the first American sailor to navigate the Northwest Passage in both directions, completing a 28,000-mile circumnavigation of the North and South American continents under sail, and logging more than 70,000 bluewater miles. Yet he always returns to Iowa.
"These lakes are gems," Thoreson said. "There aren't many like the upper Midwest's glacial lakes. They're natural, they're deep, and they're so pure and clear I would drink out of them in the springtime. In that sense, our lakes are very much like Lake Minnetonka and Lake Geneva, but we don't have a city nearby. Local people will make day trips, but the rest are traveling from Des Moines, Omaha, Sioux Falls and even farther."
The boating culture is strong in Okoboji. Generations ago, sailboats and steamers carried passengers from their trains to beloved summer cottages and genteel waterfront inns. Traditions took root, and they hold fast today.
"We're at the western fringe of scow sailing," Thoreson said. "My mom taught me to sail on an X boat. We all raced those things at the Okoboji Yacht Club when we were growing up. Buddy Melges has sailed here dozens of times. We have one of the highest average wind speeds in the country, and the winds are steady, so we have a lot of windsurfing and kiteboarding as well as sailing."
Trailer Boating Tips
Power enthusiasts won't be disappointed, however, particularly if they're trailering their boats. Okoboji is all about access, with plenty of options for launching at an area ramp, renting a slip at a local marina and even renting a boat if you're traveling without yours.
"You can dock at Okoboji Boat Works, for example, and walk to local restaurants," Thoreson said. "We also have nice state parks with public ramps. Once you're on the water, you can run for miles in one direction; it reminds me of the BVI's inner basin in that way. You also can explore miles of shoreline, so many bays, quiet anchorages, beaches and points, and probably a dozen waterfront bars and restaurants."
According to Thoreson, the best anchorages are on West Lake Okoboji's west shoreline, since the wind and incoming weather systems tend to come out of that direction. Those looking for a party atmosphere might want to check out Millers Bay, near the yacht club; the weekend raft-ups are legendary. And for a quieter experience geared toward outdoor recreation, look no farther than Emerson Bay State Park.
"It's a great spot to anchor," Thoreson said. "It also has a public launch, so you can combine camping and boating. Bring your bikes or your running shoes, too, so you can check out the Iowa Great Lakes trail and the other trails around the lakes."
Don't miss Arnolds Park, a 125-year-old, White City-era amusement park on the shores of West Lake Okoboji. While the park continues to offer carnival-atmosphere thrills and family fun, it also hosts art festivals, a clean-water festival, live music and more.
"All the trails run there," Thoreson said. "You can drop the hook offshore and listen to live concerts on the green, and you can see fireworks every Saturday."
Summer Delights
Okoboji also is home to the Iowa Great Lakes Maritime Museum, located at Arnolds Park adjacent to the Iowa Welcome Center. Exhibits include a fully restored boathouse, 25 classic wooden runabouts, amusement park relics and period clothing.
"Some of the old wooden boats were raised from the bottom of the lake and restored, while others were just raised and left alone," Thoreson remarked. "There's a lot down there. This is a great snorkeling and diving area — not just because the water's so clear but because you can see actual wrecks. Passenger sailboats from the days before steam, even an old dairy truck!"
For a more hands-on experience of Okoboji history, you can hop aboard the Queen II for a cruise. This "flagship of the Iowa navy" is younger sister to the original Queen steamship, which was retired in 1973 after a whopping 89 years of service.
Other local highlights include the Okoboji Summer Theatre, a veteran college theater featuring young actors from Missouri's Stevens College; Pearson Lakes Arts Center, with its impressive array of summertime exhibits, events and classes; and the University of Okoboji, a fictitious institution started by three enterprising brothers 30 years ago, whose calendar now includes the annual U of O Homecoming Weekend, an antique and classic boat show and popular sporting events that range from a marathon, half-marathon, triathlon and open swim to golf, biking, tennis and softball.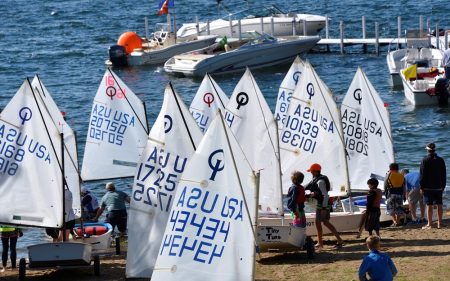 As Thoreson noted, visitors to West Lake Okoboji will have more than enough to keep them busy. And for sailors, that is the main sailing lake, unless you're able to drop your mast. If you're fortunate enough to have a lower-profile powerboat, however, it's worth the effort to cruise beneath the fixed U.S. Highway 71 bridge and access East Lake Okoboji and the rest of the chain.
"If you also can get up to Big Spirit Lake, it's worth it," Thoreson advised. "It has fewer services, but it offers beautiful, tremendous boating. And, it's so shallow, you can anchor anywhere."
Regardless of which lake you choose to explore, don't forget to bring your fishing gear. In these crystalline waters, you'll find walleye, northern pike muskellunge, largemouth and smallmouth bass, perch, crappie and bluegill.
And, along the way, take the time to visit with those who call Okoboji home.
"There's a lot of family tradition here, with so many nice people," Thoreson said. "They keep coming back, with their kids and then with their grandkids. It's such a good heartland community."
For their part, Thoreson and his wife, Kirsty, split their time between Okoboji and Keystone, Colo. When they're in Iowa, they operate The Wine Bar and Art Gallery, as well as Thoreson's adjoining Blue Water Studios. Thoreson said they're always happy to return, summer after summer.
"Once Okoboji gets in your blood, you love it," he observed. "You always come back."
For more information about Okoboji and the Iowa Great Lakes region, visit vacationokoboji.com.
Author: Heather Steinberger is a contributor to HeartLand Boating magazine