Part of the fun of traveling on or along Heartland waterways is discovering new places, new people and, for some, new restaurants. To help you reach the levels of gastronomic joy, we've compiled a list of our all-time favorites — along with one promising new spot.
Harbor View Cafe – Pepin, Wisconsin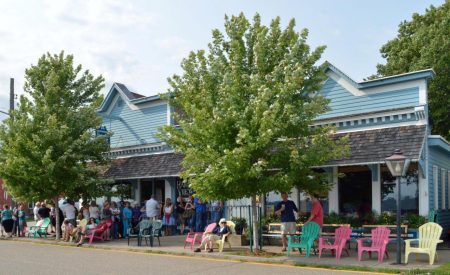 On the east shore of Lake Pepin, where a bulge in the Mississippi River creates lake-like conditions, the award-winning Harbor View Cafe sits in a small, cozy, waterside spot. Some consider it the finest restaurant in the Midwest and beyond. Started in 1980, its motto is "Best from Scratch," and the ever-changing menu is posted on a chalkboard that is updated twice daily. The restaurant offers "elegant, eclectic food," favoring high quality, fresh ingredients with an emphasis on locally produced and served in a congenial and casual atmosphere. Its signature dish is halibut with black butter caper sauce. Harbor View doesn't accept reservations, but folks calmly line up outside during the season (from March to November 20) and chat amiably or sip cocktails while gazing at the lake. www.harborviewpepin.com
Grafton Oyster Bar – Grafton, Illinois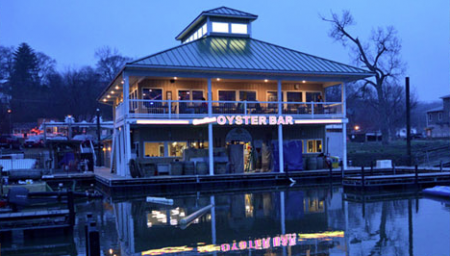 The Grafton Oyster Bar at  Grafton Harbor Marina, where the Mississippi and Illinois rivers meet, just opened in March. It's a sister restaurant to the wildly popular Broadway Oyster Bar in St. Louis, which makes it a habit of appearing the city's "Best of" lists in the seafood, cajun and creole category. The Grafton location specializes in the same food from its location atop the marina, with sweeping views of the rivers. You can start with appetizers like alligator sausage and shrimp cheesecake, move on to Shrimp Voodoo or order oysters prepared in one of seven ways. The seafood menu is constantly changing, so there are daily fresh fish specials. For dessert, ask for the signature bread pudding, even though it's not on the menu. www.graftonharbor.net/oysterbar.html
Fast Eddie's BON AIR – Alton, Illinois


Fast Eddie's BON AIR is just downstream from Grafton in Alton, Illinois. It was opened in 1921 by Anheuser-Busch to serve its products, but its modern era began in 1981 and it's now one of those "you have to see it to believe it" places. Considered as perhaps the No. 1 volume bar in the region, it seats 400 but standing room is at a premium on weekends. A big draw is the menu of burgers, shish kabobs, homemade bratwurst and boiled shrimp, with prices topping out at $3.99 for the Big Elwood on a Stick (marinated tenderloin). Then, they drop to $1.99 for the half-pound Fast Eddie Burger and drop even further to $.99 for the french fries that come in a "big ol'" half-pound basket. www.fasteddiesbonair.com
Jack's Bar-B-Que – Nashville, Tennessee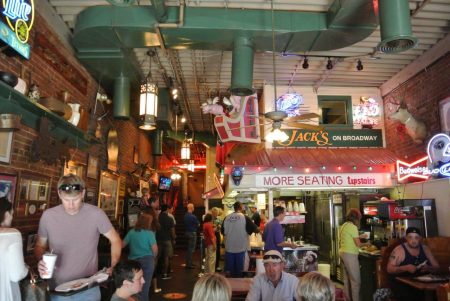 It's just a short walk from the Nashville courtesy docks to Jack's Bar-B-Que, located in the heart of Music City's honky-tonk strip. Dating back to 1989, it quickly became a place visitors told others about. It now serves more than 750,000 diners a year. Widely considered to be one of America's best barbecue restaurants, its unique sign with three flying pigs is easy to spot. The menu in this casual dining atmosphere features plate servings or by-the-pound choices, all served with award-winning sauces. Among other options, you can get Tennessee pork shoulder, smoked Boston turkey, St. Louis-style ribs, Texas beef brisket or smoked Texas sausage. www.jacksbarbque.com
Patti's 1800's Settlement| – Grand Rivers, Kentucky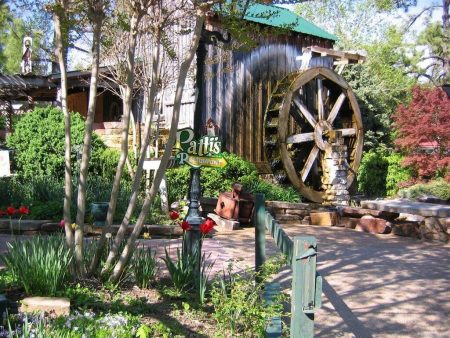 Patti's 1800's Settlement in Grand Rivers, Kentucky, views itself as more of a destination than a restaurant. It shuttles boaters from Lake Barkley and Kentucky Lake, and offers numerous attractions such as a log cabin village, beautiful gardens, animal park, gold mining, miniature golf, gifts and seating for 400, including outdoor dining in the gardens. Family owned since 1977, it remains committed to its original goal: "Treat every customer as if they were a guest in your home." Repeatedly honored by both food and travel groups, last year it served more than 1,300,000 people — approximately 95,000 of which chose to try the famous 16-ounce, two-inch-thick pork chops. Patti's flowerpot bread is renown, and its "heavenly desserts" include the signature mile-high meringue pie. www.pattis1880s.com
Bobby's Fish Camp – Bladon Springs, Alabama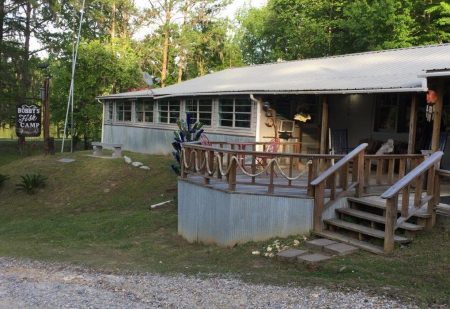 Even though Bobby's Fish Camp in historic Bladon Springs, Alabama, on the Tenn-Tom Waterway only serves food Thursday through Sunday, it's hard to find cruising boaters who've traveled that way and haven't stopped. In fact, many schedule their visits just to eat Bobby's catfish, fried or grilled, which is considered among the best anywhere. Owned by the same family since 1956, this no-thrills spot displays all manner of artifacts and collectibles. It's about as far from a chain restaurant as you can find and doesn't even have a website. Homemade tarter sauce comes with the fish and so do hush puppies, fries and cole slaw. Shrimp, a seafood platter and fried dill pickles are also favorites, while sweet tea is the drink of choice.
Lulu's – Gulf Shores, Alabama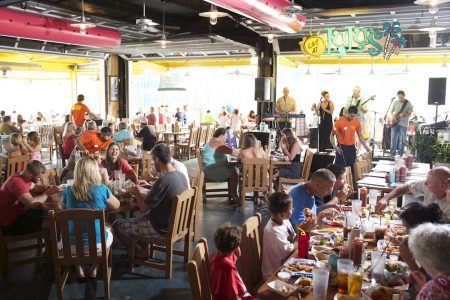 People go to Lulu's in Gulf Shores, Alabama, for food and fun. It's owned by Lucy Buffett, whose brother, Jimmy, is well known to boaters as an uber-successful musician and piratical Caribbean poster child. Located on the Intracoastal Waterway, the family friendly environment boasts an arcade, three-story climbing rope course, large inflatable spheres that allow you to to walk across water, face painting, volleyball nets, a large beach with plenty of toys, and a Fountain of Youth to cool off. You can enjoy all this while waiting for your table. Understandably, the Cheeseburger in Paradise is popular, along with seafood gumbo and the Gulf Wild Fresh Snapper Sandwich. There's even a new "allergy menu," serving dishes for folks with six different types of allergies. www.lulubuffett.com/gulf-shores/
Author: Gary Kramer is a regular contributor to HeartLand Boating