Boaters cruising Patoka Lake, Indiana's second largest manmade body of water, will enjoy a short inland excursion to nearby French Lick and West Baden, where the sweet scents of blooming gardens set amidst the splendor of two early 19th century resorts have been enticing visitors for more than a 100 years.

Despite their setting far off the beaten path, the early days of French Lick Springs Hotel and West Baden Springs Hotel were grand. At one time, 14 trains a day transported passengers to the two resorts. Glamorous movie stars (the Marx Brothers, Lana Turner, Bing Crosby and Bob Hope), rising political stars (presidential nominee Franklin Delano Roosevelt) and the biggest of the bad boys (Al Capone and John Dillinger) all stayed here.

They came for the Pluto Water, spring-fed mineral water with a sulfuric stench, which was thought to be perfect for restorative baths as well as a purgative for stomach ailments. And they also came for the extravagant dining and a chance to play on the same golf course where Walter Hagen won the 1924 PGA Championship. But the biggest draw was gambling. Illegal in Indiana for decades, it wasn't until 1949 when, as in the movie "Casablanca," officials were "shocked" to discover gambling in French Lick and finally shut it down.

Pluto Water alone couldn't attract enough visitors, and so the glory days of the resorts quickly faded. West Baden was sold to the Jesuits for $1. French Lick, though it remained open, languished, its intricate mosaic tiles chipping and its glorious gilt dulling.

All that changed when the late William Cook, an ardent preservationist who had made a fortune in the medical equipment, determined to make the resort profitable. Opening a casino would accomplish that. But Cook also resolved, at a cost of more than $400 million, to restore both resorts to their former magnificence. It was a gamble built on gambling, once again legal in Orange County, and it worked.

Each resort is architecturally unique. Called the eighth wonder of the world, West Baden, built in 1902, was famed for its free-standing dome. It was the world's largest, a record that held for another 60 years until the Houston Astrodome was built. At the top of the 130-foot-high, 208-foot-wide atrium is a medallion and pendant chandelier that reflects prisms of light, creating an extraordinary light show at night when the dome is darkened. The atrium, with its potted palms and Victorian-era furniture, also boasts an immense Rookwood-tiled fireplace, built in 1917 and valued at over $1 million. According to the Indiana Historical Society, a stay at West Baden Springs Hotel in the 1920s cost twice as much as an overnight at the Waldorf-Astoria in New York City.

Just down the road (and accessible by a walkway or free trolley ride) the Beaux Arts-style French Lick — note to basketball enthusiasts, French Lick is Larry Bird's hometown — is just as majestic. Envision gold leaf, gilded royal crown moldings, hand-painted tapestry ceilings and a broad front porch.

And there's plenty to do.

For the third consecutive year, The Spa at West Baden, with its 28,000 square feet of Euro-style treatments, has made Condé Nast Traveler's list of Top 100 U.S. Resort Spas. The traditions of French Lick Springs Hotel, including its famed Pluto Water, are part of the pampering available at The Spa at French Lick, offering 27,000 square feet of indulgences. Both resorts have indoor and outdoor pools, as well as indoor tennis and basketball. Family activities include hiking, bike rentals and carriage rides. Horseback riders can hit the trail at the stables at West Baden, choosing from three levels of rides. There are also pony rides for children.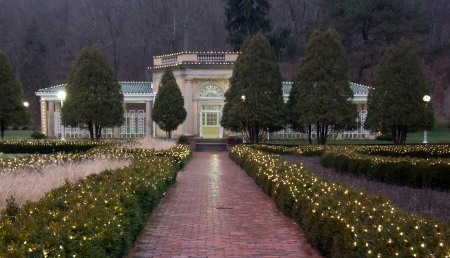 Historic tours are available at West Baden, and Indiana Landmarks also offers seasonal Twilight Tours narrated by historians costumed as some of the famed people who once walked the grounds here, such as noted gangster "Big Jim" Colosimo, golfer Walter Hagen and palm reader Mademoiselle Louise, who charged 50 cents to tell someone's fortune.

The gardens at West Baden are formal, accented with architectural follies and interspersed with walkways. Dining can be casual under the dome at West Baden; at French Lick's Power Plant Bar and Grill, where the large electrical switchboard that once supplied the resort's electricity is on display; or The Grand Colonnade Family Restaurant, with elaborate breakfast buffet. Formal dining can be had both at the 1875 Steakhouse at French Lick or Sinclair's at West Baden, each of which emphasize locally sourced foods.

Children (and adults) will also enjoy the renovated Pluto's Alley on the lower level for the French Lick Springs Resort, which includes six lanes of bowling, an arcade and Pluto's Pizzeria.

The French Lick Casino offers the state's largest non-smoking gambling venue and features more than 1,100 slots as well as such games of chance as roulette, Pai Gow Poker, craps and Texas Hold-em Bonus.

For golfers, there are four different courses, including the 18-hole Pete Dye Course at French Lick Resort, the Donald Ross Course where Hagen won the PGA and the family-friendly Valley Links course that was commissioned in 1907.

Nearby, bird lovers can flock to Patoka Lake, the state's second largest reservoir lake for eagle and osprey sightings. Houseboat and floating cabin rentals are available at Patoka Lake Marina and Hoosier Hills Marina, and there are daily boat tours and monthly wine cruises.

Those traveling with children can find adventure at the 40,000-square-foot Big Splash Adventure Indoor Water Park, French Lick West Baden Indoor Karting and SHOTZ Lazer Tag & Miniature Golf. There are canopy tours at Lark Valley Zip Line, and the French Lick Scenic Railway offers trips through the countryside aboard its historic train cars, plus themed rides such as the Wild West Hold-ups and Murder under the Big Top. Oenophiles can sample wines at the award winning French Lick Winery and shop in French Lick's quaint downtown.

For more information 800-457 4042 or www.frenchlick.com.