Several years before the Pilgrims landed at Plymouth Rock, English settlers were already living on a tract of land nestled on the James River near Richmond, Va., establishing a plantation that would become known as Shirley.
By 1619, tobacco was being harvested on that land, and today, farming continues, making Shirley America's oldest business. Set back from the river on a broad lawn dotted with outbuildings, including a dovecote for raising pigeons (they ate them back then), a smokehouse, stables and masses of colorful plantings, Shirley retains its original grandeur. Its 1738 Queen Anne-style house is today designated a National Historic Landmark.
Not far away, the grounds of the Westover Plantation, built around 1730 by William Byrd II, the founder of Richmond, are always open to the public except for special events, though the mansion, considered one of the most outstanding examples of Georgian architecture in the U.S., is only accessible at certain times of the year. Entering the grounds is easy. Just drive up to the gate and walk on to the sweeping expanse of lawn and trees that lead down to the riverbanks. There's no ticket taker, only a sign suggesting that visitors can leave a donation if they want.
Westover is just as imposing as Shirley, but its atmosphere seems more remote. There are rumors that ghosts walk the grounds, which include 150-year-old tulip poplars. The list of who these wandering spirits might be include Byrd's daughter Evelyn, who died of a broken heart after her father refused to let her marry the man of her choice. (It was that kind of time period.) But ghosts aside, Westover is filled with many architectural points of interest, including a brick outhouse called the Necessarie. Painted in Colonial colors, it has a fireplace and seats six.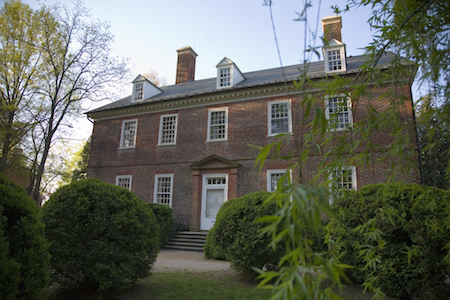 Berkeley Plantation
Plantations like these dotting the banks of the James River as it flows from Richmond towards the Chesapeake Bay are just some of many sights for boaters taking a trip along what was the roadway of earlier times.
Civil War Central
"The history is insane here," says Max Walraven, owner of the Richmond Yacht Basin, located about 10 miles from downtown Richmond. "Varina, the first and largest tobacco farm, is on one side of us and was actually owned by John Rolfe, who married Pocahontas. The north side of the river was a Union stronghold. Fort Brady, a fort involved in several of the Ironclad battles, is there."
Indeed, Fort Brady, open daily to the public, is considered one of the best-preserved Civil War forts in the National Park Service system and is part of Richmond National Battlefield Park.
The 550-acre James River System, which comprises riverside lands and islands on both sides of the river as it winds through the city of Richmond, can be accessed at Ancarrow's Landing on the park's east side. There are also launches for kayaks and canoes and, interestingly, there are Class IV whitewater rapids for high adventure — the fast churning waters are definitely for experienced paddlers only.
Another way to see the city by water is aboard the covered canal boats in Shockoe Slip, which run parallel to the canal path. The canals date back to 1789, when George Washington urged their creation (along with turnpikes) to move goods and people between the east coast and the towns and cities further west. The rides last about 40 minutes and include a historic narration.
Richmond is often described as "Civil War Central," and indeed this historic city (founded in 1607) is filled with mementos of its time as the Capital of the Confederacy. Amidst the downtown's stately red brick Federal-style buildings, the Museum and White House of the Confederacy has one of the largest collections of Confederate artifacts and flags. It's where Confederate President Jefferson Davis conducted his business. There must have been many sleepless nights and anguished decisions made here. But the past ghosts seem benign, not tortured, in this grand Southern home filled with the objects reflecting a certain time and social status — gleaming silver, finely cut crystal, thick carpets and highly polished antiques.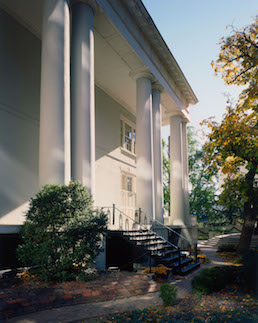 White House of the Confederacy
Swirling Cultures
Life was completely different for the tens of thousands of African Americans whose captivity made Virginia the leader in the slave trade along the east coast from 1830 to 1860. The Richmond Slave Trail follows the pathways taken by enslaved Africans as they were forced to walk, in shackles, along the James River to the auction houses in Richmond and also along the southern banks of the river to be sold in nearby towns. Other sites on the trail include Mayo's Bridge, which was where Africans being sold at the 19th-century markets in Shockoe Bottom walked across the river in coffles or were crowded into carts.
On a bluff overlooking the James River, Agecroft, a Tudor manor dating back to the 1500s, was inspired by possibly the worst husband in the world: Henry VIII (he of four divorced or beheaded wives). Agecroft once stood in pastoral splendor in Lancashire, England, before being shipped stone-by-stone to Richmond in 1926. It is influenced by many of the plants and designs found in English gardens when Henry was alive. Sixteen different outdoor areas dot the 23-acre estate, including an old-fashioned bowling green, which was a popular game in Henry's day. Among the different planting areas is a knot garden of clipped and tied herbs shaped into the form of living baskets. The details are so exacting that one of the herbs growing here is Teucrium, which Henry used to manage his gout.
Fashionable Food
Once you've had your fill of history, there's no shortage of great restaurants and shopping in Richmond's diverse neighborhoods. Two favorites in Carytown, a historic ward filled with trendy shops and eateries, are Acacia mid-town, housed in a former Baptist church, an eclectic upscale restaurant offering outside dining overlooking the bustling street, and Pomegranate, where chef/owner Kevin LaCivita styles his menu on European comfort food inspired by his Italian roots and love of French food.
Located in Richmond's oldest commercial building, built around 1817 as a lumber house and in the city's River District, Juleps features what is styled as New Southern Cuisine — a nouveau take on traditional southern foods.
For shopping, try Shockoe Slip, the city's oldest mercantile district, distinctive for its cobblestone streets and considered one of the city's most fashionable shopping and entertainment areas.
Hook, Line & Sinker
There are a number of marinas on the James River that offer access to the historic sights as well as transient slips, marine repair and other services for travelling boaters.
Richmond Yacht Basin offers limited transient slips, which can moor up to 40-foot-plus boats on the channel with pontoon boat pick-up to the shore, as well as on-water fueling day and night and ethanol free gasoline.
Kingsland Reach Marina in Richmond doesn't have dedicated transient slips but will rent when slips are available for boats up to 40 feet. Amenities include water, electricity, bathrooms and showers, and its website has a handy guide to other facilities and landmarks up river and down river.
Jordan Point Yacht Haven in Hopewell, about 22 miles southeast of Richmond, is a full-service marina offering slip rentals, fuel, repairs and marine supplies, as well as a swimming pool, bait and tackle and snack bar. It's located at the southern foot of the Benjamin Harrison Bridge spanning the lower James River.
The James is known for its catfish, redbreast, bluegill, muskies, rock bass, and large and small mouth bass. And downtown Richmond in late spring/early summer is jackpot time for hickory shad, American shad, white perch and stripers, which move upstream on spawning runs — so be sure to bring your fishing gear and eat like the early settlers did as you cruise through history.
Author: Jane Ammeson is a contributor to HeartLand Boating
---
If You Go
Tourism
Visit Richmond VA, (804) 783-7450, www.visitrichmondva.com
Food & Drink
Acacia mid-town, (804) 562-0138, www.acaciarestaurant.com
Julep's, (804) 377-3968, www.juleps.net
Pomegranate, (804) 447-4365, www.pomegranaterva.com
Marinas
Jordan Point Yacht Haven, (804) 458-3398, www.jordanpoint.com
Kingsland Reach Marina, (800) 348-5735, www.kingslandreachmarina.com/marina/
Richomnd Yacht Basin, (804) 615-4727, www.richmondyachtbasin.com
Attractions
Virginia's James River Plantations, www.jamesriverplantations.org
The Museum of the Confederacy, (804) 649-1861, www.moc.org
James River Park, (804) 646-8911, www.richmondgov.com/parks/parkJamesRiverSystem.aspx
Shirley Plantation, (804) 829-5121, www.shirleyplantation.com
Shockoe Slip, www.shockoeslip.org
Westover Plantation, (804) 829–2882, www.westover-plantation.com