A weekend at the lake conjurers up a myriad of opportunities. In particular, a summer escape to Lake Cumberland presents larger-than-life possibilities that range from high-powered poker runs and dazzling July 4th celebrations to exciting fishing tournaments, star-studded music festivals — or the peaceful solitude of an afternoon cruise with family.
This lake in south-central Kentucky beckons outdoor lovers to explore its breathtakingly beautiful countryside and lures boaters with 52 boat ramps and more than 5,400 slips at 10 marinas. This vast body of water spans 65,530 acres, stretches some 100 miles end-to-end, measures over a mile at its widest point and borders six counties. It mesmerizes with stunning panoramas, dazzling waterfalls and clandestine coves that attract over four million visitors annually to its 1,255-mile shoreline.
All too often, words like majestic and splendid might read over-the-top. Yet, when it comes to describing one of Kentucky's most amazing lakeside venues, these words can't begin to paint a portrait of Lake Cumberland. So, if by chance you haven't experienced the material or natural amenities of what's often described as "a boating and fishing paradise," I hope to provide a glimpse of what's in store for you.
The Wow Factor
This South Florida-based journalist made her first visit to Lake Cumberland nearly 10 years ago, enjoying a spectacular tour served with generous Southern hospitality courtesy of then State Dock President Bill Jasper aboard a newly designed $1 million houseboat. Motoring away from the docks for a brief cruise, I was blown away by what I saw — an endless stretch of rolling hills paired with a vast span of blue waters. And this was just a small segment of the lake's striking persona. Even more amazing was its striking quiet, which seemed to enhance the already enormous boundaries of the largest body of water east of the Mississippi.
While the "wow" moment from that inaugural boating adventure is cataloged in my "unforgettable file" of memories, here's what I've discovered about Lake Cumberland since: Its unique locale provides an exciting, new experience every time you're there. That was true during my latest trip, a very special outing that brought family together, this time cruising aboard a friend's pontoon boat on a brilliant summer day.
Starting out from our hotel in Cave City — I choose this home base wanting to explore nearby Mammoth Cave National Park and Green River — the 90-minute eastbound drive over the Louie B. Nunn Cumberland Parkway revealed a scenic countryside route that wound its way through the Russell County Seat of Jamestown. From there, we turned down Highway 92 and followed the signs that directed us to Jamestown Resort & Marina, situated on the lake's main west side.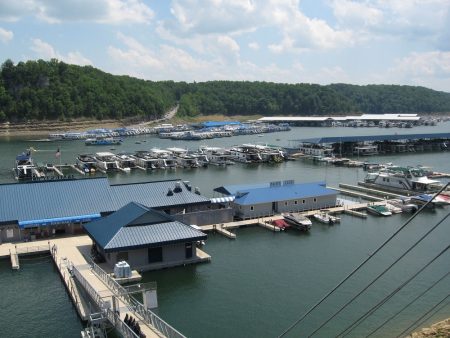 Securing a convenient parking spot, we grabbed our gear and headed for the boat. The mega stairway that connects the landside resort property to the marina is a "work out" experience of its own — with breathtaking views of the surrounding vistas — while you make your way down to the docks. Not up to tackling the walk? No worries! Hop on Channel 13 and hail one of the two water taxis to pick you up at the boat ramp and take you anywhere throughout the marina complex. A land shuttle provides the same service throughout the 300-acre resort property.
Arriving dockside, we talked with one of the assistants, gathered some information and maps, and then charted a course during lunch at the marina's dockside restaurant, Cumberland Tap.
Afterward, as we powered across the lake in our family-laden pontoon boat, the natural beauty of this region came alive. Emerald-green hues of summer dressed the lush foliage dotting high-bluffed banks. No need to worry to about a breezy day; windy conditions rarely pose a problem for Lake Cumberland boaters because the banks are protected by hills.
Taking a short ride down Pumpkin Creek and heading back out, the smooth-as-glass surface afforded ideal cruising. We explored the many beautiful coves tucked along the shoreline, basking in the natural wonder of the lake as we shared each other's company.
As we approached Wolf Creek Dam, a mammoth concrete wall towering some 773 feet, we looked up to see traffic making its way across the top of the dam on U.S. Highway 127. We decided to add this to our return route to Cave City, and what a good choice it proved to be! The drive over the dam showcased an altogether different and amazing perspective of Lake Cumberland.
Landside Attractions
Don't be fooled into thinking you've got to be a water enthusiast to enjoy Lake Cumberland. It's also home to a pair of wonderful Kentucky State Parks that provide an all-access pass to the lake's landside beauty. Lake Cumberland State Resort Park, nestled among 3,117 acres on the northern shore near Jamestown in Russell County, has lodge accommodations at either Lure or Pumpkin creeks, camping facilities and dockage at State Dock Marina.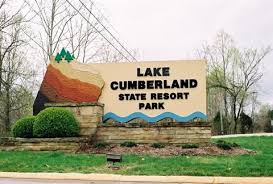 An out-of-the-ordinary location (on an island in the middle of the lake) gives General Burnside Island State Park a unique distinction as the state's only island park. Named for Civil War Union General Ambrose E. Burnside and situated just south of Somerset in Pulaski County, its 430 acres afford camping, golf and lake access via a boat ramp on the island's south end.
Unfortunately, there are only so many hours in a day, and the warm afternoon sun was quickly slipping into the horizon, leaving no time to explore the natural treasures of the parks or an educational experience at Wolf Creek National Fish Hatchery. Ditto for the city of Somerset on the lake's northeastern edge, with its nearby Civil War battlefields of Mill Springs and Dutton's Hill, where visitors step back in time with reenactments of those historic battles.
However, I can always hear Kentucky calling me, and I'm sure another adventure awaits me there. I think next time I'll explore the east side of Lake Cumberland. Can't wait to tell you all about it!
Guides & Information
Kentucky Department of Tourism
800-225-8747 / 502-564-4930
kentuckytourism.com
Kentucky Department of Parks
800-255-7275 / 502-564-2172
parks.ky.gov/parks
Jamestown Resort & Marina
800-844-8862 / 270-343-5253
jamestown-marina.com
Somerset-Pulaski County Convention & Visitors Bureau
800-642-6287 / 606-679-6394
lakecumberlandtourism.com
Wolf Creek National Fish Hatchery Environmental Education Center
270-343-3797
fws.gov/wolfcreek
Author: Bobbye Miller Kenyon is a regular contributor to HeartLand Boating magazine