Often called the heart of the Midwest, Ohio is a patchwork quilt of verdant fields, woodlands, energized cities and charming towns connected not only by roads but also by water. To the north, the state sits on the edge of Lake Erie, and along its southern and western borders, fronts the mighty Ohio River, with myriad lakes, rivers and streams in between. Festivals play a large part in the state's celebration of its history, foods, culture and dedication to, well, having fun. For those who love spending summer days on the water, the Buckeye State calls us to come and play.

CLEVELAND

Stretching along the southern Lake Erie shoreline, Cleveland is a transformational city, merging the best of past and present. The Tower Center, built in 1930 and once the fourth tallest skyscraper in the world, buzzes with restaurants, shops and entertainment venues. An exciting Waterfront District Plan will connect eight miles of lake frontage, adding many amenities and incorporating glittering icons the Rock and Roll Hall of Fame Museum, the Great Lakes Science Center and Browns Stadium.

"Renewal through sustainability" is the credo of noted hometown chefs like Michael Symon and Jonathan Sawyer, and many re-emerging neighborhoods such as the Warehouse District and Tremont boast great restaurants and eclectic boutiques.

Tie up at Whiskey Island Marina on Cleveland's west side, which has 90-feet of dockage and, on the weekend, live music, contests, dinner and dancing at the Sunset Grille.

Channel Park Marina has 10 transient slips, gasoline, diesel, pumpout, picnic areas, playground and showers.

E. 55th Marina, near the downtown's North Coast Harbor, features 20 transient docks, water, electricity, a playground, restaurant and lounge as well as such special events as fishing competitions, pig roasts, clam bakes and seafood dinners.

There's no formal marina, but enjoy the action at West Bank of the Flats, home to Shooters, an indoor/outdoor bar, restaurants and entertainment venue with docking at its riverfront patio.

You can't miss Wade Oval Wednesdays, the free summer concert series at University Circle, a one-mile area chock full of attractions like the Cleveland Museum of Natural History, Cleveland Museum of Art, Maltz Museum of Jewish Heritage, Dunham Tavern Museum and Cleveland Botanical Garden.

Foodies can get their fix at the sprawling West Side Market, dating back to the 1840s and the largest indoor/outdoor market in the world. An international smorgasbord of fresh produce, artisan cheeses, seafood and meats awaits.

Chef and Food Network star Mario Batali proclaimed the cassata cake sold at Corbo's, a bakery in the Little Italy section of Cleveland, as the best he's tasted in the U.S. This lively neighborhood is filled with outdoor cafes and scented with the rich smells of some really superb cooking.

Mark your calendars to watch the Flagship Niagara lead a flotilla of historic boats into the Port of Cleveland for the Tall Ship Festival starting on July 4. The four-day event will include youth sail training activities dockside and a the festival village where you can learn more about sailing, nautical products and services.

Visit nearby wineries by following the Lake Erie Vines and Wines Trail. Along the way, take time to stop at the Middlefield Cheese House, catch a ride on the AC & J Scenic Train Rides and see a play at Rabbit Run Theater, one of the few remaining old-fashioned barn theaters in the country.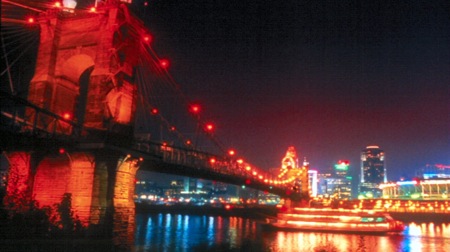 The Cincinnati skyline.

Cincinnati

In the 1800s, Cincinnati was one of the top beer brewing centers of the country, largely due to the huge population of German immigrants who settled here. City residents are reconnecting with their hoppy heritage through a resurgence in artisan breweries and the renovation of Over the Rhine, once a predominately German neighborhood separated from downtown by the Miami-Erie Canal.

Greater Cincinnati also includes its neighbors across the Ohio River: northern Kentucky and southeastern Indiana. You can hoof it over to Newport, Ky., on the delightfully named Purple People Bridge, an old railway line converted for pedestrian use, or cross to Covington, Ky., on the Roebling Suspension Bridge, built in 1866 as the prototype for the Brooklyn Bridge.

Tie up at the 500-slip Four Seasons Cincinnati, east of the downtown, a sheltered harbor with accommodations for 70-foot boats and covered slips to 24-feet. Close to Coney Island and River Downs, Rivertowne Marina also offers covered slips and easy water access.

On the Kentucky side of the river, Riverside Marina in Dayton has overnight dockage and live music on the weekends at its floating bar and grill. Pull into one of the docks to sear your own on Monday Steak Night at Ludlow Bromley Yacht Club in Ludlow, Ky.

You can't miss the National Underground Railroad Freedom Center, which celebrates the courage of both the fugitive slaves who crossed the Ohio on their way north and those who harbored them in a series of safe houses. 

If games of chance are your thing, Horseshoe Casino offers more than 2,000 slots and table games like roulette, craps and Mississippi Stud with high stakes options up to $50,000.

Cincinnatians aren't only big on beer but on chili — their kind of chili, that is, served over pasta with a side of oyster crackers. The city's 140 chili restaurants serve about 2 million pounds of chili topped with 850,000 pound shredded cheddar every year. Try it!

Mark your calendar for the MainStrasse Village Original Goettafest in Covington, chosen as one of the  "Top Ten Festivals and Events' by the Kentucky Tourism Council. MainStrasse Village is a 19th century German neighborhood, and goetta is a German sausage made with oats and pork said to have originated here. It's so popular there are two festivals held in its honor every year.

The 35th Taste of Cincinnati USA, the nation's longest running culinary arts festival, is a six-block food extravaganza featuring the area's great restaurants cooking up more than 200 dishes. There's also live comedy and musical entertainment, and beer garden with a bunch of local brews.

Visit nearby Dinosaurs Alive, the best thing since Jurassic Park. The world's largest animatronic dinosaur attraction is just one of many activities at Kings Island, a 364-acre amusement and waterpark about 30 minutes from downtown Cincinnati.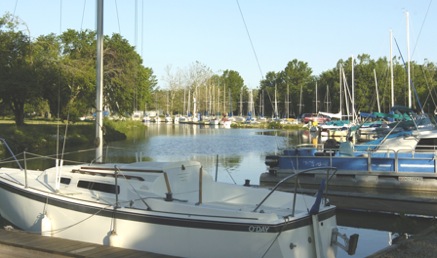 Grand Lake Marina.

Grand Lake St. Marys

At one time the largest manmade lake in the world, the 13,500-acre Grand Lake St. Marys was built in 1845 to feed water into the Miami-Erie Canal as it passed through west-central Ohio. Though the glory days of canals are long gone, Grand Lake St. Marys is still the world's largest hand-dug body of water, as well as the state's largest inland lake — it's surrounded by 52 miles of shoreline — and most likely one of the few inland lakes to have three lighthouses. With four boaters' beaches, six full-service marinas, seven free public launch ramps, boat rentals and no horsepower restrictions, what could be better for summer fun?

Tie up at Grand Lake St. Marys State Park Marina, which offers eight transient docks on a first come, first served basis at a rate of $7 for 24 hours. Or opt to drop anchor for an overnight stay on the water. Rather sleep on land? The West Bank Inn and Romer's Westlake Hotel Villas offer docks for their guests.

You can't miss Grand Lake St. Marys State Park, located in the northwest corner near the town of Grand Lake St. Mary. One of the oldest state parks in Ohio, it offers fishing, camping and hiking along the shoreline — or follow the route of the old Miami-Erie Canal.

Visit Nearby Armstrong Air and Space Museum in Wapokenta, inspired by hometown hero Neil Armstrong, the first man to walk on the moon. An interactive museum, exhibits here include the Gemini VIII spacecraft, Armstrong's Gemini and Apollo spacesuits, an Apollo 11 moon rock and even the plane that Armstrong learned to fly when he was 15.

Those who prefer to keep their feet on the ground can check out the 350 bikes on display at the Bicycle Museum of America in New Bremen. One of the highlights is the Schwinn family collection, formerly on exhibit at Chicago's Navy Pier.


Picturesque Put In Bay.

Put-in-Bay

Pull into Put-in-Bay on South Bass Island, one of the Lake Erie Islands off the shore of Port Clinton, Ohio. Once on land, rent a bike, moped or golf cart to navigate around the four-mile vacation destination. Or take the easy way and sit back for a ride with Poe's Ped-Cabs. Visit Port Clinton or Sandusky aboard the Jet-Express ferry, or travel to Middle Bass Island on Sonny-S Boat Line. J.F. Walleye's Microbrewery and Eatery, just a short walk from the dock on Middle Bass, also rents golf carts and bikes.

You can't miss taking a ride on the Island Tour Train, a 55-minute narrated excursion of historic South Bass Island with stops at local attractions like Perry's Cave, the Butterfly House and Perry's Victory and International Peace Memorial. Historic walks, ghost and Segway tours are other memorable ways to explore the island.

Tie up at one of three large public docks: Village of Put-in-Bay, Peach Point and DeRivera Park. Alternatives include the family-oriented Miller Marina, with both day and overnight dockage, and the Park Place Boat Club at the Boardwalk, a bustling waterfront restaurant with live entertainment and a margarita bar.

Mark your calendar for the Pyrate Fest from June 28 to July 1 — bring your best costume and some doubloons for the marketplace — and then the War of 1812 Bicentennial Commemoration from August 29 to September 10, which includes a battle reenactment with tall ships, plus entertainment, arts, crafts and more.

Visit nearby Cedar Point Amusement Park, called the "roller coaster capital of the world,' in Sandusky. There are also plenty of water rides and a beach. It's a 30-minute boat ride away, with transient dockage available.