Bordering the west side of the Land Between the Lakes National Recreation Area, Kentucky Lake is a major (160,300 acres!) reservoir on the Tennessee River that's considered one of the best boating areas in the Midwest. Whether you want to fish, sail, paddle, golf, camp, dine or simply relax at a waterside resort, the lake has it all — and it all starts at Kentucky Dam Marina (KDM).
Part of Suntex Marinas, one of the largest and most respected marina operators in the country, KDM has been serving resident and visiting boaters since 1974. The largest marina on Kentucky Lake offers 350 annual boat slips to accommodate vessels as small as 20 feet to yachts and houseboats up to 120 feet in length. Each slip has metered electric, water and convenient trash pickup. Keep your boat in the water year-round or take advantage of the off-site dry storage.
For transients — whether traveling the Tenn-Tom Waterway, cruising the Great Loop or just enjoying the Tennessee River — KDM features a full-service fuel dock with pump-out station, new bathhouses, laundry facilities and free Wi-Fi. A comprehensive Marine Center is also your one-stop shop for drinks, snacks, pizza and ice cream, as well as ice, life jackets, water toys, live bait, souvenirs and boat parts.
Visiting boaters can stay aboard in a transient slip (call ahead for availability) or spend some time ashore. The marina is located within Kentucky Dam Village State Resort Park, with pet-friendly rooms at the lodge as well as at the Village Green Inn alongside the 18-hole golf course. Need to get home before continuing your boating? There's a 4,000-foot, lighted airstrip only a mile and a half from the lodge.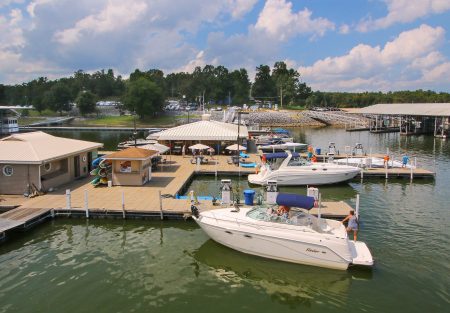 Even those without a boat have a reason to visit KDM: The marina has luxurious houseboat rentals, ski boats, personal watercraft, paddleboards, fishing boats and pontoon boats, including double-decker models.
Things to Do
It's not an exaggeration to say this area is an outdoor enthusiast's dream. Kentucky Dam Village State Resort Park and Land Between the Lakes National Recreation Area allow access to biking and hiking trails (paved and off-road), birding opportunities, horseback riding, orienteering, swimming (in pools or sandy beaches) and special hunts. Kentucky Lake is known as one of the richest fishing spots in the country, with crappie, bass, catfish and sauger as the hottest catches. (Hunting and fishing licenses are available at KDM's Marine Center.)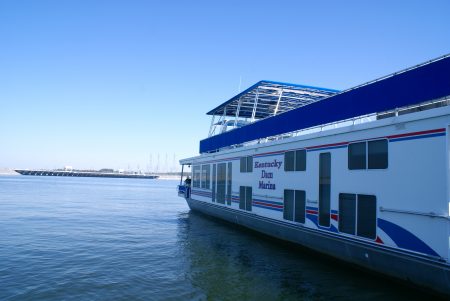 Harbor Lights Restaurant provides breakfast, lunch and dinner overlooking the water in the state park. Or, a short drive away, you can visit Grand Rivers to find additional restaurants and cafes, plus shopping, entertainment and a spa. Grand Rivers has a full calendar of events in addition to the many festivals and celebrations held around the lake — from quilt meets and Jeep jamborees, to fishing tournaments and boat races.
And that really just scratches the surface. The 170,000 acres that make up Land Between the Lakes National Recreation Area in Western Kentucky and Tennessee include a nature station, elk and bison prairie, planetarium, working farm and living history museum, and miles of backpacking trails and campsites. Kentucky Lake is just south of Paducah and about 90 miles north of Nashville, so big city amenities and attractions are within reach.
Getting There
Kentucky Dam Marina is located at Mile Marker 23 on the Tennessee River. From the channel, heading north, turn starboard behind the breakwater directly above Kentucky Lock and follow the approach to the docks.
The marina is just a few minutes from Exit 27 on Interstate 24, five miles by road or six miles by water from the town of Grand Rivers.
Kentucky Dam Marina
466 Marina Drive
Gilbertsville, KY 42044
(207) 362-8386; (800) 648-2628
kydammarina.com
Dockage: Transient docking available with call
Approach/Dockside Depth (reported): 12 feet
Fuel: Gas and diesel
Electric: 30/50 amp
Amenities: Water, ice, phone, pump-out, boat ramp, ship store, restrooms, showers, laundry, marine service shop, small boat and houseboat rentals, restaurant, courtesy van, free Wi-Fi
Hours: Open March 1 to November 30, hours vary
VHF Channel: 16