Remember that poem: In fourteen hundred and ninety-two, a gravedigger, a history teacher and a bartender sailed the ocean blue. True, it once was Christopher Columbus in that childhood poetry, but now the sailors on his ships, replicas of the Nina and Pinta, are a diverse crew of mostly volunteers.

Allison Asher was tending bar in Lake City, Minn., when she heard a cannon boom signaling the Nina's arrival. The crew came into her bar. Their conversation fascinated her, and she asked, "What do I have to do to get aboard?"

Former gravedigger Gus Kodros took a tour of the ships when they docked in Alton, Ill. "They needed help, so I signed up," he said.

Dave Zenk teaches history in Hudson, Wis. "My wife and I were on the riverfront and saw the Nina." He had sailed for 20 years and life at sea called to him. His wife encouraged him to "go be a sailor," so he's spending this summer on board.

They are typical of the mostly volunteer crews, also including a Vietnam Vet, a secretary and a cook, who enjoy temporary berth aboard the Nina and Pinta, living museums that travel from port to port, currently on the Tennessee River. Five to seven people are on each ship this season, with ages ranging from 21 to 79.

Asher, off and on ship for 14 years, said, "the crew is the best part." But you need a thick skin, they all agree, laughing as they tease and banter back and forth like old friends. And you can't be shy, since there is virtually no privacy in these tight quarters. An outgoing personality and willingness to talk with curious visitors and school groups is also essential.

"There's so much to like," Kodros said. "Change day to day, simplicity of life, beautiful sunrises and sunsets."

 "My sailing experience and passion for history," Zenk cited as his pleasures. "I get to talk with people and, unlike a classroom where students may or may not want to be there, everybody who comes on board is interested."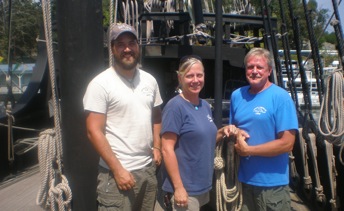 Crewmembers Gus Kodros, Allison Asher and Dave Zenk.

 

But this is no leisurely life. Underway, usually three to fours days at a time, there is constant maintenance on the wooden ships, rigging, ropes and the Perkins diesels. When they're actually wind-driven, sails are hauled up and down. Crew stands watch for hours during the night. Docking includes tending lines, lowering heavy gangplanks, preparing the ship's store. Each morning in port, their duties may range from ridding the ship of spiders, putting up flags, setting up museum items to any tasks assigned by the captain and mates.

Then, they must be stoked in history and furnish answers for the many questions and controversies that swirl about Christopher Columbus. The most frequent queries are: Why are the boats black? (The pine tar, which preserves the boats.) How many people were on board? (The original Nina carried a crew of about 27.) Where does the crew sleep? (In the World War II-style berths below deck, or when it's too hit, on deck, as did Columbus' crew. One plus: There are no live animals — horses, cows, pigs, chickens — such as traveled with Columbus.)

The crew is furnished room and board (which they describe as excellent) and divided tips. Volunteers sign up for a minimum one-month commitment then, if all are agreeable, the volunteer may stay aboard longer.

This all began in 1988, when the Columbus Foundation, British Virgin Islands, set as their mission designing and constructing the 65-foot Nina as the most authentic replica of a Columbus era ship ever built. She was constructed in Brazil by a group of master shipbuilders, who used only adzes, axes, handsaws and chisels. This type of ship, a "caravel," was originally a common trading vessel. Columbus sailed the Nina, his favorite ship, more than 25,000 miles.

In 2005, the 85-foot Pinta joined her sister ship as a touring museum. This fall, both are traveling the Tennessee River, down the Tenn-Tom Waterway to the Gulf of Mexico. Step aboard for a bit of history, and a bit of fun with the outstanding crew.

SCHEDULE

Until Sept. 8 – Green Turtle Bay Marina, Grand Rivers, Ky.

Sept. 13-16 – Florence Harbor Marina, Florence, Ala.

Sept. 19-23 – Riverwalk Marina, Decatur, Ala.

Sept. 26-Oct. 7 – Ditto Landing, Huntsville, Ala.

Oct. 11-20 – Aquarium Pier, Chattanooga, Tenn.

Oct. 22-23 – Ft. Loudon Marina, Lenoir City, Tenn.

Oct. 25-Nov. 5 – Calhouns on the River, Knoxville, Tenn.

Nov. 8-17 – Old Guntersville Marina Site, Guntersville, Ala.

Nov. 22-Dec. 1 – Demopolis Yacht Basin-Kingfisher Bay Marina, Demopolis, Ala.

Dec. 12-Jan. 1 – Schooner Pier Complex, Seafood Industry Museum, Biloxi, Miss.

Hours: 9 a.m. to 6 p.m.

Admission: $8 adults; $7 seniors (60+); $6 ages 5 to 16; free ages 4 and under

School and tour groups: $5 each (minimum 15 people; call 787-672-2152 for bookings)

Further information, to learn more about the ships or to apply for crew, visit www.thenina.com