Many of the islands on the Ohio are uninhabited, and a boater can picnic or beach overnight there. Also, there are several navigable tributaries, such as the Beaver and Muskingum rivers, which give the boater a variance or scenery.
The Muskingum is a beautiful river to cruise. Several of the locks are situated off the main channel on lovely, quaint canals that bypass shallow water and rapids. All the locks are manually operated, and many still contain the original wooden doors constructed in the 1840s.
A VHF radio is almost a necessity on the Ohio River when traveling through the locks. By contacting the lock at the arrival point, you may be able to lock through with a tow, saving an hour or two in delays.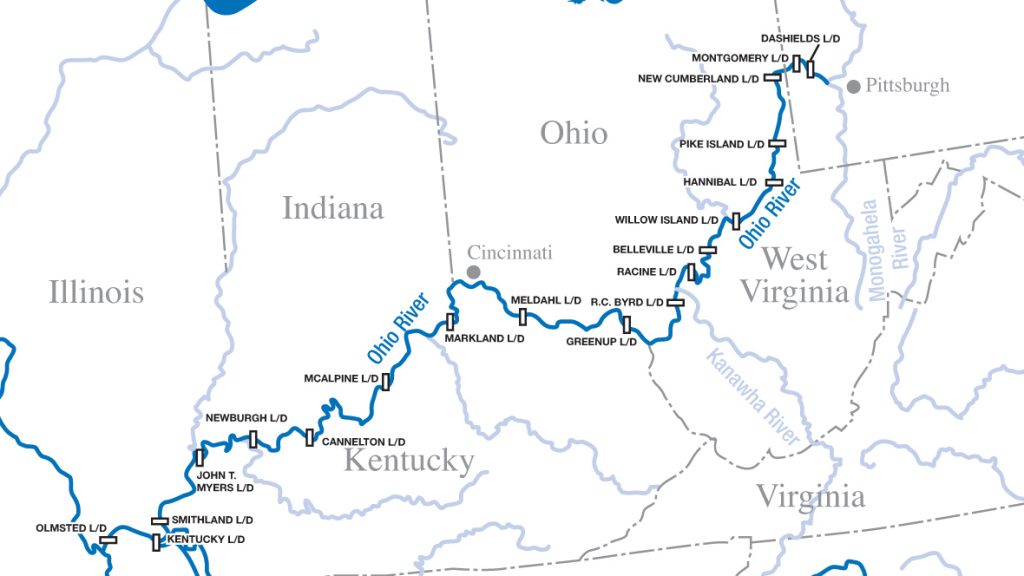 Ohio River Lock Mile Markers
Emsworth Locks & Dam: 6.2
Dashields Locks & Dam: 13.3
Montgomery Locks & Dam: 31.7
New Cumberland Locks & Dam: 54.4
Pike Island Locks & Dam: 84.2
Hannibal Locks & Dam: 126.4
Willow Island Locks & Dam: 161.7
Belleville Locks & Dam: 203.9
Racine Locks & Dam: 237.5
Robert C. Byrd Locks & Dam: 279.2
Greenup Locks & Dam: 341.0
Meldahl Locks & Dam: 436.2
Markland Locks & Dam: 531.5
Mcalpine Locks & Dam: 606.8
Cannelton Locks & Dam: 720.7
Newburgh Locks & Dam: 776.1
John T. Myers Locks & Dam: 846.0
Smithland Locks & Dam: 918.5
Locks & Dam 52: 939.0
Locks & Dam 53: 962.6
Olmstead Locks & Dam: 964.5